Are you currently working on a writing, editing, translation, or graphic design project and could use some expert help? Or maybe you're a freelance professional on the hunt for new opportunities? If so, ServiceScape might be the right fit for your business. 
ServiceScape is an active online freelance marketplace where clients and professionals come together for four kinds of services—writing, editing, translation, and graphic design. There are a number of platforms like this online, each with their own features, benefits, strengths, and weaknesses. So why choose ServiceScape?
We took a close look at ServiceScape's offerings and tried it out. We wanted to explore the different services they offer, evaluate their user experience and customer support, and understand their pricing model. We also looked at client reviews to see what actual users had to say.
Background Information on ServiceScape
ServiceScape's story started back in 2000, when they set up shop as an online marketplace for English editing services. Since then, they've grown to add new services to their portfolio and increase their network of freelance professionals. Today, they're a go-to resource for service providers and clients all over the world who need top-tier professional services.
ServiceScape serves professionals like editors, translators, graphic designers, and writers, providing a platform where they can show off their skills and source projects. Simultaneously, it's a hotspot for folks ranging from individuals to big corporations who are looking for professional services. Whether it's a start-up in need of a standout logo, a publisher seeking a detail-oriented editor, or a multinational corporation needing translation services, ServiceScape has it covered.
ServiceScape offers a variety of services, but they generally fall into four main categories:
• Editing Services – Got some written content that needs a little extra polish? ServiceScape's professionals can do everything from manuscript editing to academic and business editing.
• Translation Services – If language barriers are causing headaches, ServiceScape's translators can help with a wide variety of language combinations to cater to all sorts of translation needs.
• Graphic Design Services – Need a logo, banner, or even a whole website design? ServiceScape's talented graphic designers can turn your ideas into reality.
• Writing Services – From creating new content to rewriting existing pieces, ServiceScape's writers can help, no matter what kind of writing you need.
That's just the tip of the iceberg. Each category is packed with specialized services, so whether you're a service provider or a client, there's a good chance ServiceScape has the perfect solution for you.
Service Analysis of ServiceScape
ServiceScape offers a number of services that cater to a diverse user base. Whether a client needs editing, writing, graphic design, or translation services, the detail within each of these categories is impressive—under each main service area, there are several subcategories addressing specific needs. For instance, under Editing Services, users can find specialists in book editing, academic editing, legal editing, business editing, and more. This variety means users can pinpoint the right professional to meet their unique needs.
The order process on ServiceScape is all about simplicity and efficiency. After the user selects a service, the platform displays an array of professional profiles. Each profile reveals the professional's qualifications, skills, client reviews, and rates. Once a professional is chosen, users can either send them a detailed message outlining their project needs or hire them on the spot. The hiring and project setup can be wrapped up in minutes.
Throughout the process, communication channels stay wide open, ensuring any changes, updates, or clarifications can be swiftly addressed. This process is designed to be cooperative, efficient, and straightforward, reinforcing the platform's commitment to offering users a positive and user-friendly experience.
One of ServiceScape's winning points is its customizability. The platform allows a high degree of personalization for each service. Instead of offering one-size-fits-all packages, clients can communicate directly with professionals to shape their services to their unique needs. This includes the specifics of the service, as well as pricing and timelines. The result? A tailor-made service that aligns perfectly to a client's requirements and expectations.
Quality of Services Using ServiceScape
Case Study 1
In order to really dig into what ServiceScape offers, I decided to put their editing services to the test. I was working on a lengthy business article for an important client. It was stuffed with industry-specific lingo and detailed insights. This wasn't a job for a basic proofreader—I needed a specialist in business literature.
From the get-go, the platform made it easy to connect with a professional editor. I chose WickedWordsmith, a seasoned editor at the Journal of Business and Entrepreneurship with a large portfolio of business-related edits.
The quality of work I received was top-notch. WickedWordsmith didn't just edit—she went all in. She fixed grammatical errors and punctuation slips that I had missed during my own review. But her work went beyond basic proofreading.
WickedWordsmith really got into the meat of the content. She pointed out spots where the flow was a bit choppy or where the message wasn't coming across as clearly as it should. Her suggestions were very helpful and constructive. She even highlighted places where the tone could be tweaked to resonate better with my audience of business professionals. The best part was that she made sure to keep my own voice and style intact while she fine-tuned the readability and flow of my writing.
What really blew me away was how WickedWordsmith improved the overall structure of the article. She suggested moving some sections around to make the flow of ideas smoother and more compelling. She even proposed adding a few key statistics that really helped me communicate the points I was trying to make.
The feedback from WickedWordsmith was a game-changer. It wasn't just about fixing errors; it was about lifting the entire piece to a new level of polish and readability. And that's the kind of quality ServiceScape is all about.
Case Study 2
Next, I decided to try out their graphic design service. As I scanned through ServiceScape's roster of professionals, one name popped out—Susuivi. Her portfolio was impressively creative, and her clients had left her glowing reviews. I reached out to Susuivi with an outline of what I wanted in a logo and a bit of background on a fictional startup—an online sustainable clothing store. The focus was on promoting eco-conscious fashion, and I wanted a logo that communicated "green fashion" in a fresh and compelling way.
Susuivi got back to me right away, full of energy and prepared with a bunch of questions to better understand my brand. She wanted to know about my brand's values, target audience, color preferences, and any specific imagery I had in mind.
Once she had all of the information she needed, Susuivi got down to business. In no time, she came up with three distinct logo concepts, each different but still in line with my brief. The designs were sleek and modern, blending elements of nature and fashion.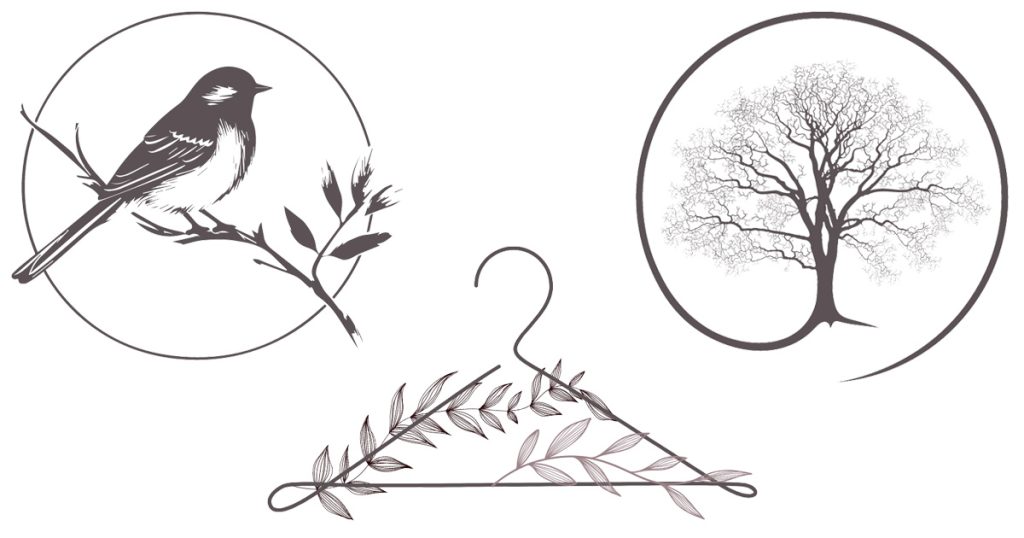 One design, shown above, really struck a chord with me. It was a minimalist illustration of a leaf cleverly combined with a hanger, all in a calming, earthy green. It was simple, but it nailed the concept of eco-conscious fashion. I loved that Susuivi also gave me a monochrome version of the logo, perfect for different uses like stamping on tee shirts or printing on boxes.
There were a few minor tweaks to be made, but Susuivi was very open to feedback. She made the changes, ensuring the final design was exactly what I had in my head. Her dedication to getting it just right was impressive.
All in all, I had a great experience with Susuivi on ServiceScape. She took my brand idea and turned it into a fantastic logo that went beyond my expectations. It was another solid example of the talent and professionalism you can find on the ServiceScape platform.
Customer Service
Customer service is a vital part of any successful platform, so it was only right that I tested out ServiceScape's team. I reached out with a bunch of questions—some simple, some more detailed—about their services.
First up, I interacted with Mia, a customer support rep who replied to my email in under an hour. Her response wasn't just quick, it was also detailed and thorough. She answered all of my questions in a clear and detailed way, showcasing her solid understanding of the platform. Plus, she let me know she was there if I needed any more help—nice touch.
What really stood out was Mia's professionalism and politeness. The whole interaction was a pleasant experience. It's clear ServiceScape is serious about satisfying their users.
ServiceScape gives clients two ways to get in touch, ensuring questions are answered quickly and easily. Here's how you can reach them:
• Email: There's a dedicated support email you can use to fire off your questions anytime. Responses are usually fast, typically in under an hour during operating hours.
• Live Chat: Need help ASAP? Their website's live chat feature is the way to go. It links you up with a support rep in real time, perfect for quick questions or troubleshooting.
Offering two ways to connect really shows ServiceScape's commitment to a user-friendly experience, catering to different communication preferences for a smooth support experience.
ServiceScape Pricing
When it comes to pricing, ServiceScape is all about transparency and competitiveness. The cost depends on the type and complexity of the service. For example, editing services are usually priced per page, while graphic design projects often have a flat rate based on the project's scope.
This flexible pricing model caters to a broad range of services and budgets. It means users can get a clear idea of what they'll be paying before they commit to a service—no hidden fees or nasty surprises later. And to make it even more transparent, each ServiceScape professional clearly lists their prices on their profile.
When stacked up against other platforms like Upwork or Fiverr, ServiceScape offers clients excellent value for their money. Sure, some services might cost a bit more than on other platforms, but it's worth remembering the quality of work and level of expertise available on ServiceScape. Their professionals tend to be experts in their fields, and this is reflected in the pricing. So while you might find cheaper options elsewhere, ServiceScape professionals provide you with high-quality work, attention to detail, and the confidence that you're getting your project done right the first time. That's a great deal.
ServiceScape Ratings and Reviews
When checking out how satisfied users are with ServiceScape, it's crucial to look at reviews on the platform itself as well as on external review platforms. ServiceScape has an open system where users can leave ratings and reviews for the professionals they've worked with. After a looking at a bunch of profiles, it's clear that most professionals have top-notch ratings, with many hitting the full 5-star mark.
ServiceScape also has external reviews on eKomi, and the platform looks good here too, boasting an impressive rating. Clients have a lot of good things to say, frequently mentioning the high-quality work, speedy delivery, and standout customer service. Users are typically blown away by the quality of work, which often goes beyond their initial expectations. They also have high praise for ServiceScape's freelancers' professionalism and the platform's first-rate customer support.
It's not perfect, though—there are a few criticisms, too. A handful of clients have reported issues with project turnaround times and the odd communication mix-up with freelancers. However, these hiccups seem to be exceptions rather than the rule, with positive experiences far outnumbering them.
Looking at the user reviews as a whole, it's a thumbs up for ServiceScape. There are a few areas they could improve on, but overall, it looks like their users are pretty satisfied.
Conclusion
After a thorough look at ServiceScape, it's clear that they're a solid choice if you're after top-quality, reliable, and user-friendly professional services. The range of services on offer, the high level of expertise among the professionals, and the user-friendly experience makes it a strong contender for both one-off gigs and longer-term collaborations.
One of the big pluses, backed up by lots of user reviews, is the quality of work. Add in the transparent pricing and top-notch customer service, and ServiceScape starts to look like a pretty good deal for anyone in need of professional services.
In a nutshell, ServiceScape delivers. It's a top choice for anyone after professional services, whether it's editing, translation, graphic design, or writing. If quality, reliability, and a smooth user experience are on your checklist, then ServiceScape could be just what you're looking for.