LinkedIn Post Ideas and Examples To Drive New Business
It can be challenging to come up with LinkedIn post ideas on a regular basis. Part of having success on LinkedIn is making sure you post consistently. With a list of good LinkedIn posts ideas and examples below, you can be sure you'll always have a post ready to go.
What To Post On LinkedIn?
LinkedIn Polls
Business, Marketing, Individual Posts
Industry Insights
Carousel Posts
Niche Thought Leader Content
Funny Content
Industry News
Promotional Posts
Hiring Posts
Legal Impacts
Answer Common Questions
Tool Reviews
Tool Recommendations
Discuss Common Mistakes
Recommend a Resource
Summarize a Podcast
Summarize a Book
List of Books
Job Tips
Before and After Client Experiences
Discuss a Business Interaction
Summarize a Course
Summarize a Webinar
Favorite Book
Make a Reflection
Talk About A Risk
Who Has Helped You
Failures or Mistakes
Be Yourself
New Job Posts
LinkedIn Post Ideas – Text
The LinkedIn text post or status update is the most common type of content you'll see on LinkedIn. It's easy to create and quite effective at driving engagement. The hardest part is coming up with something to write that is relevant and valuable on a consistent basis.
Below is a breakdown of LinkedIn posts ideas you can use as inspiration to generate text posts for LinkedIn.

New LinkedIn Post Ideas – LinkedIn Polls – UPDATED
Polls are a great way to get engagement from your audience and their connections. They're a low effort way to drive views and start conversations. This is a recent poll that drew over 20,000 views! People love to give their opinion and LinkedIn polls make it easy for anyone who is scrolling through their feed.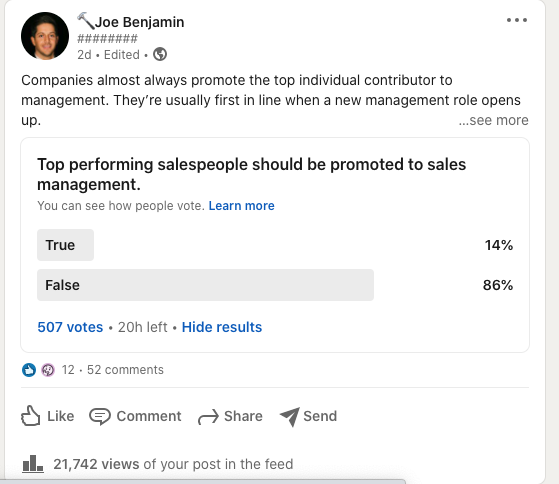 In 2022, LinkedIn has throttled the reach of polls. This is likely due to the spammy nature and low value of polls on LinkedIn. They still have their place but many people saw them as engagement hacks.
LinkedIn Post Ideas For Businesses, Marketing and Individuals
These are posts directly related to your business. Think about all the different topics and subtopics in your industry that your buyer persona cares about. Review the ones you should have listed earlier. Think about everything you know related to those topics and subtopics.
Think about the industry you're in or the problems your company can solve. Anything business related that is relevant to your network. Don't worry about giving too much info or insight away, that's how you establish credibility and become known as an expert.
Tips and Best Practices For LinkedIn Post Ideas
Provide a list of tips based on your expertise. What are the top things people should know that you know? Think about different categories of topics we discussed earlier and the related subtopics. What are tips related to each of those?
Tip and Hacks For LinkedIn Post Ideas
What's something that you know that isn't common knowledge related to what you do? Do you have a unique way of doing things that saves time or money? Share these with your network. Again, think about the topics and subtopics you listed.
B2B Industry Insights As A LinkedIn Post Idea
Everyone likes stats and data about the industry they're in. If you don't have these off hand, get them from industry reports and make sure to cite the report. An easy way to find them is searching for "[industry name] trends" or "[industry name] research reports. Another way is to sign up for industry newsletters. They'll do the work for you and then you'll only need to editorialize this content.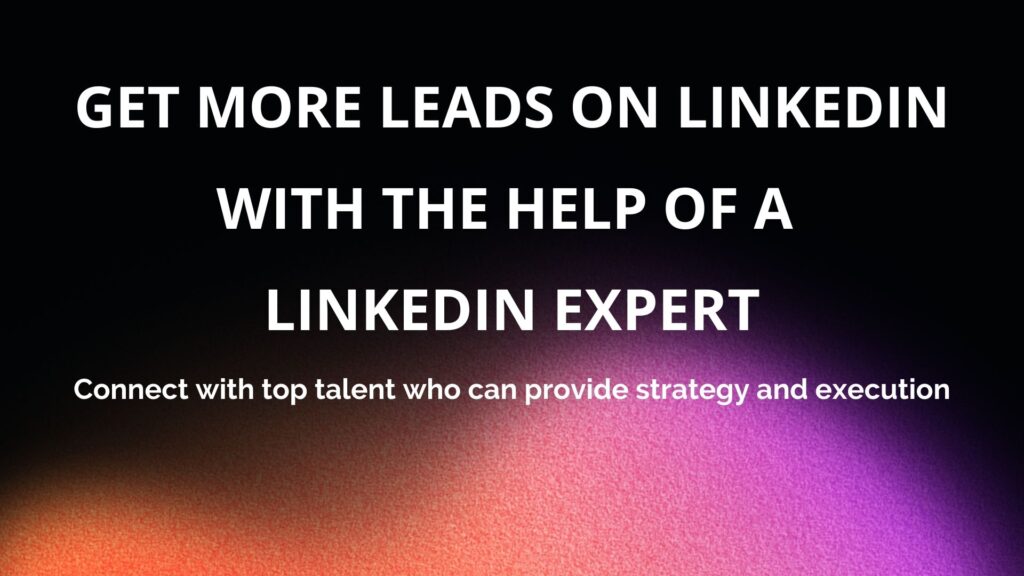 LinkedIn Post Ideas For 2023
With more an more people using LinkedIn, it is getting harder to stand out. You may want to consider these three posts ideas for 2023 that can work in your favor.
Linkedin Post Carousel Example
A LinkedIn Post Carousel can be a great idea for sharing various information that can be displayed in a more interactive and engaging manner. Here's the full example of the LinkedIn Post carousel.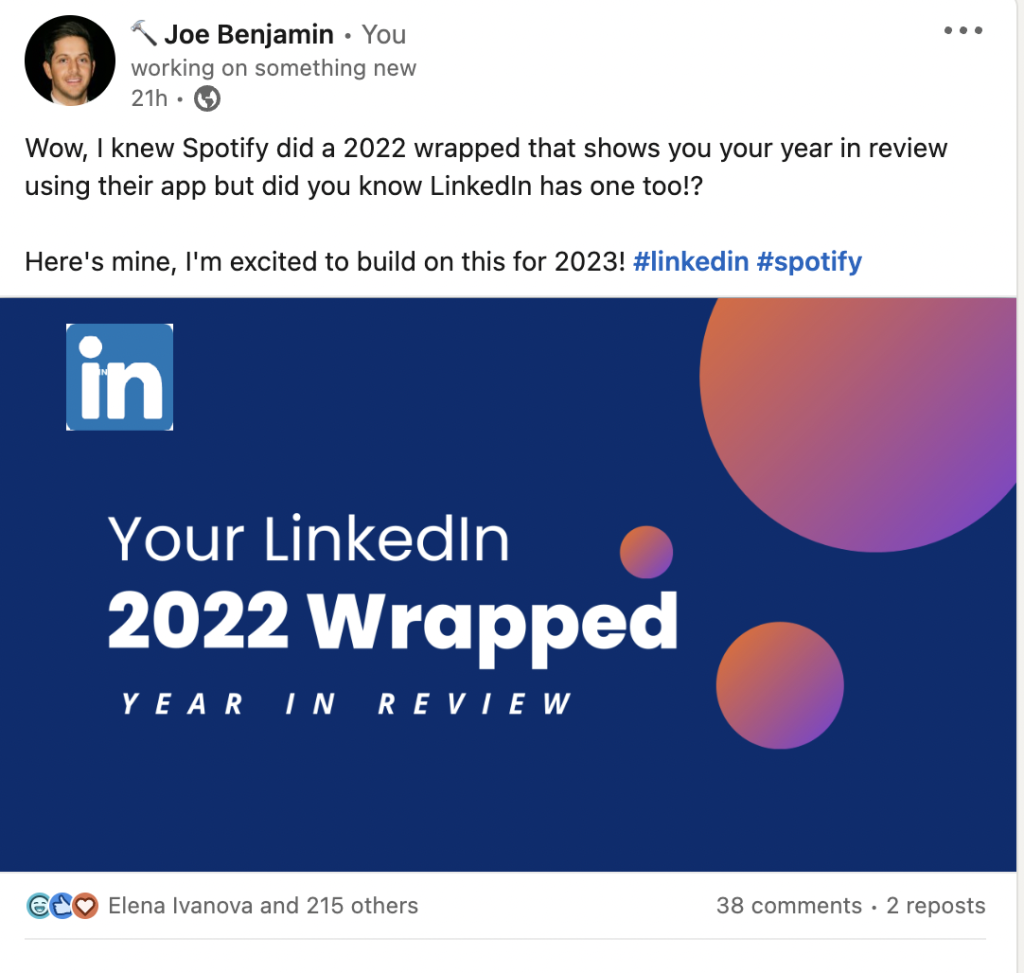 Niche Thought Leader LinkedIn Post Ideas and Example
If you're in a space with a thought leaders, you can create a LinkedIn post around something they're known for. If you're able to leverage humor, you may be able to improve your engagement. Using a thought leader who has a large audience, if done in a clever manner, can improve your post engagement significantly as their audience will see your LinkedIn post. Bonus points if you can make it funny.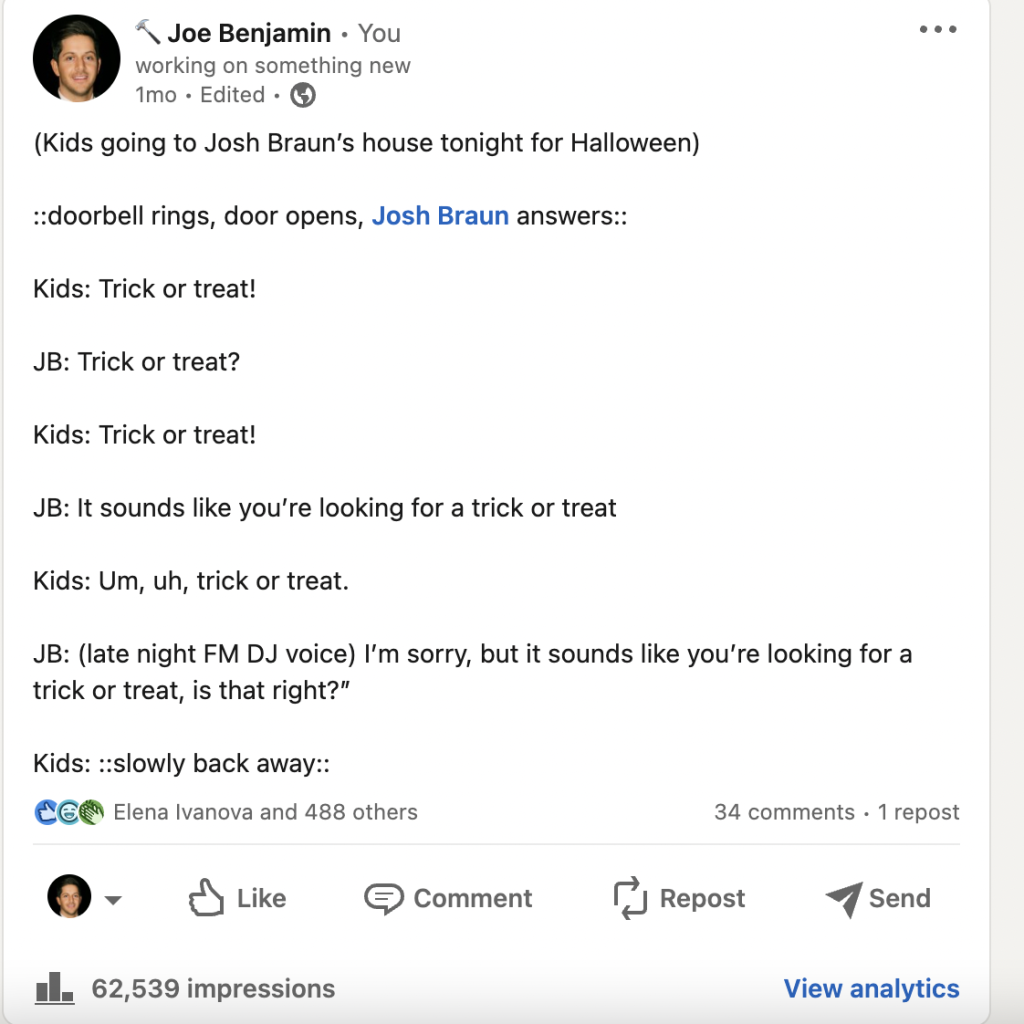 Funny LinkedIn Post Ideas and Examples
When it comes to social media, humor is always a winning formula. This is one of the top LinkedIn Post Ideas for 2023 because it helps to cut through the noise of the typical posts on LinkedIn. The challenge is that most people are not funny. Humor is hard. Relating to your industry is a winning formula. Don't try to make everyone laugh.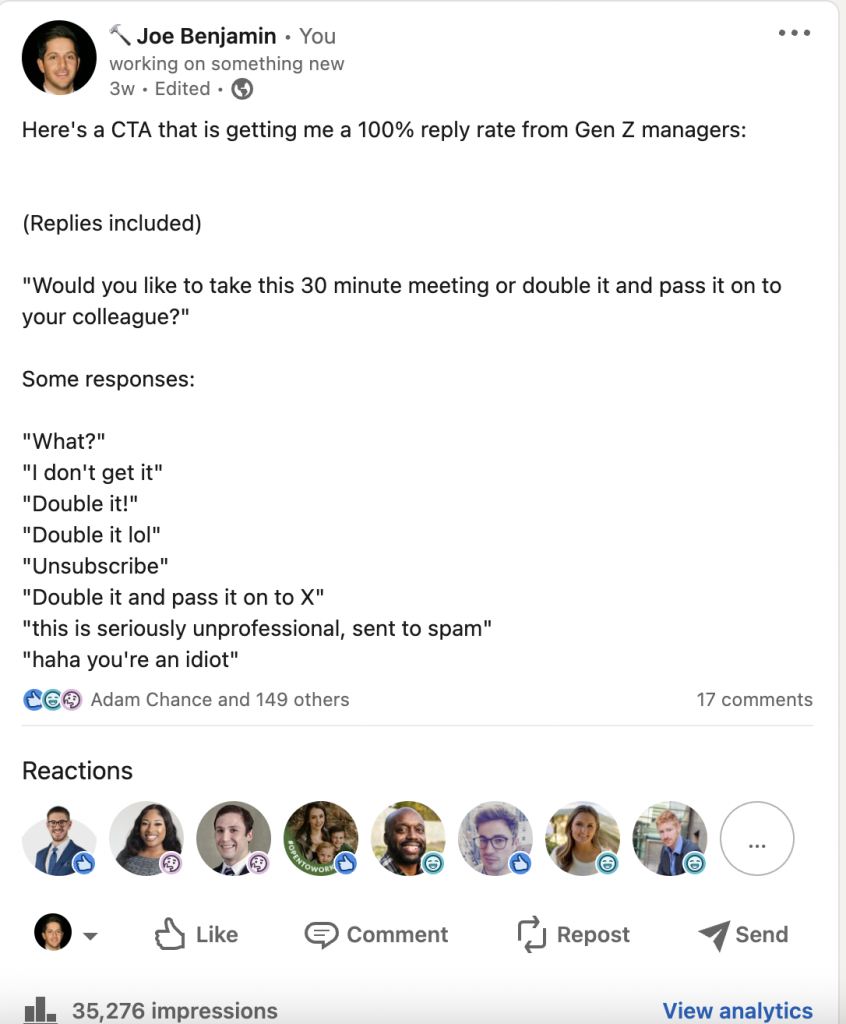 Industry News To Start Your LinkedIn Post
One way to write relevant and timely content for LinkedIn is editorializing industry news. This could be about a company, M&A activity, industry changes, etc. Setup a Google News alert so you can be updated on a daily or weekly basis. https://www.google.com/alerts – The great thing about using news as an idea source is that you're always going to have something that is new to share.
LinkedIn Promotion Post Example
Creating a Promotional LinkedIn post doesn't mean it has to be about your own company or something you sell. It can be used to promote things you would recommend. Here's an example of a LinkedIn promotional post that recommends newsletters.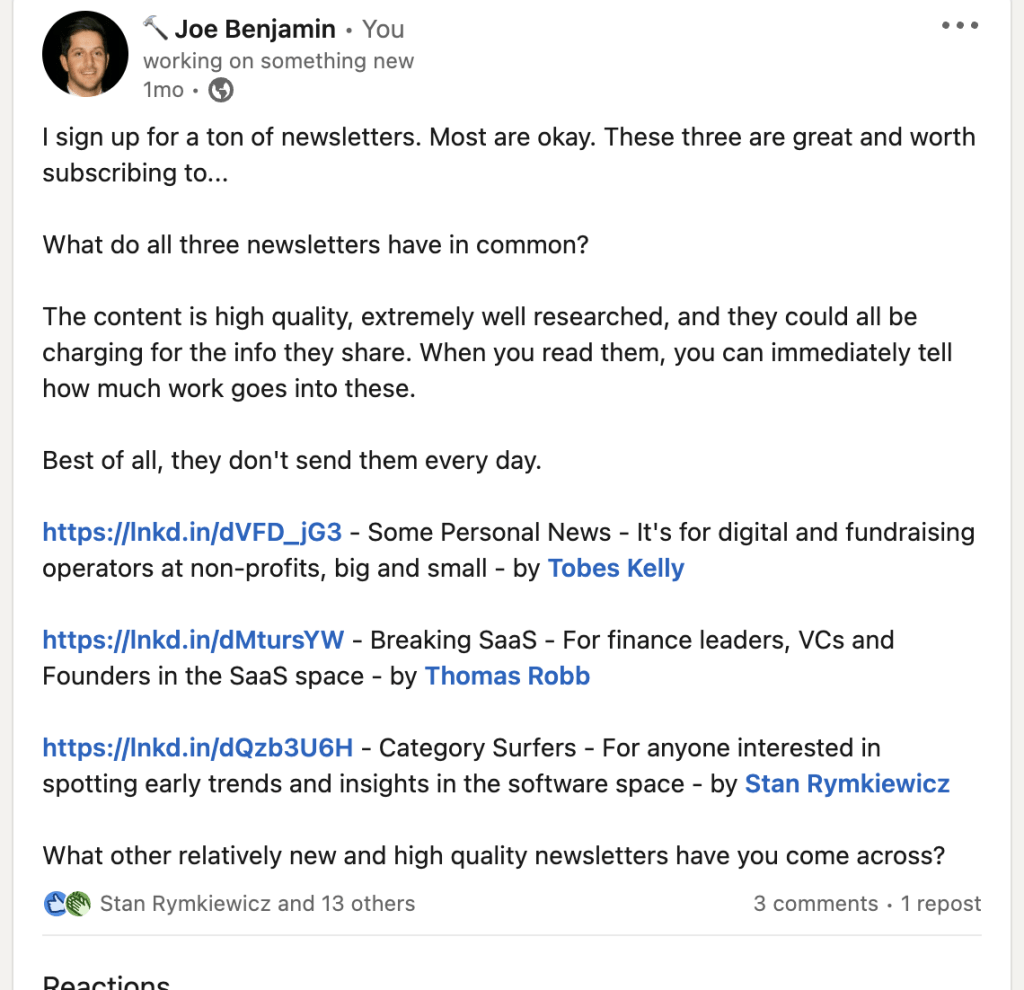 LinkedIn Hiring Posts Example
LinkedIn posts can also be about helping your network out. It may not drive the largest engagement but it can be quite impactful. An easy LinkedIn post idea for 2023 is to help a business out by spreading the word about the hiring they have going on.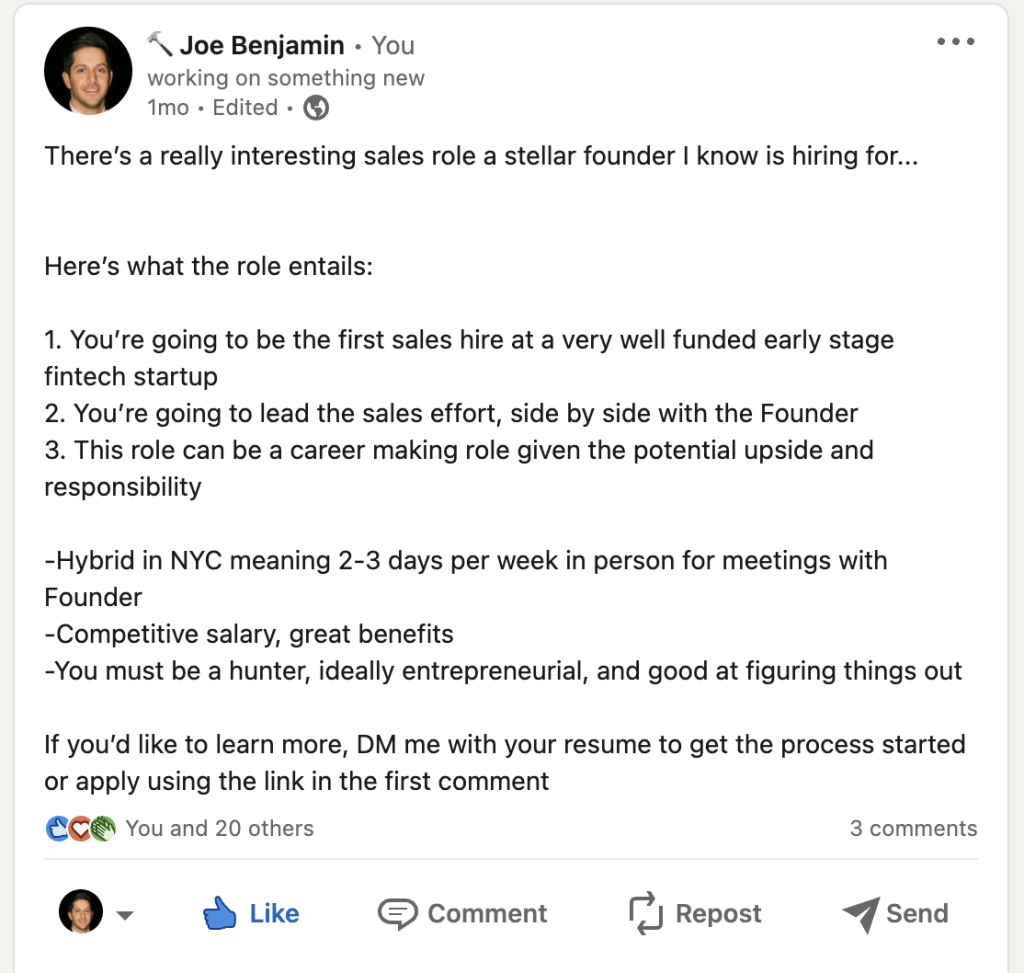 Make a Prediction For A LinkedIn Post
Write about what you think is going to happen in your industry. What do you think will change? Why do you think it will change? What will be big disruptions to business as usual? What has happened recently in your industry that is going to be a catalyst for change in the future? Make a prediction and ask people what they think.
B2B LinkedIn Post Ideas
Legal Impacts
Don't provide legal advice but are there any new laws or regulations that impact your industry? Tell your network about them.
Answer Common Questions Your Clients and LinkedIn Prospects Ask
It's likely that questions you get from clients and prospects will be highly relevant to your network. There's a reason why companies have FAQ pages. By offering up the answers and giving a detailed explanation you'll provide value and demonstrate expertise.
Common Mistakes Non-Experts Make Is A Good LinkedIn Post Idea
If you're an expert, you must see mistakes made by your clients or other less experienced people in your industry. Help your network by telling them about the mistakes that are being made, how they can be avoided, and what they should be doing instead can make for a great LinkedIn post.
Tool Review or Tool Recommendation
People love to hear about new tools and what other people think about them. As far as LinkedIn post ideas are concerned, this is an easy one to add to your content calendar. If you have favorite tools or software that you use, write up a quick review of each tool – what's good, what's bad, what you rate it, toss it into a LinkedIn post. If there's something you're using that is your favorite tool, recommend it publicly. Additionally, you can create a list of the top tools you use for other posts.
Recommend a Resource
Is there a newsletter, blog or a person on LinkedIn that you believe your network would benefit from? Tell them what it is and why they should take your advice.
Podcast Recommendations Make Great LinkedIn Posts
Curating a list of podcasts you recommend is a great way to provide value to your network and drive engagement. Especially if it fits your industry. Don't be afraid to mention podcasts that aren't directly related to your industry, especially if you can provide a quick summary of the podcasts. Check out this example:
Summarize a Podcast
Doing the work for someone is always well received. If you summarize the key takeaways from a popular industry podcast, your network will appreciate it. This is something you can do on a regular basis as new podcast episodes come out.
Book Summaries
Writing up a summary of a book that is valuable for your network to read is an excellent way to get engagement. There are also added benefits that you can use to message people in a strategic way, which we'll discuss later.
Book Lists
Write a list of the top books for people in your industry. You can expand on it by saying what people should be reading, why they should read them, and what you'll learn. Creating engagement on a topic like this is easy by asking your network for recommendations.
Provide Job Tips
If you've climbed the ladder, you've learned a few things on your way up. Share with your network what you wish someone told you when you were earlier in your career.
Other Good LinkedIn Post Ideas and Examples For Businesses
Before and After Client Experience
It's almost like a mini case study but not quite and can be a top LInkedIn post idea to promote your business. You'll want to present a problem and then explain how it was solved. This may come off as self promotional but it's a good way to provide an insight in your explanation of how you got to the after.
Before and After Work Experience or Walk Through a Work Experience
Was there ever a time you had a problem with something at work and then spent time solving it? Similar to the client experience, you present the problem and provide value by explaining how the problem was solved.
Give Props to a Coworker
Has someone at work achieved something noteworthy? Did they help you hit a goal or teach you something new? This can be an easy way to build goodwill not only with your colleagues but also your network and should be considered as your next LinkedIn post idea.
Discuss a Positive Business Interaction
Ideally with you not being the "hero" of this story. Mention a stellar customer service experience or when a business went out of their way to help you. This is the type of LinkedIn post that can spark other people commenting because they'll have an opinion on the topic.
Educational LinkedIn Post Ideas
Courses
Have you taken any online courses that helped develop new skills? Talk about what you've learned. You can easily summarize the key points and make it known. This is a regular LinkedIn post idea that you can use as you're learning a new skill.
Webinar Summary
People sign up for webinars but only about half actually attend and even more want to attend but know they don't have time to sit through a webinar. Any webinars you attend, write up a summary and share key takeaways. Bonus idea: collect a few webinar summaries and share the guide with your network
Personal LinkedIn Post Ideas and Examples
Personal LinkedIn posts allow you to connect with your network on a human level. These posts may have a business element but the spirit of them is more about you and less about business. Personal posts can be some of your top performing posts but you do not want to turn LinkedIn into your diary. Here are some LinkedIn Post Ideas that will give your network a better idea of who you are.
Favorite Book as a LinkedIn Post
This doesn't have to be a business book. What's one of your favorite books and how did it change the way you think? If you have multiple favorite books, you have multiple LinkedIn posts.
Reflection
You can mention what you've learned since you started your new job, how things have changed in the past six months, year, decade, since you switched careers, etc. If you're earlier in your career or started in a new industry, a monthly or quarterly update as a LinkedIn post can be interesting.
Major Personal Update
New career, had a baby, adopted a dog, got married? LinkedIn is a professional network but these are totally fine to share and do very well (for obvious reasons). When it comes to personal updates, this is something you can use when you're looking for new LinkedIn post ideas.
Risks You've Taken
Move to a new city and didn't know anyone? Did you switch careers to follow your passion? Leave a safe job to learn something new? Tell your network about it. This can be the catalyst for various Linkedin post ideas.
Who Has Helped You
Let your network know that you're where you are because of other people. Mention a mentor or a coach and what they taught you. Explain how you applied that to get your career to the next level. You can use this for various challenges you overcame as different LinkedIn post ideas.
Non-Business Expertise Works as a LinkedIn Post
Are you good at something or an expert in an area that's not related to your current job? This can be a topic you write about that your network might find interesting. For instance, I'm pretty good at editing resumes so I would provide resume tips and offer to help people with their resumes, for free. This built goodwill with my network and established genuine relationships with cold connections who took me up on my offer.
Failures or Mistakes Make Great LinkedIn Posts – Example
An issue with LinkedIn is that everyone always talks about how great they are. People get sick of seeing it and it lacks authenticity. Showing that you're human and you don't always win can be a great way to become more relatable. It's also refreshing to see someone be honest with their network. You can mention a major failure you've had recently or a tough week like I did in the LinkedIn post below.
Be Yourself
Do you have a hobby you want to share with your network? Go for it. LinkedIn post ideas don't have to all be about work. Share who you are with your network. People do business with other people.
Call Something Out
Is there something not being said that should be said? Are you seeing a trend that's hurting the integrity of your industry? Do you think there's something happening but people are staying quiet because it might be seen as a faux-pas to say something? If you're thinking about it, it's likely a lot of other people are. You can get insane engagement if you're the one to break the silence on a topic. This is one of the top ways to drive views as far as LinkedIn post ideas are concerned.
Niche business posts directly related to what you do help you establish credibility, personal posts humanize you and often have mass appeal.
Self Promotional LinkedIn Posts
If you've been providing value to your network, you're allowed to promote your business. This should be part of your calendar when coming up with new LinkedIn post ideas. The fewer promotional posts you share, the more effective they'll be. Major product updates, company goals hit, awards won, etc., are all fair game.
New Job LinkedIn Post Example
If you've just moved from your old company to your new company, it's a great time to add a LinkedIn Post about your new job. The easiest way to structure the post is below.
Announce an update talking about the time you've been at the previous employer
Thanks the employer or make a mention of your experience. Ideally you want to keep it positive. If it wasn't a positive experience, it's usually best to not mention it. You can then tag people on your LinkedIn post to thank them personally.
If there was a manager or CEO or someone special you worked with, include that in your message.
Then transition the post about why you left but make sure to keep it positive, ideally mentioning why you moved to the new company, not why you left the previous one.
Explain what your role is what you'll be doing.
Mention that you'd love to connect with new people if it makes sense.
If posting is part of your strategy and you're looking to leverage a content strategy plus manual outreach, you may want to check out our article on the best LinkedIn automation tools and how to hire a LinkedIn ghostwriter..