What is Grasshopper?
The affordable Grasshopper pricing makes this virtual phone system an affordable option. Grasshopper is a virtual phone system for businesses that work in line with your existing landline or mobile service provider. 
Grasshopper Overview
Grasshopper Pricing
The Grasshopper cost is kept affordable because there are plans tailored for your needs, specifically the size of your workforce and the scale of your business. The Grasshopper pricing will vary based on additional features.
Grasshopper Pricing Plans
Grasshopper provides some plans for all purposes. Starting off with the cheapest one is the Solo Package coming in at $26 per month when billed annually. This Grasshopper pricing package will include:
A limit of up to 3 extensions on local or toll-free numbers.
Unlimited domestic voice minutes.
Unlimited text messaging.
Voicemail transcription.
Included phone number.
The next one is the Partner Package, coming in at $44 per month when billed annually.
3 local or toll-free numbers with a limit of 6 extensions.
Unlimited domestic voice minutes.
Unlimited text messaging.
Read-Your-Voicemail (transcription).
Included phone number.
The last Grasshopper pricing package is named the Small Business Package and it does justice to its name. For $80 per account and per month when billed annually. You will be getting:
5 local or toll-free lines.
Unlimited extensions and domestic voice minutes.
Unlimited text messaging.
Read-Your-Voicemail (transcription).
For all plans, you can add additional phone numbers for $10 per month.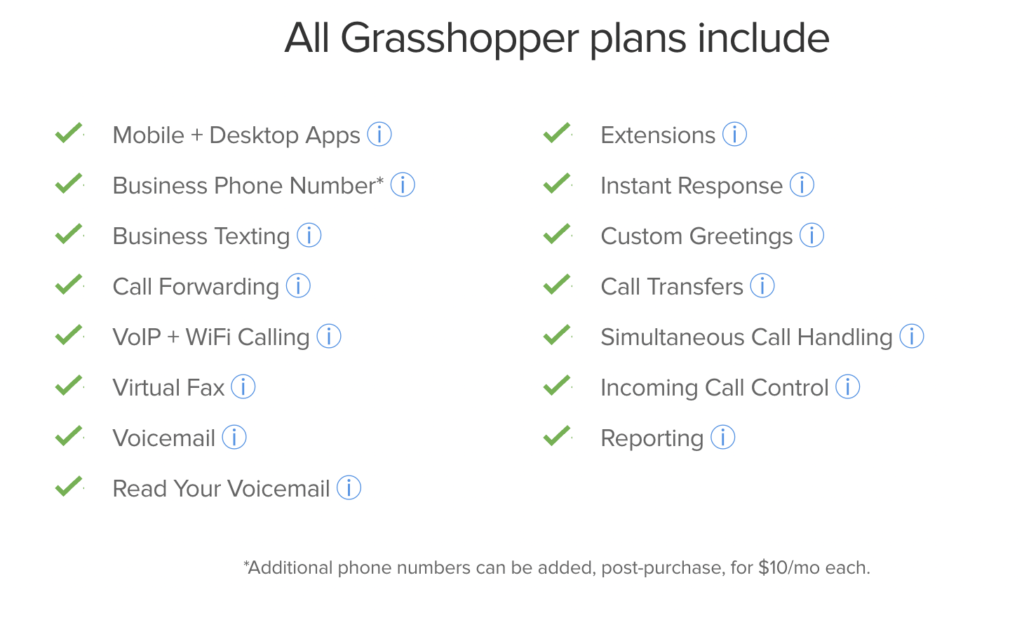 Grasshopper Enterprise Pricing
Grasshopper is prominently a cloud-based system. Therefore, customers just need to connect to an internet connection to use it. That is, any organization using Grasshopper has the option of either cellular data or Wi-Fi to dial.
Grasshopper offers a 99.999% uptime. Grasshopper rarely falls behind in providing good quality customer service. Also, the backup servers in some geographic locations benefit from this prompt response by Grasshopper. It ensures dialing without reliance on traditional public switch telephone networks (PSTN).
Based on all the advanced features Grasshopper promises, it is much more affordable than existing VoIP systems.
Grasshopper Product Comparison
To compare with Grasshopper, iPlum is a great software too. iPlum is quite a good and affordable solution for anyone needing VoIP voice communication. It is a similar VoIP in comparison to Grasshopper. If we take a look at its features, iPlum offers better quality calls, simple navigating options, and outstanding pricing plan. Moving forward to after-sales service, iPlum provides excellent customer service and prompt responses to any queries.
How much does Grasshopper cost?
LogMeln owned Grasshopper is ideal for remote uses in order to differentiate between personal and work calls. Grasshopper aims to minimize miscommunication, call drop rates, and provide a better customer service experience to people. It is of great help to small and fairly new businesses.
Grasshopper identifies itself as a great VoIP in the market for its advanced features and pricing structure based on the number of lines and extensions. Based on such extraordinary and business-specific packages, Grasshopper has a range of pricing and plans.
For small businesses, Grasshopper has plans for prices billed per month and per year. They cost $80 and $89 per month respectively. Small businesses are offered lines with five numbers and unlimited extensions.
There are further options to choose from solo and partner plans. According to your choice of plan, Grasshopper shall charge you.
For Grasshopper pricing plans per month for solo uses, it should cost $29. But, for plans with partner uses, it will cost $49. For prices billed per year for solo and partner plans will be $26 and $44 per month respectively. So, if we are to make a comparison, you save about $24 in a year if you choose the plan for a year in solo use.
To cater to any confusion, here solo means having one number and three extensions. On the other hand, a partner means having three numbers with six extensions.
If Grasshopper Pricing is Too High, Check Out These Grasshopper Alternatives
If the Grasshopper cost is a bit too much for you and you are looking for something a bit affordable or just want to keep your options open then there are alternatives as well.
For starters, if you would like to get used to the experience of using a virtual phone system like this then you can try out the free trial provided by RingCentral MVP or check out these RingCentral competitors and alternatives.
Other alternatives can be DialPad Talk which will cost you $25 per month and will include almost all your business calling needs, no matter the scale. The same goes for AirCall which starts at $30 per month. Under this, you will be getting unlimited users, unlimited inbound calls, integrations, smart queuing, and phone support.