Are you looking for Slack pricing, including Slack's enterprise pricing but don't want to hop on multiple calls to get an idea of what pricing costs? Well, we have obtained all the pricing info so you know what Slack will cost, including the enterprise cost. It's all broken down below. Did you know there are two different Slack enterprise pricing plans? Jump below to learn more.
What is Slack?
If you're not familiar with Slack, it was one of the fastest-growing software companies that some would say kicked off the product-led growth movement. At its most basic level, it's an internal communication, or instant messaging, platform, allowing employees to chat with one another. However, Slack is much more than that. Slack now allows you to communicate with people outside your organization. It's what gchat could have been or what Yammer failed to become. Slack is an extremely sticky product because it integrates with tons of other products. Many companies use Slack as a notification center in addition to their main communication platform.
Slack Overview
For many companies, Slack has replaced a huge chunk internal emails. You can create channels based on specific topics, make them public or private, and organize all your communication. Additionally, Slack will save all your messages so you can search through your chat and file history to quickly surface past conversations and information. Slack has become one of the most used tools by many organizations which is partly why Salesforce acquired them.
Slack also has voice and video calls, but you're better off using a service like Zoom or if you need to use asynchronous video, use Loom or Loom alternatives.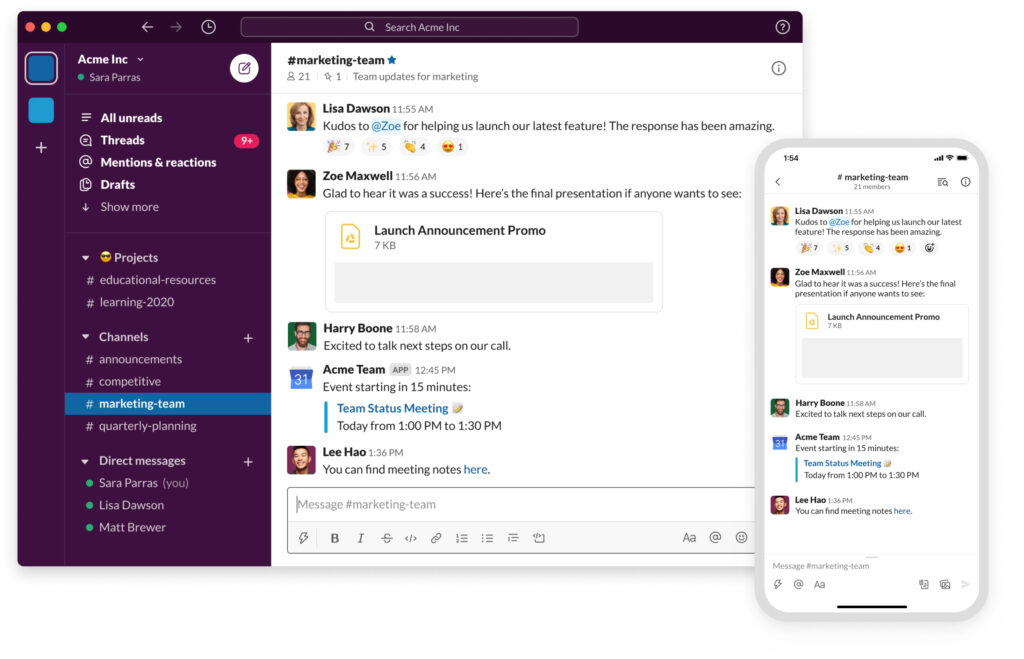 Slack Integrations
Slack integrates with a ton of software. You can bring outside information directly into Slack with different native applications.
Popular integrations include;
Slack for Growing Businesses
Slack Pricing
Slack Pricing is available on their website for all their plans except their enterprise plan. Like most software companies, Slack offers a discount on their pricing when you sign up for an annual contract.
| | | | | |
| --- | --- | --- | --- | --- |
| | Free | Pro | Business+ | Enterprise |
| Monthly Per User | $0 | $8.75 | $15 | SEE BELOW |
| Monthly Per User ANNUAL | $0 | $7.25 | $12.50 | SEE BELOW |
Slack Pricing
Free
Slack offers a generous free plan. If you've never used Slack at your organization before, your best bet is to sign up for the free plan. There's no real limit to the number of users but the main reason for not using it, is that your messages will not be saved after 10K messages, there are limited integrations, and file storage is limited. However, Slack pricing for the free plan is literally free and it will give you a good sampling to see if it's a fit for your organization if you're not sure.
Pro
Slack Pro pricing is $8 month on a month to month basis per user and drops to $6.67 per month on an annual contract for a total cost per user, per year of about $80 per user. The big upgrade here is your full message history will be saved. They offer group video calls but Slack is not a great tool for this. Another big benefit is that you can use Slack to collaborate outside your organize using Slack connect. This is a fantastic feature for agencies and working with vendors.
SLACK PRICING UPDATE JULY 2022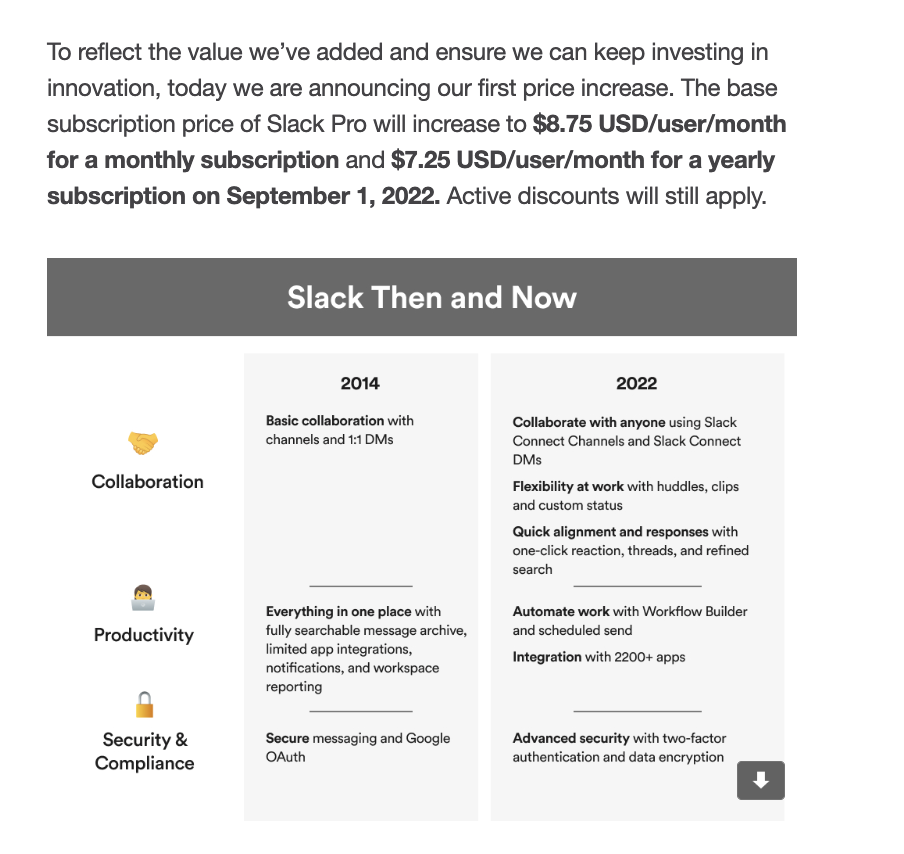 Business+
Slack pricing for their Business+ plan starts is $15 per user, per month without an annual agreement. This price drops by 2.50 per user, per month on an annual agreement to $12.50 per user, per month for a total of $150 per user on an annual agreement. You get everything in the Pro plan but the main difference is SSO and other security upgrades. With the premium paid over the Pro plan, you'll receive better customer service and 99.99% guaranteed uptime.
Enterprise
We'll discuss the enterprise plans in more detail below because there are actually two and Slack enterprise pricing is not clear unless you speak with a salesperson. The main upgrades for the Enterprise plan are based on size of organization, it's for the biggest companies in the world, organizations that have certain compliance requirements like HIPAA.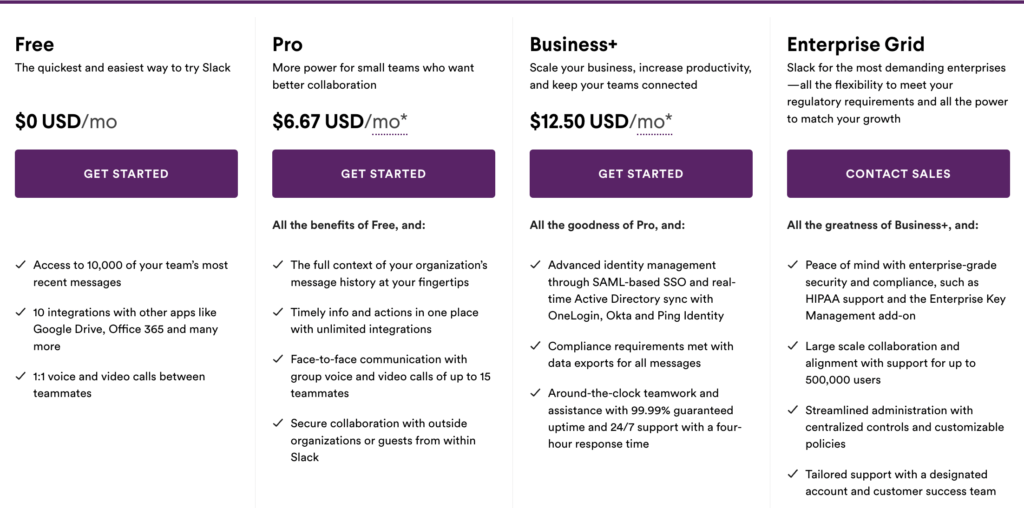 Slack Pricing – Enterprise
Slack has two enterprise pricing plans. Only one is on their website. The one on their website is going to be for the largest organizations in the world.
One thing that is unique about Slack's pricing is that
Slack Enterprise Select Pricing
You may not know that Slack has a plan not listed on their website called Enterprise Select. It's similar to grid but for organizations that do not require the same scale (hundreds of thousands of seats) but require the level of security and compliance found in the Grid plan.
Slack's pricing for this plan starts off at a minimum of 9 users.
Cost: $240 per user, per year, only available on an annual agreement.
Minimum cost is 9 x $240 = $2,160
If you had 100 users, you're looking at 100 x $240 = $24,000 per year.
Slack Enterprise Grid Pricing
This plan is for companies that require scale like the IBMs and Amazons of the world.
Pricing for this plan is also on an annual basis. The cost is $384 per user, per year.
A company that needed 50,000 seats would be paying 50,000 x $384 = 19,200,000 – However, it's likely that any company that needed that many seats would be able to negotiate the price down. Signing up for a multi-year agreement is going to be the first way to lower the price.
Slack Pricing Explained
When it comes to signing a contract with Slack, one thing that is not apparent, is how do you determine the number of users you will need if you're a growing company.
For enterprise plans, Slack requires you to a choose a number that is a good faith number. If you give a good faith estimate, you pay not matter what you use. When you are under, you pay. If you're over, you don't pay. This can be updated on a quarterly basis to adjust the good faith estimate as needed.
For other plans, Slack offers fair billing so you can pay for what you use.