We'll provide a full analysis comparing Airtable vs Trello. The average American business employee uses 9.4 different SaaS applications to complete daily tasks. While these tools are fundamental in conducting business in 2022, they make organization difficult, especially for teams. To help our clients find the best way to manage the clutter of the modern workflow, we've dedicated the following post to Airtable vs Trello, comparing two of the most popular project management platforms available today. Trello can be considered one of the many Airtable competitors in the project management space.
What is Airtable?
Airtable is cloud-based collaboration software that allows users to make custom applications. The platform combines the power of a database with the accessibility of a spreadsheet. Thousands of companies use Airtable as their project management tool because the platform is highly adaptive, functional, and doesn't require coding or database experience.
All project management platforms are organized databases, but the developers at Airtable put the power of the database at the forefront of their application. Airtable allows users to import or input the data essential to their work, then customize its presentation to fit their needs. The software is centered around the user's data rather than a rigid, branded graphical interface. By allowing the user to customize their tool, users are empowered to build what they need with as few limitations as possible.
Airtable serves as a single source for critical company information updated in real-time through Bases. Seamless 3rd party integrations, easy sharing capabilities, and custom visualization encourage collaboration. Team members have a unified Base to save, edit, and manage project contributions connected by the cloud. Airtable provides additional value to users because team members can view the same information from a different perspective or View.
While Airtable is a freemium software, the free version is highly functional. Limitations come when users want to scale their Bases to include more apps, storage, and capabilities. Free accounts have complete control over how their data can be sorted, filtered, and grouped.
Empowering workers with the full capabilities of building a database from scratch is a genius concept and makes for an incredible management tool. One of the only downsides is the barrier to entry. Users without experience organizing data are at a disadvantage because they must be more hands-on than other project management software.
Airtable Overview
What is Trello?
Trello is a cloud-based Kanban-style board creation software to help teams collaborate on projects and tasks. The highly visual tool allows users to create boards of various lists to help increase productivity and keep track of team progress.
The popular work management app (over 50 million registered users) provides a simple, ready-to-use project overview solution. Trello's core fundamentals can be learned in minutes and implemented immediately into team workflows. Sharing boards, assigning tasks, and tracking progress are nearly self-explanatory, thanks to Trello's accessible design and targeted approach.
Trello is perfect for teams looking to implement their first web-based management software. Kanban-style boards are massively successful in a variety of industries. Trello's developers have optimized the popular style creating an out-of-the-box ready solution to accomplish team management basics. While Trello is viewed as a starter project management application because of its limitations, the tool is still applicable for countless types of tasks in various industries.
Trello Overview
Trello is built with 3 fundamental components:
Boards – Foundation for different projects
Lists – Containers for various aspects of a project
Cards – A place to organize attachments, conversations, due dates, and checklists
Like Airtable, Trello's free version is usable in real-world situations. Limitations come when users want to scale and access Trello's complete range of features.
Trello vs Airtable Use Cases
The primary difference between Airtable and Trello is functionality. We will cover specifics, but it's essential to understand that Airtable can accomplish everything Trello can do when comparing use cases, features, integrations, and pricing.
While Airtable has unlimited use cases and Trello is limited, this doesn't mean Trello isn't a competent tool that brings value to countless projects. A suitable analogy is the difference between Android OS or other Linux-based operating systems and Apple's IOS. Android users have the freedom to accomplish everything an IOS user can, but most IOS users don't want to get their hands dirty customizing their UI/UX because Apple provides everything they need right out of the box.
Airtable Use Cases
The database-forward software offers unlimited use cases because it allows users to build applications from the ground up. Looking at the popular templates shows the scope of functionality provided to Airtable users; they include:
Content calendar
Project tracker
Marketing campaign tracking
Team product operation application
Product catalog
Product launch
Bug tracker
Event planner
User research app
Simple applicant tracker
Digital video production timeline
One widespread use case for Airtable is a bug tracker. A testing team can list each bug they find, link photos or videos, assign it to a team member, track the status, leave a description, and organize by priority.
Each application view helps team members access the data most beneficially according to their responsibilities. For example, the bug tracker template below organizes the data by priority in a grid view, a logical layout for a project manager, or the primary interface for the application.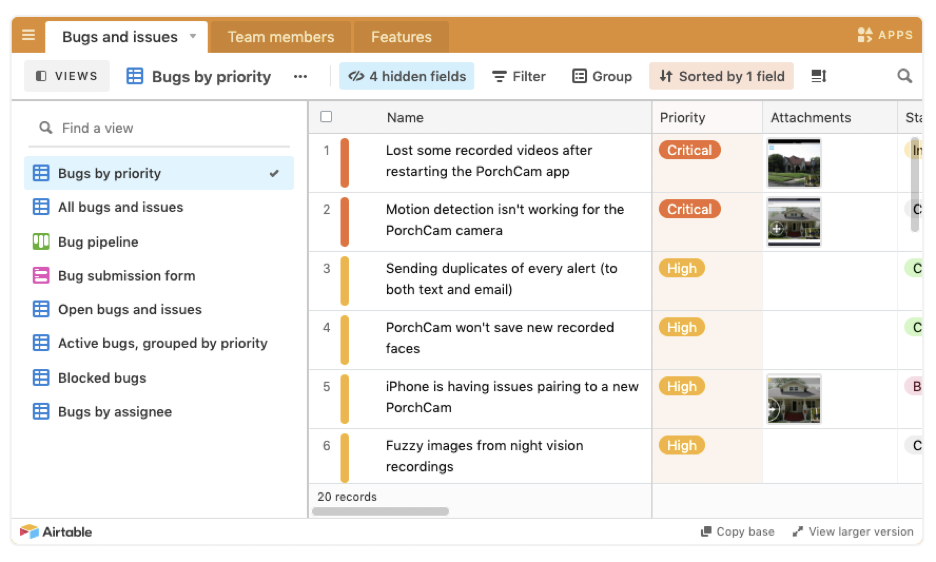 The image below shows the same data in Airtable's Kanban view and is organized by status rather than a priority. Developers may find this view more favorable when identifying bugs with common issues or that have become stagnant.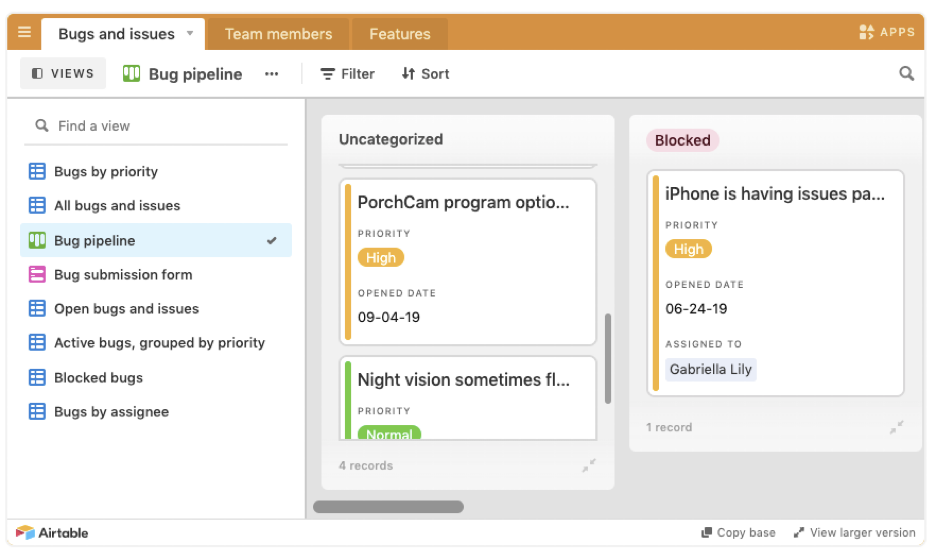 Trello
The use cases for Trello are limited compared to Airtable, but the advantage of choosing the Kanban-style collaboration board is the low barrier to entry. Trello is ready to help organize teams, tasks, and projects with a near non-existent learning curve.
Trello lists 4 use cases on their website:
Project management
Brainstorming
Meetings
Task management
A visual-forward board naturally attracts content creators. One of the most popular use cases for Trello is social media content management. The cards look a lot like posts, especially on Instagram's interface.
Team members can upload the post image or video, add a caption, hashtags, and update the status of the post for the rest of the team to review. Another team member can make suggestions in the comments, and project managers can communicate their final stamp of approval for all to see.
*Pro-tip: change the board to a background to match the platform for better visualization, E.g., posts on an Instagram timeline are presented with a white background.
Airtable vs Trello Features
Both SaaS companies offer an assortment of features focused on organizing projects. Airtable has more capabilities due to how it's built, and Trello's features specifically help users accomplish a Kanban-style management system.
Airtable features
Airtable consists of 5 primary features:
Views
Automation
Sync
Reporting
Interface Designer
Views is Airtable's different visualizations of user data. Grid view and Kanban are the 2 examples covered above. Free accounts also have access to Form, Calendar, and Gallery. The Timeline and Gantt Views are behind the paywall.
Airtable users can create custom workflows with trigger and action logic. The automation feature can be used to make simple notifications or complex, multi-sequence functions integrated with other applications. For example, if a bug is detected, the bug tracker app can send all team members an email or Slack message every time a record is created.
Data in Airtable is easily shared with other Bases and external platforms. For example, information from the bug tracker app can be synced into a UI/UX Base, and product deadlines from both teams easily integrate into the broad product deadline Google Calendar.
Airtable also has an assortment of reporting apps to help users present their data in digestible charts, graphs, and top-line metrics.
Interface Designer is a new Airtable feature still in beta. The new feature gives users more flexibility to create a workflow outside of the Views built into the platform.
Trello features
In many cases, more doesn't mean better. A simple layout with targeted features is optimal for many teams looking to manage projects. Trello's features don't provide the same limitless customization and capabilities as Airtable, but they offer additional value to the structure putting the software in competition with tools like Monday and Asana.
Many of Trello's features provide the same functionality as Airtable's, but users are limited to the existing framework. Board creation is the basis for workflows on Trello; every interaction and an additional feature is grounded in Trello's Boards, Lists, and Cards. Operating outside the structure isn't possible, but the system offers a tried-and-true format for project management.
Below is a brief description of each feature:
Views – Additional perspectives outside the Kanban board view. Trello offers Timeline, Calendar, Dashboard, Table, and Map Views for Premium subscribers.
Butler – Simple, no-code automation to customize workflows and integrate with apps outside of Trello.
Power-Ups – 3rd party apps that add value to boards such as Time Tracking Bot, Bitbucket Cloud, and Expense Trackello.
Trello vs Airtable Integrations
Team members use at least 5 other applications to complete their day-to-day work. Whether it's for communication, scheduling, or content creation, a project management tool needs to be compatible with other pieces of the modern workflow.
Both Airtable and Trello have numerous integration opportunities. What separates the integrations is how they are implemented on each platform:
Airtable offers more functionality but requires API integration
Trello's Power-Ups are ready to use, but functionality is limited
Airtable Integrations
Airtable offers over 1000 integrations from the most recognizable software companies, including Dropbox, Basecamp, GitHub, and Google Drive.
Integrations are connected through the Airtable API. Connecting to apps with an API allows for more flexibility and functionality; however, setup can be time-consuming for users without web development experience. Services like Zapier, Workato, Integromat, Box, Slack, LinkedIn, and Tray.io provide no-code integration, but the setup can still be challenging for beginners.
While Airtable advertises the platform can integrate with hundreds of websites and apps, only 32 of the most prominent are listed on its website. Accessing all possible integrations for a workflow could be a problem because there isn't a central location to search for Airtable's collaborators.
Trello Integrations (Power-Ups)
Trello also works with other technology companies to bring more features to the platform through Power-Ups. Integrations on Trello are similar to WordPress plug-ins; users access the Power-Ups and add directly to their Trello Boards.
Unlike Airtable, Trello features an easy-to-use marketplace with all available integrations. The apps aren't just from prominent software companies; 3rd party developers can include their apps in the Trello marketplace. By encouraging competition among developers, the user can access free integrations that offer premium functionality.
Trello's app marketplace allows users to increase the capabilities of their Boards. While the process is more accessible than Airtable, 3rd party applications are limited to built-in capabilities. Working with an API is optimal but requires web development skills to utilize the integration fully.
Airtable vs Trello Pricing
Both platforms are available in a freemium model. While many SaaS companies offer a free version of their product, few can be implemented into an actual workflow. Airtable and Trello's free versions are highly functional, with most features available without even entering a credit card.
Scaling projects to accommodate large teams or organizations will require a paid account for both tools, but small groups will be able to implement both platforms without paying a monthly fee.
Airtable Pricing
Upgrading from a Free to Plus, Pro, or Enterprise plan allows larger organizations to add more apps, integrations, record capacity, and storage.
The difference between a $10/month (annual rate) Plus plan and a $20/month (annual rate) Pro plan is significant. Not only do users receive exponentially more opportunities to scale, but the highly popular Gantt and Timeline Views also become available.
Trello Pricing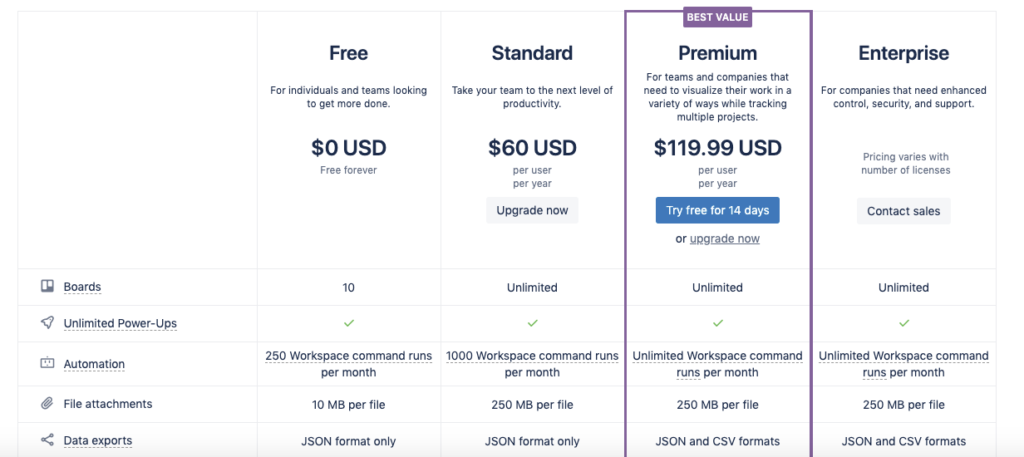 Trello is available in Free, Standard, Premium, and Enterprise tiers. The difference between Free and Standard may not seem noteworthy, but Workspace commands (across all Boards) add up quickly, and Free plans don't include custom fields or allow .CSV exports.
Upgrading to Premium gives users access to additional Views expanding the software's potential from a Kanban-style board to a more functional, complete project management tool. See additional Trello pricing information.
Reviews for Trello vs Airtable
Reviews for both project management platforms are favorable. Teams using either software are seeing increased collaboration, efficiency, and productivity.
Trello and Airtable are top-rated products on TrustRadius, with both scoring an 8.4 out of 10.
Trello Reviews
A common theme among positive Trello reviews was developers running agile project management frameworks. The negative comments consisted of Trello's customization restrictions and limited free features.
Airtable Reviews
Airtable is praised for customization and data visualization, but critics commonly mention the high barrier to entry. Airtable's mobile app was also a prevalent complaint in comment threads.
Users satisfied with Airtable describe the database builder as a capable project management solution with many features.
Comparing Airtable vs Trello
Airtable and Trello are successful SaaS products used by hundreds of thousands of professionals globally. Each platform helps users organize, visualize, and manage their work in a system that encourages collaboration. The software companies differ in their approach and philosophy regarding web-based productivity.
Airtable believes the user can build the most beneficial work management system when given the tools.
Trello's methodology provides users with the best framework possible and creates features to build off the proven method.
Airtable is the closest application to having a web developer build a custom work management collaboration tool. The capabilities of Airtable are unmatched by Trello but utilizing the platform to its full potential takes dedication. Users without experience working with data sets and more advanced web development tools will have trouble navigating Airtable. Mastery of the software is worth the time investment because Airtable's use cases are broad, and it is a relatively cost-efficient solution compared to other project management tools.
Trello's simple framework and implementation of the Kanban-style board give teams a reliable, proven project management system that is ready to implement into workflows. Content creators enjoy the highly visual representation of their data, and more technical development teams choose Trello to utilize an Agile project management strategy. Trello's straightforward approach makes the platform so popular; however, users looking for a personalized view of their projects could outgrow Trello quickly.
Both SaaS platforms offer impressive free versions with enough features to satisfy most small teams. Airtable is a more complete tool, especially when comparing the free versions. A Premium Trello account gets closer to the capabilities of Airtable but is exponentially more expensive. Users looking for their first project management experience or a simple, Kanban-style board will be satisfied with Trello's software. Expanding the platform's functionality requires a monthly payment that exceeds Airtable's most expensive tier.
Trello vs Airtable Conclusion
Bottom Line: Trello is recommended for beginners or users looking for a simple board to organize data. Users comfortable working with a database are rewarded with a more capable system after investing the time to learn Airtable's intuitive software. If you're looking for other project management tools, you may want to check out Asana.