When it comes to acquiring Gong Pricing it almost always requires a sales call, until now. Gong.io is the conversational intelligence category leader. It's considered one of the best pieces of software for sales teams that has come to market in the past few years. Gong created a new category, and naturally there are many Gong competitors you may be considering, but first, you likely want to know how much does Gong cost?
What is Gong.io?
Gong.io is a tool that helps sales teams improve their sales performance. As mentioned, it is the leader in the Conversational Intelligence software category. It analyzes customer interactions across the phone, web conference, and even email. Gong is able to uncover insights to improve sales team performance that would otherwise not be possible with a manual review.
The basic way it works is Gong listens to salespeople's calls and other interactions with customers and provides actionable advice where and how they can make immediate improvements. Best of all, it actually works. Using a tool like Gong can tell a user if they're talking too much, if they didn't ask enough questions, or even remind them what they need to do for next steps, like send Gong pricing to a customer.
It would be impossible for a sales manager to listen to their teams' calls, find opportunities for coaching, and then suggest improvements. Gong.io does that. Not only can Gong be used for sales, it can also be used for customer research by Product teams, used to improve Customer Success and Customer Service teams too. Marketing is also able to glean customer insights. Gong pricing may seem high but the value is there if you make using the tool part of your business.
For a deeper dive on what is Gong, we've got you covered.
Gong Product Overview
Top Gong Features
Gong is strong at surfacing insights to reps and leadership team. It will will email the sales rep right after call with insights and can act as an assistant to help with following up as a reminder.
Deal board. Gong provides complete visibility into the state of your pipeline, has bilateral sync with Salesforce for the strongest category integration. Chorus only pulls up deal page, tech is stronger and more accurate. You can learn more here: Gong vs Chorus.
UI is clean and easy to navigate
Gong Pricing
When it comes to acquiring Gong pricing, you normally have to sit through at least two calls. We can tell you the cost of Gong.
Gong Pricing is calculated by two factors.
Platform Subscription
Per User Price
There is a minimum for Gong pricing of at least three reps which is important to keep in mind if you're a small sales team. With a smaller team, Gong may not make sense because you still have to pay for a platform subscription. Gong does not offer any discount for teams under 49 people. However, if you say you're considering a competitor, it might be possible to reduce the price. Additionally, all Gong pricing is based on an annual agreement.
It is important to understand the different seat types to better help you calculate your Gong pricing.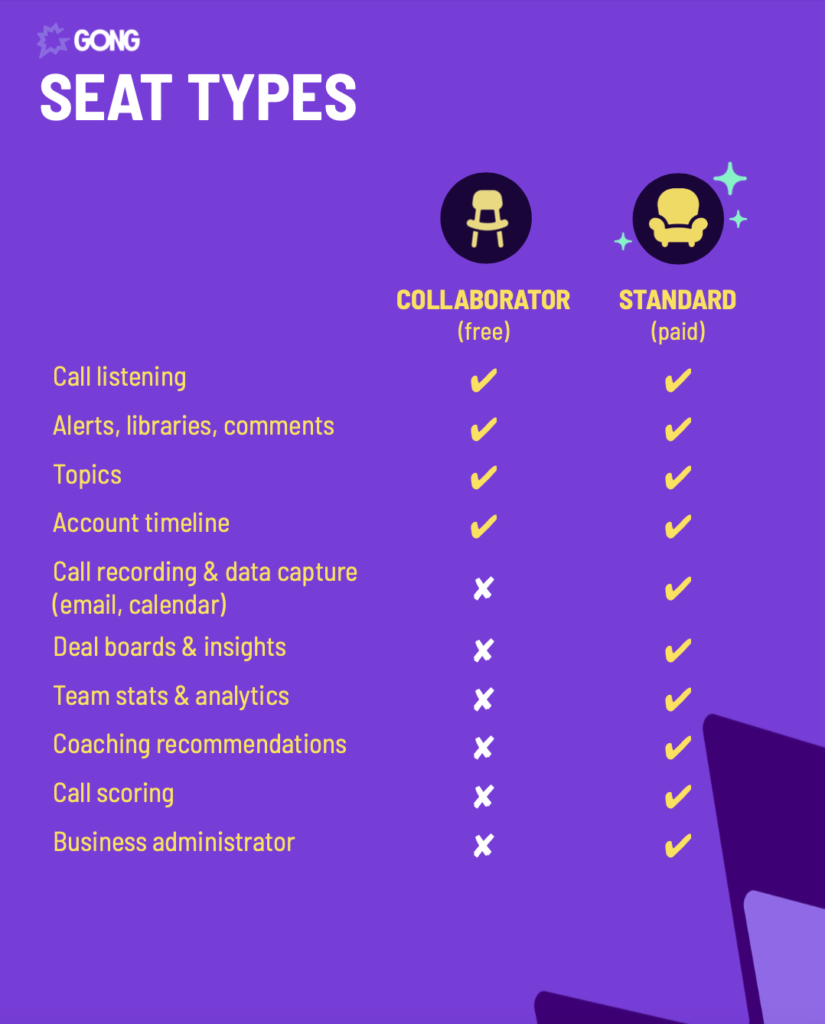 Gong Platform Pricing
$5,000 annual platform pricing is how much Gong will cost before you add any users. There are eight key items included in the cost
Unlimited collaborators – This is for anyone who does not have their calls recorded
Trainings – Gong will train you on the product
Initial integration – Help get integrated with workflow
Unlimited data storage – Data adds up over time, nice add
Customer Success Manager – Gong is unsurprisingly very customer centric
Customer support via the web – Basic customer support
Unlimited data export – Access your data
Gong Academy – Train up your team
Gong Pricing Per User
| | | |
| --- | --- | --- |
| USERS | PER USER Pricing | DISCOUNT |
| 3-49 | $1,600/year | 0% |
| 50-99 | $1,520/year | 5% |
| 100-249 | $1,440/year | 10% |
| 250+ | $1,360/year | 15% |
How Much Does Gong Cost?
If you're looking to understand how much does Gong.io cost, you'll need to know how many users you want for the product because that is the variable that will increase or decrease your pricing.
For example, if you were going to have 100 users on Gong.
Gong pricing example:
Platform Subscription: $5,000
Gong Per User Cost: $1,440 (per user cost) x 100 (users) = $144,000
TOTAL: $5,000 + 144,000 = $149,000
For a team of 100 users, Gong's cost is going got be $149,000 for an annual subscription. Now that may seem like a lot but when you consider the potential for improving your sales team's performance and your deal size, the ROI on a purchase like Gong could be an easy decision.
Actual Gong Pricing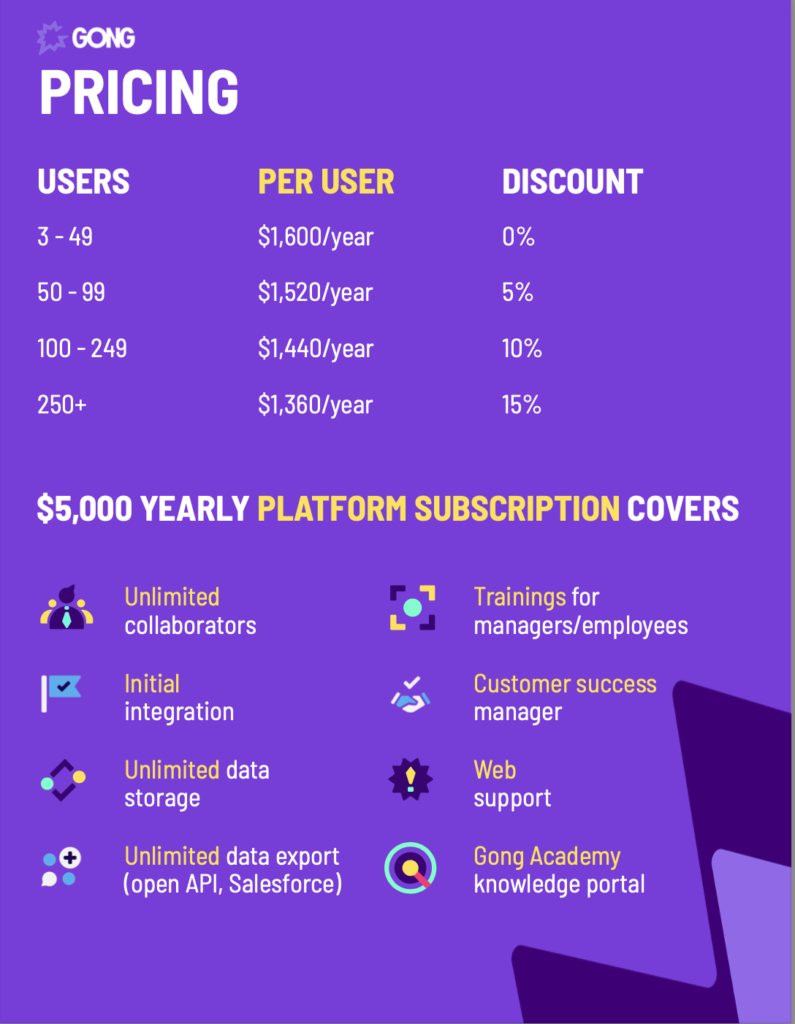 Gong Alternatives If Pricing Is Too High
If Gong isn't in your budget or you want to see what other options there are, check out this article on Gong competitors and alternatives as well as the comparison for Gong vs Chorus and see the Chorus pricing if you wanted to see a cost comparison for Gong's top competitor.