If you've spent enough time on LinkedIn, you may want to know how to block someone on LinkedIn. The steps to do this are pretty simple.
Blocking Someone Using LinkedIn On The Web
Go to the person's profile you want to block
Click the three dots (more button)

You'll see dropdown menu and look for "Report / Block"
Click on "Report / Block" and you'll see a screen that looks like this…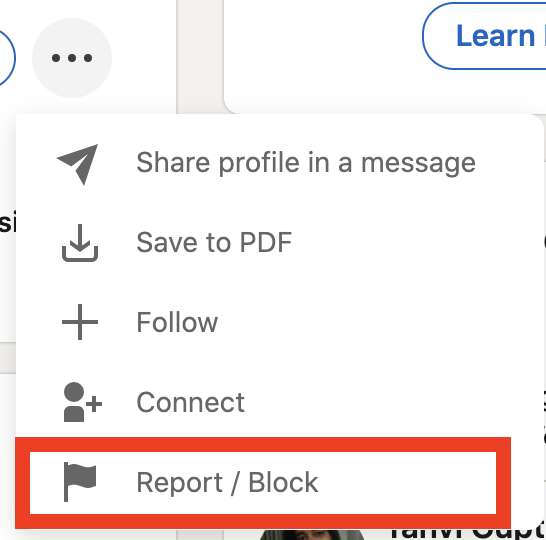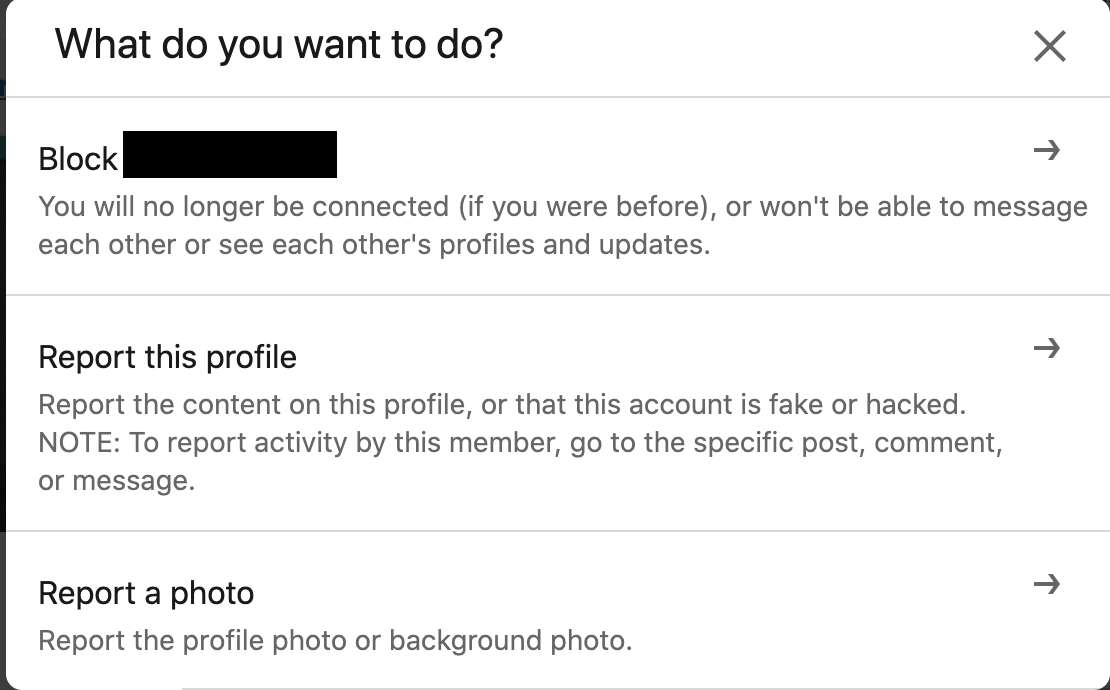 Click on "Block [name]" and then you'll see a screen that looks like this…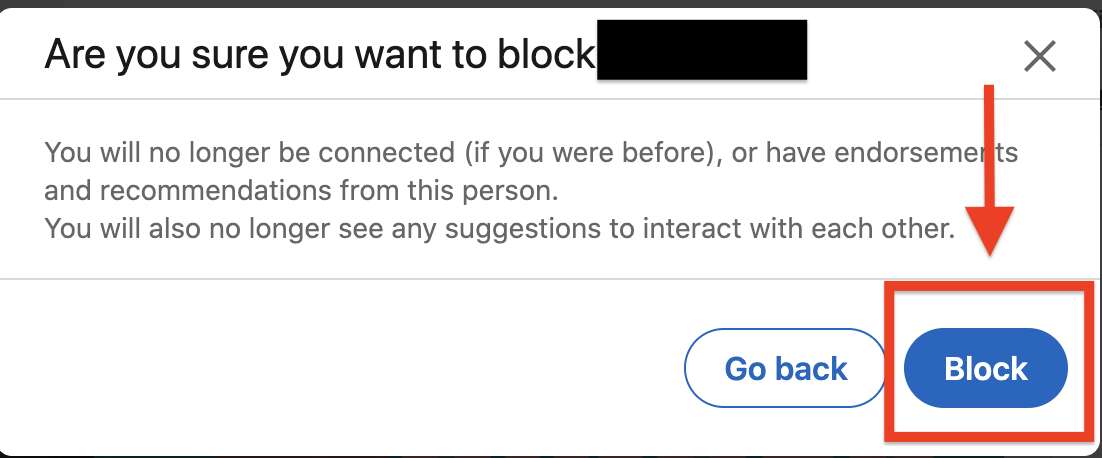 LinkedIn will ask "Are you sure you want to block [name]" and then you'll select "Block" to block the person.
Now you have blocked this person on LinkedIn.
How To Block Someone on LinkedIn Using The Mobile App
This is an example of blocking someone using LinkedIn's iOS app. It's pretty similar to blocking someone using the web.
Go to the person's profile you want to block
Click the "More" button

A menu will appear and you'll want to look at the bottom. Select "Report / Block."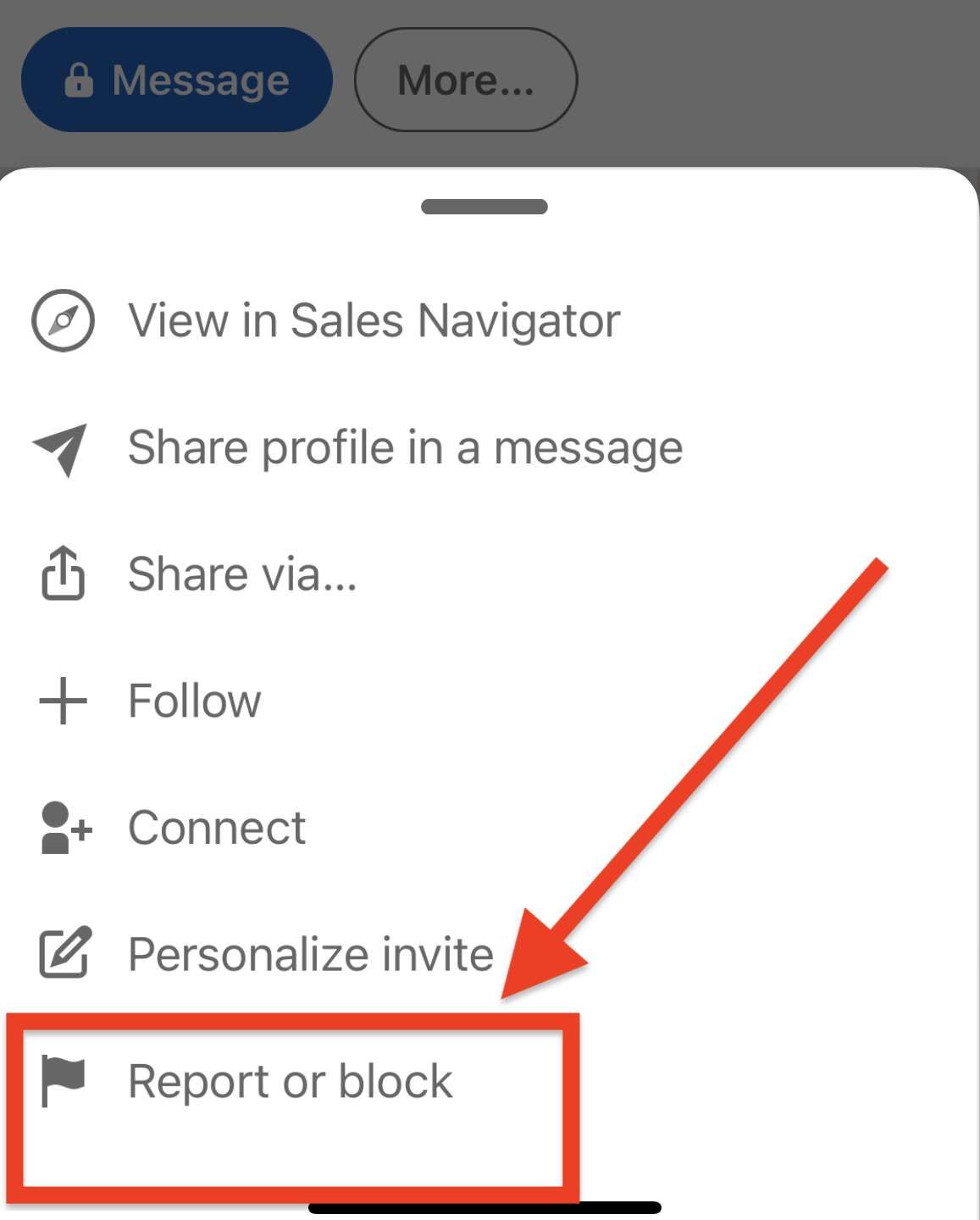 Like the web version, you'll be given the option to block or report the profile. Select "Block [name]" and you'll see this…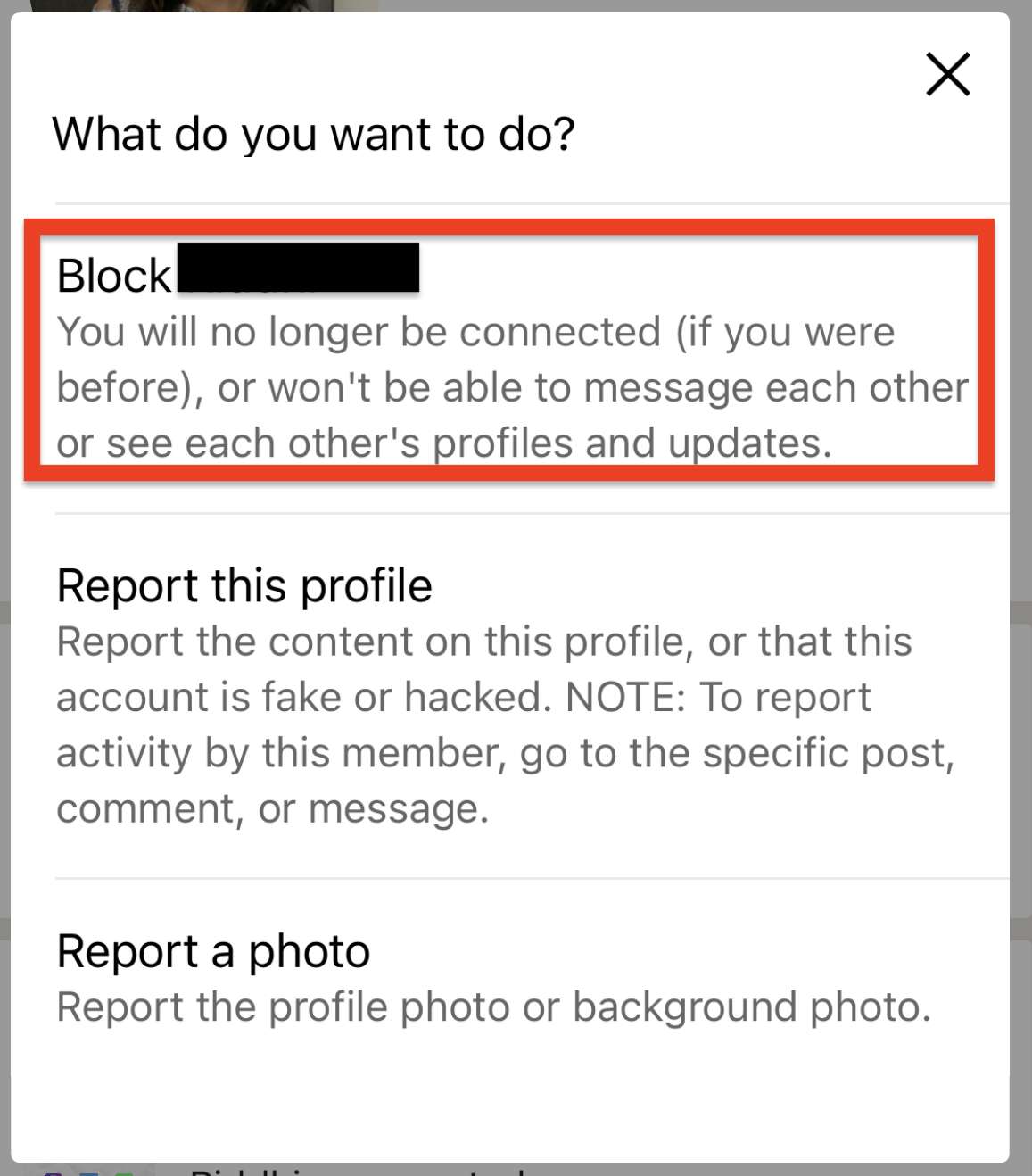 After you select to block them, you'll be asked to confirm that you're sure you want to block someone on LinkedIn. Once you hit block, this person will now be blocked on LinkedIn.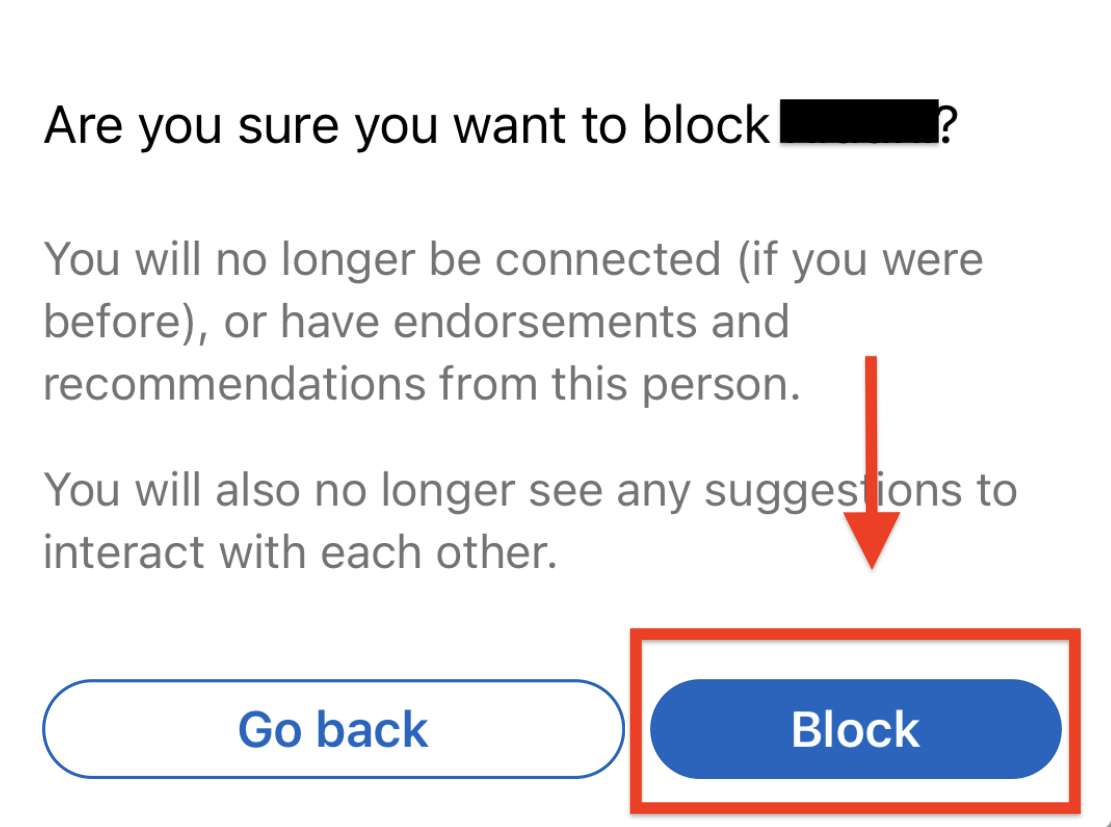 Once you've blocked them, LinkedIn will return you to your home feed.
When Should You Block Someone On LinkedIn?
There are a few reasons why you should block someone. The first reason is because they're bothering you. Many salespeople can be relentless. If you've asked them to stop contacting you and they haven't, that can be a good reason to block them. Think of it as a way to unsubscribe from them on LinkedIn. If someone is harassing or saying inappropriate things, that's another good reason to block them. If you feel uncomfortable with someone regularly viewing your LinkedIn profile, that could be a good way to get them to stop.
If I Block Someone on Linkedin, Will They See I Viewed Their Profile?
No. Once you block someone, they will not see that you viewed their profile. For purposes of blocking on LinkedIn, it's as if you both no longer existed.
How Do I Know If I've Been Blocked On LinkedIn?
If you know you were connected but no longer see that person as a connection you could figure out if they blocked you by doing one of two things.
If you can't find the person on LInkedIn when you search for them but a friend can find them when they search for them, it's likely you've been blocked.
If you don't want to ask a friend to search for them and you've already tried searching you can google "[person's name] LinkedIn" to see if they show up in the search results. It's not a guarantee that they'll show up in Google's search results but it's likely. If you can't find them on LinkedIn and you can on Google, you've likely been blocked.
Can A Person Tell If You've blocked Them On LinkedIn?
The person you block does not receive a notification that they've been blocked. There's no easy way for them to find out. They would have to actively determine if you've blocked them. It's possible they would never notice if they were not trying to figure out if they have been blocked.
What Happens When I Block Someone On LinkedIn?
A few things happen if you block someone.
You will lose them as a connection if you were previously connected.
You will be unable to message them and they will be unable to message you.
Any recommendations or endorsements between you and the person being blocked will be deleted.
You will no longer be able to view their updates, feed activity, or profile. The same goes for them.
How Do I Unblock Someone On LInkedIn?
Blocking someone on LinkedIn is not permanent. You are able to unblock them with a few clicks. If you've decided you wanted to Unblock someone on LinkedIn, these are the steps to take…
Go to your profile at the top right of the screen and click on "Me", go down to "Settings and Privacy" and click that.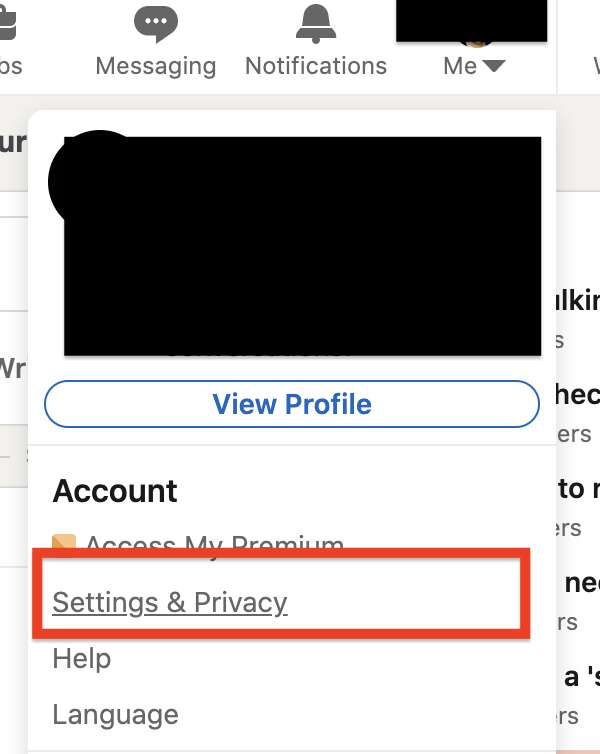 Then click on "Visibility" which is on the left hand side and select that.
Scroll down on the right hand side to see the section titled "Blocking" and click on that.

You'll then see a list of people who you've blocked. If you want to unblock any of these people, you'll click "Unblock" next to their name and will be prompted to enter your LinkedIn password to confirm the unblocking.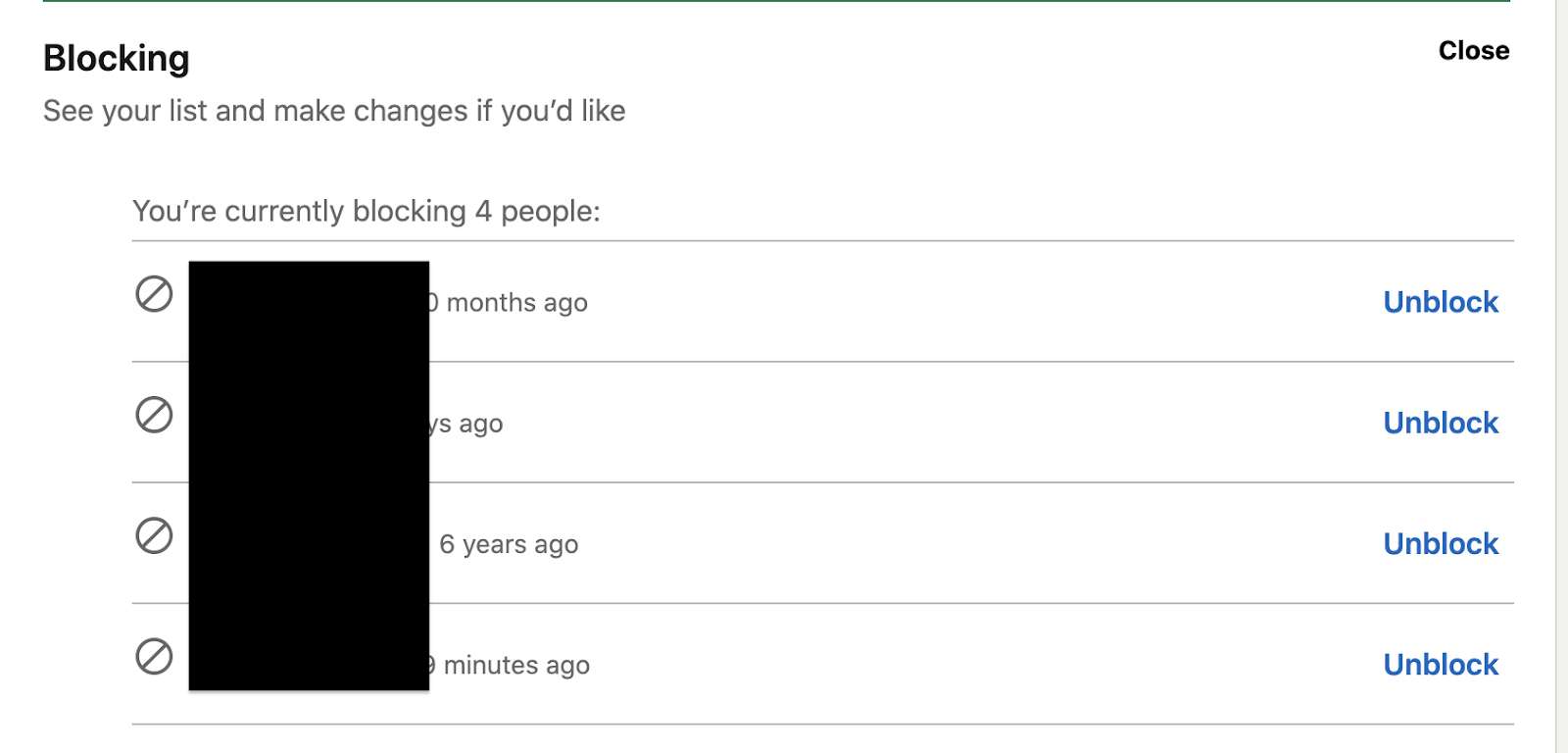 Click Unblock to Unblock.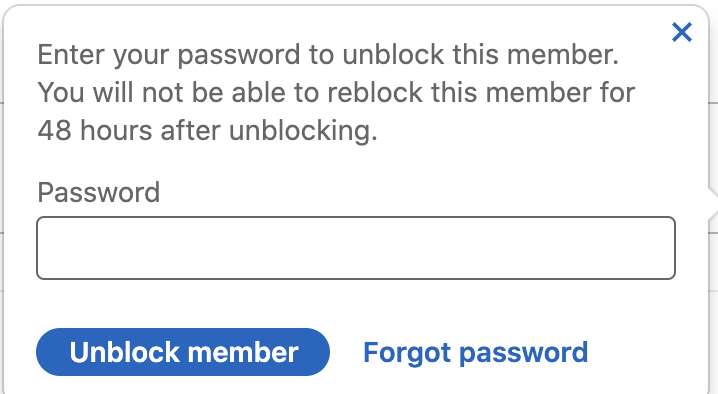 After you've entered your password to unblock the person, it's important to remember that LinkedIn will not allow you to block this person for at least 48 hours after you've unblocked them. Keep this in mind if you're on the fence.
If you're a software engineer looking to add your GitHub to your LinkedIn, we can help.