Notion pricing is publicly available on their site except for the Notion enterprise pricing which you can view below to get an idea of your Notion costs without having to talk to sales.
What is Notion?
Notion is a useful tool that is part project management application, part Wiki, and part advanced doc. It's quite flexible for users and easy to customize. All different types of companies can find value in Notion, from non-profits, to startups, to large enterprises. Given the flexibility of Notion, virtually any department can use it too. If you ever use docs, you can probably find Notion useful. Notion provides templates which can be helpful in getting started.
Notion can be used for Projects, Docs, and Wiki's. It's a great tool for team knowledge and note-taking. Other use cases include meeting notes, to-dos, onboarding docs, company policies, content calendars, to name a few. For example, an inside sales consultant could build out all his training material for a client, and keep the knowledge available for the team, long after his engagement ended. Additionally, it features an integrated AI system. Overall, you'll have a ton of use cases to get value out of Notion. It's important to know what you may use it for to get an understanding of the right package and Notion pricing required.
Notion Pricing
Notion has four options:
Personal – Free – 1 user
Personal Pro – $4 per month, billed annually. $5 bill monthly. – 1 user
Team – $8 per user, billed annually, $10 per user billed monthly
Enterprise – see pricing below
The plan you select will depend on your needs. What's great about Notion is you can try Personal, Personal Pro, and Team for free.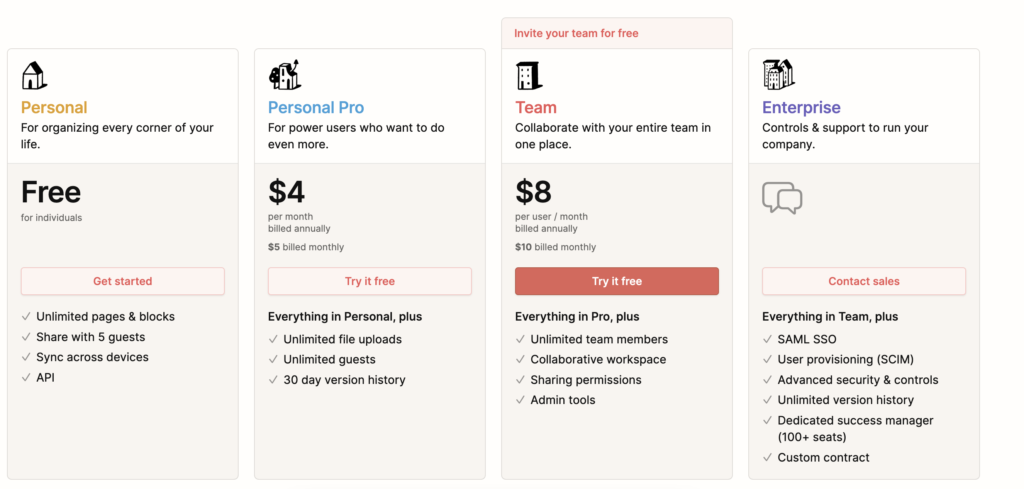 Notion Pricing Plans
Notion Enterprise Pricing
Notion pricing for the enterprise plan is $25 per month if you do a monthly agreement. Notion pricing for the enterprise plan is $20 a user on an annual agreement. You save $5 per month or $60 per year if you sign up on an annual agreement. The nice thing about this enterprise pricing plan is that there are no minimums for seats. They even offer a discount for paying in full upfront. Like most enterprise pricing plans, this includes SSO and you have the option for a dedicated success manager if you have over 100 users.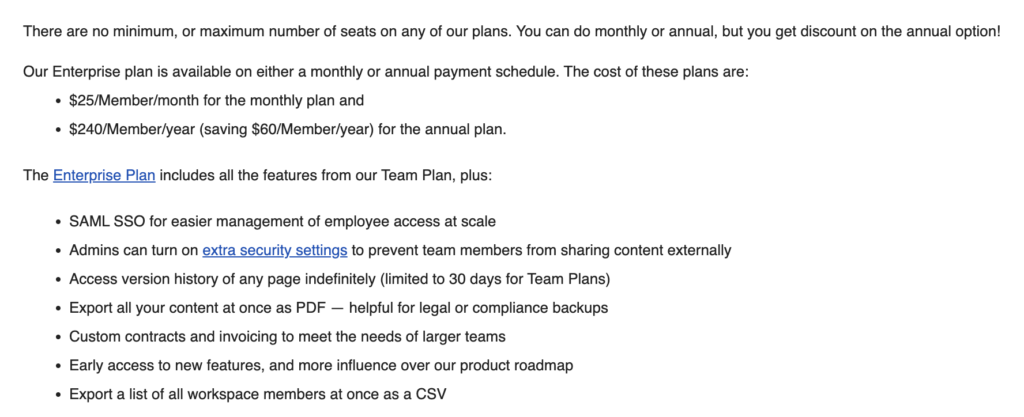 How Much Does Notion Cost?
Notion pricing is based on your specific needs. If you can avoid the enterprise plan, the cost per user is not bad. But once you need something like SSO, pricing can jump 2.5X from the team plan, significantly increasing your Notion costs.
Of course, your needs will vary. If you have multiple users who will need Notion but not ready for the enterprise plan, the pricing for Notion is $10 per user, per month if you do not want to be locked into an annual agreement. You can save 20% by signing up for an annual contract.
If you're an individual user, the free plan is a great way to test the waters. If you're consistently using Notion, upgrading to the Personal Pro plan makes a lot of sense. Once again, if you want to save a little bit of money, the annual contract is the way to go as Notion like most SaaS companies, provides a discount for full payment up front for the year.
Notion Discounts
The easiest way to get a discount with Notion is to sign up for the annual plan to reduce your costs. If you find yourself or your team regularly using notion, the annual agreement is a no-brainer. There are other ways to get discounts on Notion. Many startup-focused tools like bankmercury.com and incubators will offer notion credits to lower your monthly or annual Notion costs.