Are you looking for Zylo pricing to understand how much it may cost your organization? We've got you covered with Zylo pricing to give you an idea of where the cost is so you can decide on next best steps without having to speak to sales.
What is Zylo?
Zylo is a SaaS management platform for enterprise companies. Zylo is not going to be a fit for small or medium sized businesses. Zylo helps companies get a clear view of the SaaS applications they have. Like other SaaS management platforms, Zylo helps to give companies an insight into what software they're spending money on in order to reduce necessary costs.
Zylo will also help with SaaS compliance which is something CIOs like. When it comes to SaaS renewals, Zylo can help with price benchmarking and helps you stay on top of upcoming SaaS renewals. The product also offers a significant amount of integrations. Many are used to track products and payments of products. This, like many other products in the category, it can be used by CIOs, CFOs, Procurement, and any other department that touches software purchasing, spend, or utilization. Zylo can do a lot which is why Zylo pricing is not cheap.
Zylo Pricing
Zylo pricing isn't available without a call with their sales team. However, if you're looking to better understand the Zylo cost, we've got you covered.
The base platform fee is around $35,000 – $40,000 per year – this has been confirmed. Zylo pricing is unlikely to provide a positive ROI unless your organization has a minimum of 500 employees. As your employee count increases, Zylo pricing will increase.
Zylo Pricing Plans – Info To Know
If you feel the base platform fee, starting around $35,000 is doable, then you need to know that you'll also need either SSO or an ERP to get enough value out of the product. Given the recommendation of a minimum of 500 employees, it is likely that a company with a proper IT department would have at least one of these.
This is also an annual contract.
Zylo also offers vendor negotiation which is also offered by other companies in the space. A consistent theme is that pricing for this type of service requires a significant spend, many companies require a minimum of $3,500 per month on an annual basis.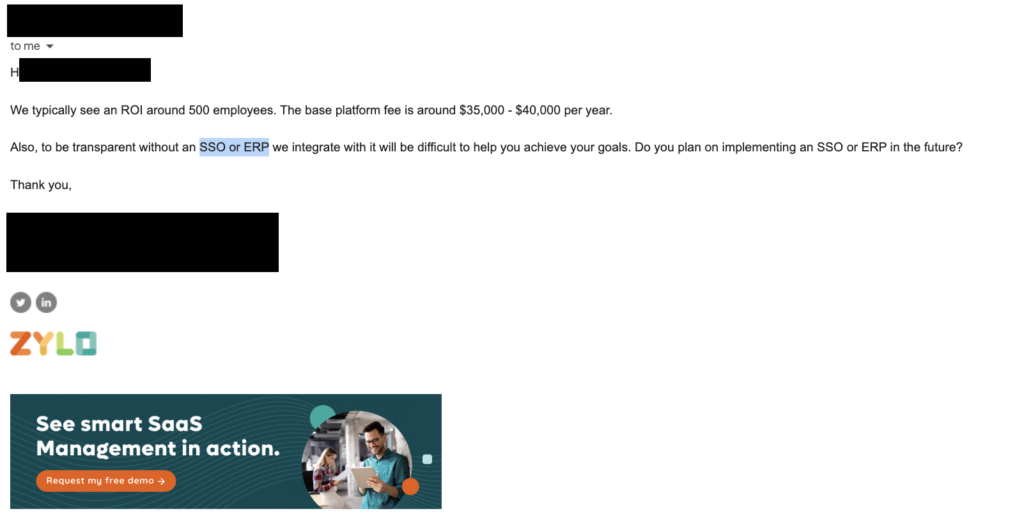 How Much Does Zylo Cost?
The cost to sign up for Zylo requires a minimum of spend of $35,000-$45,000 for just the platform fee on an annual agreement. You also need SSO or ERP. Without 500 employees, the offering may not have a positive ROI.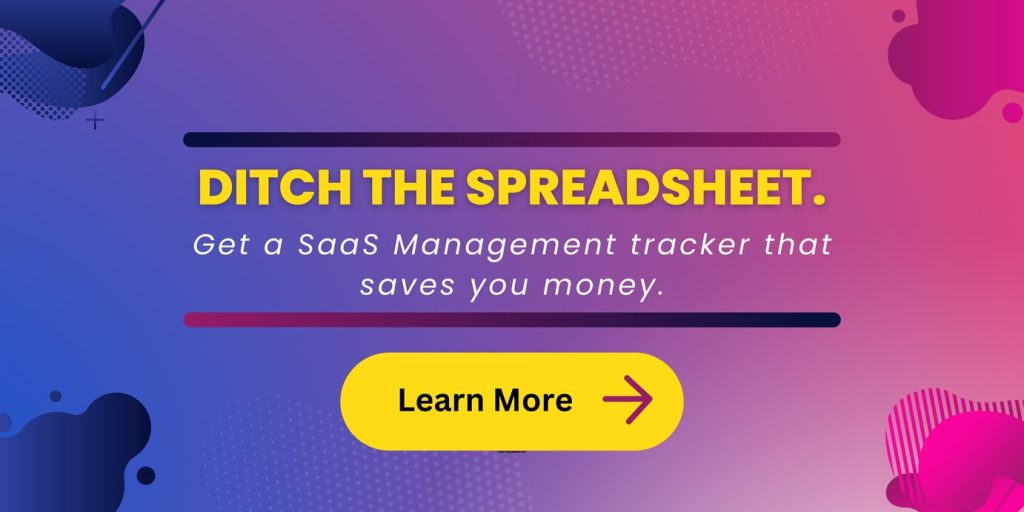 If Zylo Pricing Costs Too Much, What Are Zylo Alternatives?
Zylo pricing may come as a shock to someone considering SaaS management software. However, the Zylo cost may be justified given the size of a large organization that wastes money on software products and misses software renewals. If you're looking for a more affordable Zylo alternative, we can help:
Vendr – Also expensive – Best for Enterprise
Tropic – Also expensive – Best for Enterprise
Bettercloud – Also expensive – Best for Enterprise
Zluri
Productiv
Torii – Also expensive – Best for Enterprise
G2 Track
If you need help determining which Zylo alternative is right for you, please contact us.