SalesLoft competitors are numerous given the explosion of innovation in the sales acceleration category. These innovations have been concentrated in large-scale, comprehensive platforms which can handle every step of the outbound sales process and provide clear visibility as to exactly what's happening at any one point in time.
This is a significant improvement on how it's traditionally been done – where data was haphazardly collected in different places and formats, sales reps were going based on instinct rather than strategy, and performance was measured somewhat arbitrarily. Sales technology has changed all of that for inside and outside sales reps.
Image Source: Isaac Smith
SalesLoft is one of the leaders in this space and has carved a path for itself that has made it very popular with companies all around the world. But while it is a very powerful piece of software, it's not for everyone – and a range of SalesLoft competitors have risen to the challenge. In this article, we'll compare some of the best alternatives to SalesLoft for companies wanting to take their sales to the next level.
—
What is SalesLoft?
SalesLoft is an incredibly comprehensive sales acceleration platform that brings a range of sophisticated tools into one complete package in order to drive revenue and monitor sales activity across organizations. They pride themselves on a wide suite of integrations designed to seamlessly meld into existing system infrastructure within businesses. It works best when a company goes all in on SalesLoft and takes advantages of the natural synergies that are created when you're using the software to its full potential.
To give you a sense of what sorts of modules are included, here are some of their key products:
Cadence
Dialer
One-click sales calling integrated into the sales workflow.
Messenger
Instant messaging that keeps contextual information at your fingertips.
Calendaring
Meeting scheduling automation and integration with popular calendar formats.
Email
Customized templates, tracking, analytics, and integrations with various email services.
Sales Playbooks
Automated cadence journeys help reps through the whole process, creating dynamic multi-touch interactions with buyers.
Deals
Forecasting
Sophisticated Forecasting based on analyzing the deal pipeline – allowing for better strategic decision making.
Pipeline Management
A cohesive, comprehensive manager for all deals in the pipeline, enabling full transparency and feature-laden modules to make sure nothing falls through the cracks.
Deal Intelligence
A curated information feed on each particular deal, pulling information from various sources to provide key insights on one deal at a time – to make closing it that much easier.
Conversations
Coaching
AI analysis of calls, meeting transcripts and the like helps to identify trends and patterns that are used to coach sales reps to improve their skills.
Call & Meeting Recording
All calls and meetings can be recorded and easily accessed by managers who want to review sales activity.
Transcription Analysis
Meeting transcripts are analyzed to identify potential problems, missed opportunities, or strategic insights that can make a difference to how an organization sells.
When all these pieces work together in conjunction, it can make a real difference to the efficiency of a sales process. But let's look at some of the main SalesLoft competitors to see what other options are available in the space.
SalesLoft Overview
SalesLoft Pricing
SalesLoft does not list their prices on their website. However, Salesloft pricing starts at $125 a user, per year.. There are no monthly agreements, annual contracts are required. This may be an issue for smaller sales teams looking to try the product out for a few months or looking at SalesLoft competitors who can be a fraction of the price with month to month flexibility.
—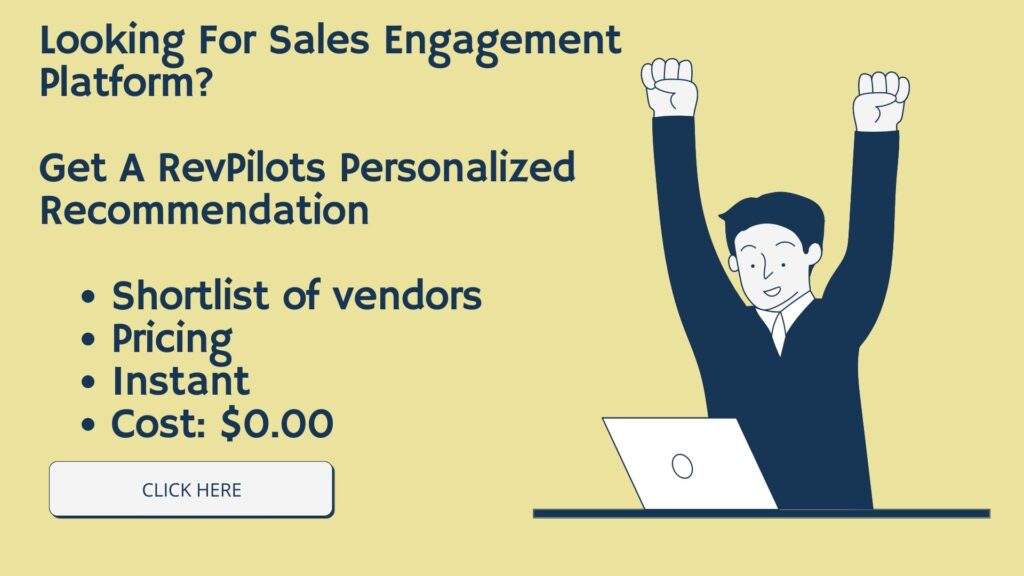 Top SalesLoft Alternatives
In no order, here are the top alternatives to SalesLoft if you're considering a product in the sales acceleration space. Depending on your needs, pricing, and sophistication, each option could be suitable. SalesLoft competitors all offer viable solutions that can work in the hands of a qualified user.
Reply
Revenue
Xant Playbooks

Outreach.io – The #1 SalesLoft Competitor
Outreach is a full-service sales platform that aims to increase the effectiveness of sales engagements through improving the sales rep experience, optimizing the revenue funnel, empowering the team to take meaningful actions with confidence, and using sophisticated machine learning models to bring the data analytics to life. When sales leadership thinks of a SalesLoft alternative, they think of Outreach.io.
Outreach.io Overview
Outreach.io Pricing
Outreach doesn't provide pricing details online but will create custom quotes. Outreach is known to sell single licenses that can start around $140 a month, paid annually.
Outreach is arguably the category leader and is the most natural competitor to SalesLoft. Both platforms offer a similar level of complexity, robustness and a rich set of features – that makes them very comparable. SalesLoft does have a few extra features in their lead capturing and lead distribution modules, and they do seem more active when it comes to educating their users on how to get the most out of the software.
Outreach, on the other hand, stakes its claim on the robustness of its technology and the quality of its automated insights which analyze all the data in the sales funnel and provides smart recommendations to sales reps. It does this better than SalesLoft and thus it has become the number one provider in the space when it comes to market share. This benefit relies on high-quality data collection from the key personnel – so you really do get what you put in from this platform.
Check out this breakdown of Salesloft vs Outreach if you're deciding between the two.
Yesware – A Budget-Friendly SalesLoft Alternative
Yesware is an all-in-one sales toolkit that runs directly from your email inbox. It's a solid SalesLoft competitor because it's more affordable and one license can be purchased, there are no team minimums required. Yesware also offers a free trial which many SalesLoft alternatives do not.
Yesware Overview
Yesware has a lean feature set focusing on key action points throughout a sales cycle, but also has a number of useful integrations that leverage other software such as Salesforce or LinkedIn. It has an avid fan base and has proven itself to be very powerful in its simplicity and ease of use.
Yesware Pricing
Pro
Premium
Enterprise
Monthly Cost
$15
$35
$65
Features
Email Tracking
Campaigns
Salesforce Inbox Sidebar
Presentation Tracking
Template Sharing
Bidirectional Salesforce Sync
Personal Templates
Role Based Permissions
Email CRM Sync
Send Later & Reminders
Centralized Billing
Calendar CRM Sync
The key difference when compared to SalesLoft is that it runs directly out of your email inbox, as opposed to being a standalone platform. This makes it easier to get set up initially, because there is less friction to get started, but it does lack some features as a result of this limitation. SalesLoft remains a more comprehensive solution, but if your sales processes runs mainly through your inbox and you don't have many other channels in which you interact with buyers – this could be a good alternative to going with SalesLoft.
Groove – An Affordable SalesLoft Competitor
Groove is a sales engagement platform that is built to sit on top of Salesforce. It touts itself as the industry's only native Salesforce integration and this focus makes it extremely good at what it does. They aim to make sales resources much more efficient and effective at sourcing new leads, closing those deals, renewing on a regular basis and generally expanding the revenue base as effectively as possible. Their tools are very easy to use and are especially useful if your company already uses Salesforce quite comprehensively.
Groove Overview
They don't share their pricing publicly, but we have Groove Pricing.
If you're price sensitive, check out our post on how to find email addresses for free.
The key difference to SalesLoft is that Groove runs as an extension of Salesforce. So, if your company lives on Salesforce then this could be a very powerful addition to your toolkit. But if not, then SalesLoft would give you much better coverage across your sales process.
Apollo.io – SalesLoft Competitor With A Built In Database Of Leads
Apollo is a combination of lead database and sales engagement software that helps clients to source contact information directly within the product, run various campaigns to engage with those leads, analyze results effectively in order to tweak strategies where required, and turn those insights into new revenue opportunities. They are focused on using machine learning and artificial intelligence to automate various sales processes and look for patterns across the pipeline that can be useful for sales reps and managers alike. Like many other sales engagement platforms, they provide a user with the ability to run outbound sequences. They have a number of great integrations that make it a good fit for plenty of different sales setups.
Apollo.io Overview
Apollo.io Pricing
Free
Basic
Professional
Monthly Cost Per User
$0
$49
$99
Email Credits per Month
50
200
Unlimited
Features
Basic Sequence Automation
No Sequence Limit
A/B Testing
Basic Filters
Advanced Filters
Manual Tasks
LinkedIn & Gmail Extensions
Integration with all Email Providers
Dialer
Email Tracking
Custom Fields
Call Recording
Salesforce Integration (Pull Only)
Salesforce Integration (Bi-directional)
Custom Stages
When compared to SalesLoft, Apollo is better suited to smaller companies and mid-size companies. Apollo has all the standard features and functionality one would expect but the UI is a bit complicated. The concept is great, the product might be doing too much. Their machine learning offering is a unique proposition and points to an exciting roadmap moving forward, but as it stands in 2021, SalesLoft remains a more reliable and comprehensive solution than Apollo.
Apollo.io as one of SalesLoft competitors, has one unique feature that SalesLoft cannot match. Apollo's database of contacts that you can easily import into your outbound sequence. Check here for a full Apollo.io review. If you want Apollo Custom Pricing we have you covered.
MixMax – Another Affordable SalesLoft Competitor
MixMax is a powerful sales tool that works exclusively in email. Their range of integrations, automation, scheduling, and tracking tools are surprisingly powerful (given the price) in empowering sales reps to focus their time on the stuff that matters (talking to clients) and not on the busywork that can sometimes creep into the process. They've proven very valuable for those on the front lines who live in their email inbox every day – making things more efficient and generally making the whole experience that much more pleasant.
MixMax Overview
MixMax Pricing
Free
Starter
SMB
Growth
Monthly Cost Per User
$0
$9
$24
$49
Features
Unlimited scheduling on one calendar
Unlimited Email Tracking
Email Sequences
Salesforce Integration
Public Calendar Pages
Sidechat
Book on Shared Calendars
Advanced Analytics
Email Tracking (100 per month)
Shared Email Templates
Custom branding
Email Polls & Surveys
Basic Analytics
Workflow Automation
MixMax is potentially a great alternative to SalesLoft for a lot of companies because even though it works primarily in email, it has a range of complex, customizable features that enable a lot of interesting use cases. They have a wide suite of integrations that make it a great addition to an existing sales technology stack and it can fit in with various configurations depending on how you interact with clients. This is an underrated piece of software and worth checking out.
Why You Should Consider Additional SalesLoft Competitors
Buying a sales engagement or sales acceleration platform is a major purchase for sales and marketing teams. This product becomes the engine that runs outbound sales.
It's important to not only look at Outreach if you're considering SalesLoft. Consider looking at the other SalesLoft competitors because they might surprise you. There are different features, integrations, and pricing models that might better fit your needs.

Reply is an omni-channel sales engagement platform which assists with automating email searches, LinkedIn outreach, instant messaging, calls, and a range of other sales tasks. Their strength lies in being able to engage with potential clients on multiple channels – meeting them wherever they're at. The intuitive integrations make this a popular choice for many companies and it continues to save that most pressure of commodities for a sales rep – their time.
Reply Pricing
0 – 3 users
5 – 10 users
10 users +
Monthly Cost Per User
$45
$54
$63
Features
Unlimited Sequences
All Channels Included
Reply Chrome Extension
CRM Integrations
Customer Success Service
Reply really focuses on client conversations and is built to be a native omni-channel solution which is very useful for companies who have multiple channels of client interaction. However, it doesn't have the additional features of sales pipeline management and analytics that makes SalesLoft so strong. That being said, the integrations mean that this could be a component in a larger system but compared with SalesLoft on its own – it just doesn't measure up. It also comes in at a price that is rather expensive compared to other options on the market.
Reply Overview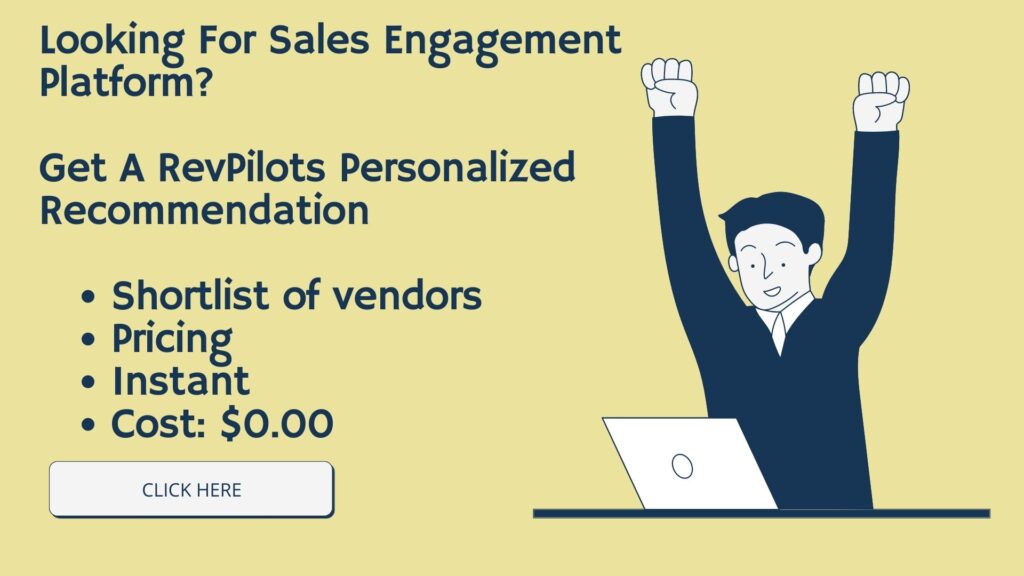 Revenue (formerly ringDNA) – A Comprensive Revenue Acceleration Alternative to SalesLoft
Revenue is a sales engagement platform that uses artificial intelligence to help clients scale their revenue operations. Their software is comprehensive and works best when tied into the Salesforce ecosystem and is used to optimize prospecting. It provides in-depth, contextual guidance to sales reps to get the very best out of them and remains a great choice for lots of different use cases.
They don't share their pricing online as they customize each quote depending on a range of factors – and there is very little online that gives us a sense of the ballpark figure.
When compared to SalesLoft, it can only really match up when your company is tying this tool into a Salesforce focused toolkit – because that's when you can unlock Revenue's full value. But even with that being said, the value of the platform relies on finding the analytics and insights especially useful – which is something that SalesLoft does well in addition to all the other features. By going with Revenue, you'd be betting that their AI engine would deliver unique information that can push your sales forward in a way that other platforms cannot.
XANT Playbooks – An Enterprise Focused SalesLoft Competitor
XANT Playbooks is a very well-designed sales engagement platform that aims to help sales professionals increase their productivity, optimize customer interaction, and connect to the right buyers to expand revenue for the organization. The software manages lead follow-up, prospecting cadences, various administrative tasks, and sophisticated data collection and analysis. When it comes to SalesLoft competitors, XANT positions itself with an enterprise focus.
They don't share any information about their pricing online, instead they tailor each quote to the company enquiring about it, based on how they intend to use the solution.
Compared to other SalesLoft competitors, Playbooks really shines at the enterprise level where your organization is very large with lots of moving parts. Its main differentiator is a focus on speed and this is crucial when you're running a large organization because the longer deals get caught up in the system, the lesser chance you have of closing. However, if your company is more a mid-market size where your product isn't quite mature yet, then SalesLoft will likely be a better option because of the way that the modules work together in a very user-friendly way.
XANT Playbooks Overview
VanillaSoft – SalesLoft Competitor Focused on Inside Sales
VanillaSoft is a sales engagement platform that has a big focus on call centers and telemarketing. They recently acquired Autoklose, removing one of the SalesLoft competitors from the market to strengthen their product.
Their tools are designed to give the sales reps all the contextual information they need in one place to be able to be truly present and connected with potential leads, while also tracking the progress and analyzing patterns to feed insights back to management. They've proven very powerful for their loyal customer base by increasing the cadence of the sales pipeline and delivering reliability in high-stakes environments.
VanillaSoft Overview
VanillaSoft Pricing
Base Platform
Cost
Sales Engagement Platform
$80 per user per month
Feature Add-Ons
Cost
Dialing
$30 per user per month
Recording
$30 per user per month
Telephony Add-Ons
Cost
VoIP
$33 per user per month
SmartCaller ID
$2 per area code per month
The key difference between VanillaSoft and SalesLoft is the focus on call centers specifically. While VanillaSoft does have a range of sales management features, their key market is companies who utilize large call centers and so that's where they excel. If that's not a key component of your sales strategy, then SalesLoft would definitely be a better choice.
SalesLoft Competitors That Are A Lot More Affordable
If you're price sensitive, there are multiple competitors that solid SalesLoft Alternatives based on pricing alone. Obviously price is not the number one factor for a lot of buying decisions but for many small businesses and startups, it's a major purchase driver. Not only are they more affordable than SalesLoft, they also have better contract flexibility because you're not required to sign an annual agreement.
Apollo
Groove
Yesware
MixMax
Reply
—
Comparing Outreach.io vs SalesLoft
It's worth saying a bit more about the differences between Outreach and SalesLoft because they represent the most common comparison when looking at software in this space. When it comes to SalesLoft competitors, most buyers think of Outreach.io as the number one SalesLoft alternative.
As mentioned above, both platforms have a wide range of features and integrations and represent excellent tools for optimizing your sales processes.

Some of the smaller, but potentially important differences are as follows:
SalesLoft offers sophisticated calendar and contact management whereas it's much less pronounced in the Outreach offering.
SalesLoft has better data visualization tools for taking snapshots of the sales funnel at a point in time.
Outreach provides more powerful marketing automation tools that can save a lot of time and resources, whereas SalesLoft's automation offering is not as useful.
SalesLoft seems to integrate slightly better with third party software which makes it a better inclusion in an existing technology stack than Outreach.
Outreach performs better for heavy-duty users who can take full advantage of the potential for automation, triggered actions, and multi-step integrations. SalesLoft is simpler in that sense and provides an easier on-ramp for new users.
Pricing is similar on a per seat basis but it is rumored SalesLoft will not sell individual seats, whereas Outreach is willing to sell with no seat minimum.
—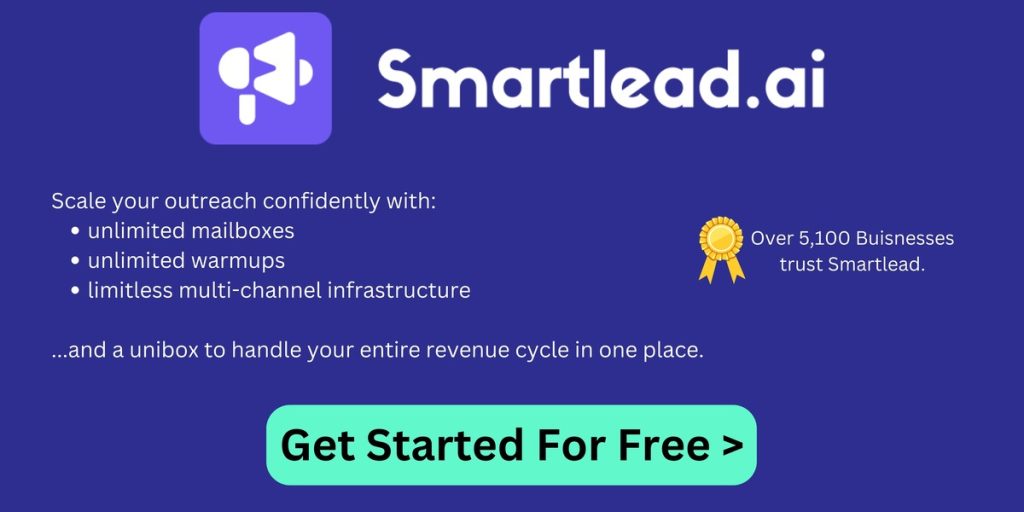 How To Analyze SalesLoft Competitors
At the end of the day, it comes down to answering some key questions about your organization when determining which software solution is best for you.
Is this an addition to an existing technology stack, or a stand-alone solution?
How many channels do you interact with customers on?
Are you tied into the Salesforce ecosystem?
What integrations are required?
Do you need a database of contact information?
How tech savvy and adaptable to change are your sales personnel?
What sort of reporting and analytics do you rely upon for strategic decision making?
What is your budget for this type of software?
Are you looking to lock in an annual contract or do you want a monthly agreement?
Do you have the sales management in place to onboard your sales team properly?
What type of onboarding do you need?
These are just a small subset of questions that should be answered in order to make the right choice. All the platforms mentioned above are powerful in their own way – but you need to select the one that best suits your needs. SalesLoft remains a strong contender, but for some companies, the SalesLoft competitors can be suitable alternatives.
If you're considering a tool like Salesloft or one of the Salesloft alternatives. You need to ensure your email accounts are warmed up properly. Check out this list of the best email warm up tools to make sure you don't land in the spam folder.