For any professional preparing to begin an email campaign from a
cold email address
, using one the best email warm-up tools are a must. An oftentimes underestimated aspect of outreach campaign, email warming works to prevent your important outgoing email from landing in incoming spam folders. While still not as well-known as other online campaign tools,
email warm-up & deliverability tools
are incredible for increasing your ROI and conversion rate. Through this process, your email will gain reputability and trust from an email provider — a task that is otherwise quite difficult.
With that in mind, let us look at the benefits of email warm-up tools alongside some of the most popular options among the best email warm up tools. (we may receive an affiliate fee if you use our links)
Best Overall

Mailwarm
Mailwarm is exclusively an email warm-up tool provider, focusing exclusively on their..
Go to Site
Read Review -> 
Best For Startups

Warmbox
Warmbox offers email warming services with a variety of features.
Go to Site
Read Review -> 
Solid Option

Warmup Inbox
Warmup Inbox Your Email is a leading email warm-up email service worth considering
Go to Site
Read Review -> 
Best for Scaling

MailReach
MailReach is the "number one email warm-up service," with 3,000 businesses using the company's software
Go to Site
Read Review -> 
Solid Option

Allegrow
Allegrow, previously called NeverSpam is Allegrow's proprietary email warming service.
Go to Site
Read Review -> 
Do I Need to Warm Up My Email?
If you're attempting a
creative sales outreach idea
for a
cold email
campaign or want to contact a recipient you've never dealt with before, then almost certainly yes, you'll want to make sure you use one of the best email warm up & deliverability solutions. The same philosophy applies to any outgoing emails not brought about by the recipient.
What happens if I don't warm up my email?
Reports from reputable sources
like Statista
have pegged global spam volume at nearly half of the total email traffic
. To any recipient or email provider, a cold email campaign viewed as a spam attempt will be blocked. 
The risk of your emails being sent to a spam folder will be greatly increased with inactivity or a new email address. All the major email providers contain detailed information collection systems, which can quickly place a new or unused email address into a high-risk category. If you paid the high
ZoomInfo pricing
or for one of the
ZoomInfo competitors
, you're not going to want to end up in spam. It's critical you use one of the best email warm up tools to ensure you inbox is ready for cold outreach. Immediately launching into a cold email campaign may result in nearly all your messages having been recognized as spam. With nearly half of the world's email volume belonging to spam, most major email providers will quickly clamp down on sudden mass emails. If your email proves to be new and unestablished, you'll be at a higher risk.
What is "warming up an email?"
An email warm-up (also known as an IP warmup) is a process in which you'll gradually gain trust from an email provider. As the name implies, you'll warm up your email, sending growing levels of emails. A standard email warm-up might involve:
A recently unused or newly established email
The release of a few emails per day
A gradual increase in outgoing and incoming emails
Newsletters and subscription sign-ups
And an eventual email campaign.
No matter the technique, warming up an email involves a gradual build-up of email traffic to prove your address and IP are reliable. Once an email address has built a standing with its provider, cold emails and campaigns will less often be blocked or relegated to a spam folder.
Domain Warmup and Reputation
Whether you're dealing with a new email address, account, or dedicated IP, you'll be at risk of being designated "spam." Warming up your domain and emails works towards building your reputation — a task that has been exclusively manual for years. The average domain or email warmup period lasts between 4-to-12 weeks when done manually.
As your email and domain become increasingly reputable, you'll gain the ability to send more recognized messages
. With most email providers, non-reputable domains have an essential "cap," where emails over the limit are moved to spam. Through domain warmups and email warmups, you'll be able to build your reputation with email providers. As your reputation builds, you will gain the ability to create more successful cold email campaigns.
Why You Should Use The Best Email Warm Up Tool
While email warmups are possible through manual means, they're not easy for the average person. Remember, a standard warm-up may consist of sending a few messages a day, with the count gradually increasing.
To manually warm up an email, you would need to release a consistent number of emails every day —a number that reaches beyond one hundred thousand
. Without the knowledge and consistency of a tool or program, you may push your luck with a provider or fall behind on the process. Your first week might look like the following:
| | | | | | | | |
| --- | --- | --- | --- | --- | --- | --- | --- |
| Day | 1 | 2 | 3 | 4 | 5 | 6 | 7 |
| Email Count | 50 | 50 | 50 | 65 | 80 | 100 | 100 |
Email warmups are entirely dependent on "warming up," meaning that any brief break or mistake could result in a quick drop back to zero. Utilizing a warmup tool has more than a few benefits. Some of the most notable would include:
Consistency
Reliability
No tire-outs or mistakes
High engagement rates
And high volume.
You can theoretically take care of email warmups on your own, although you would need to be precise, consistent, and quick. Responding to potential hundreds of emails and building engagement, every day, can be tiring and quickly go awry. It's still possible, but nowhere near worth the time, effort, and potential mistakes.
The Best Email Warm-Up Tools
If you Google the phrase "best email warm-up tools," you'll be greeted with over 430 million results.
With such a large amount of websites offering warm-up tools, it can be impossible to go through them all. There is also a difference in quality depending on tool price, feature sets, and ability. That's why this section will go over the 12 best email warm-up tools — we'll provide you with the 12 tools, their descriptions, features, and pricing.
RevPilots may receive an affiliate fee for some of the tools below.
Mailwarm – Personalized email warm up tool
What is Mailwarm?
Mailwarm is exclusively an email warm-up tool provider, focusing exclusively on their Mailwarm platform. The company's service works to create personalized and tested emails to send to other Mailwarm users. As with other warm-up tools, Mailwarm sends dozens of daily emails across their thousands of users. When these emails reach a Mailwarm account, they'll instantly be marked as "not spam." Afterward, the other Mailwarm user will respond to your email. The company's users claim that Mailwarm's methods can boost your open rate by upwards of 30%.

Mailwarm Features
Mailwarm's greatest feature is the company's "two-minute setup." Just three steps are required, according to the company's website:
Sign up
Link your email
Start your warmup
The company's services promise "personalized emails," designed to be more lifelike. With Mailwarm's emails, you can track and control your warmup through a one-stop dashboard. All that's required to change or stop the service is a single button.
Mailwarm Pricing
Mailwarm's plans begin at $79 per month, with 50 emails per day on one account. More expensive plans approach $549 per month, which offer upwards of 500 emails per day across 10 accounts.
Click Here to Get Mailwarm
Warmbox – Custom email warm up tool
What is Warmbox?
Warmbox offers email warming services for 11 individual inboxes, with a variety of features. According to Warmbox itself, their services are used by more than 2,000 companies across 10,000 private inboxes, making it one of the
best email warm up tools
. The company focus on providing customizable services, with their dashboard offering dozens of options. Warmbox promises "everyday realistic emails," which can be provided across three types of warm-ups.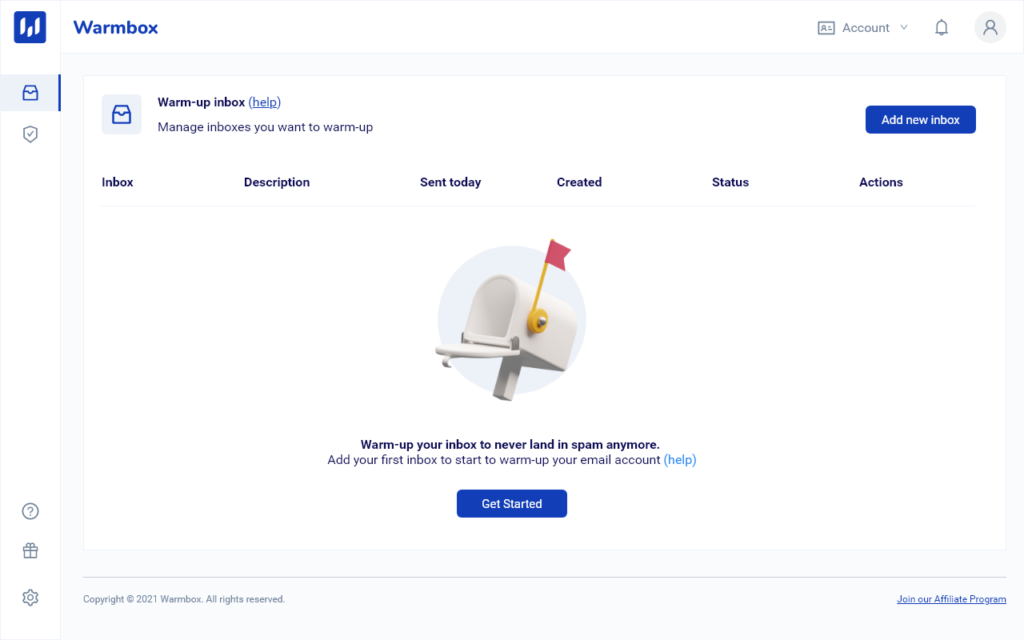 While many other warm-up tools focus on oversight or speed, Warmbox focuses on customization and efficiency. The service is even branded as "the most advanced & efficient solution to warm-up your inbox safely."
Sign Up For Warmbox To Warm Up Your Inbox
Warmbox Features
The defining feature of Warmbox is its "warm-up options." This set of four customizable options sets up algorithms for top warming efficiency. The four include:
Grow – Progressive | designed around incremental increases, this is Warmbox's most popular option.
Flat | this option is coded for users looking for a specific number of responses.
Randomize | a Warmbox-exclusive option, randomize was built for experimentation.
Custom | for maximum control and experts, Warmbox has implemented a completely customizable option.
Throughout all these, Warmbox offers automation across removing negatives and adding positives. The company insists every email is powered by
GPT-3
, an AI algorithm. The company utilizes this language model to create ultra-realistic responses to your cold emails.
Warmbox Pricing
Warmbox offers 50 emails per day at a monthly cost of $19. The company offers more expensive plans to commercial users, with a cap of 500 emails per day across 6 inboxes.
Sign Up For Warmbox
GMass – Google Focused Email Warm Up Tool
What is GMass?
GMass is an email warm-up conglomerate based around Google's Gmail service. The company offers dozens of services for an incredibly competitive price. Compared to many of the other email warm-up tools on this list, GMass likely offers the most varied selection. From mass emails and reply management to high-efficiency cold email campaigns, the company offers eight unique products. This offering focuses primarily on being an all-in-one Gmail service, meaning it either won't work or is less effective with other providers. Nonetheless, GMass is great for people looking for a warmup tool that also contains dozens of other email-specific uses.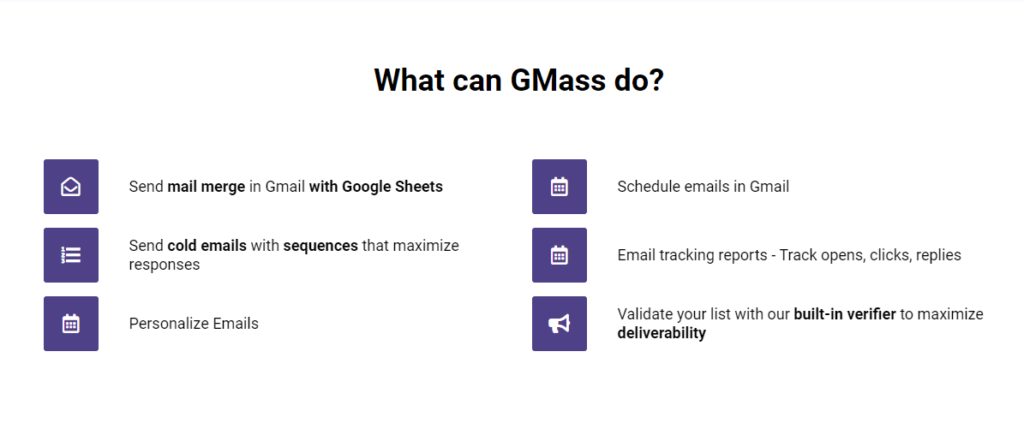 GMass Features
GMass offers eight services, all of them being heavily integrated into Gmail. With a focus on customization, information, and building your email reputation, GMass is an all-in-one warmup approach. Through the company's GMass Chrome Extension, you can: check your domain's trustworthiness, verify your email life, view statistics, warm up your email, view cold email marketing campaigns, and more.
GMass Pricing
GMass' services are available in two plans starting at $12.95 per month. The company's base offering doesn't provide sequences or follow-ups, as both are available at $19.95 per month.
Mailreach.co – Algo Driven Email Warm Up Tool
What is Mailreach.co?
MailReach
is the "number one email warm-up service," with 3,000 businesses using the company's software. The company focuses on a start-to-finish approach with email warmups, controlling every part of the process. The software's call-to-fame is its algorithm, which is designed to maximize an email warm-up campaign. MailReach's primary goal is to warm up your email as quickly and safely as possible, through their established, high-reputation mailboxes.

All of your emails are "opened, replied, marked as important, and removed from spam and categories." MailReach insists that their software is the most detailed and effective in the industry, built to work with nearly every email provider.
MailReach Features
MailReach's primary feature belongs to their 5,000+ established inboxes and automation techniques. The company uses custom algorithms, designed to push your email to the limit. While MailReach only provides email warming services, they're incredibly advanced. When connected to MailReach, within 2 minutes, your inbox will connect with others across all the major providers. Automation and realism top MailReach's features, having been designed to build your reputation faster.
MailReach Pricing
Mailreach.co
provides two plans starting at $25 per month. This basic plan offers 90 emails per day, with the option for a custom-priced plan.
Sign Up For Mailreach
Allegrow – A Data Driven Email Warm Up Tool
What is Allegrow?
Allegrow, previously called NeverSpam
is Allegrow's proprietary email warming service. As in the name, Neverspam promises that your emails will "never land in spam." That's a bold claim, although Neverspam and Allegrow have the technology to back it. According to Neverspam, the company uses the Allegrow network, which analyzes email data from major internet service providers. Neverspam and Allegrow claim that this move allows them to inform you with real-time data and provide higher conversion rates. With this large amount of information, Nevergrow/Allegrow promises near-human level email conversations. Additionally, the company focuses on providing live email warm-ups that don't interfere with day-to-day communication.
Allegrow Features
Neverspam's greatest known features are its high data integration and transparency. Through its parent company's networks, Neverspam can provide precise information about your campaigns. Additionally, that same network provides you with access to statistics and 24/7 control over your inbox. Everything is available in plain view, from your controls and data. Neverspam additionally provides its services in a separate folder, allowing you to use your email while the service is active.
Allegrow Pricing
Neverspam's offerings start at $18 per user, per month. The company also provides a sub-20,000 emails-per-month plan available at $36, alongside a custom plan.
Click here to Sign Up with Allegrow so you don't go to Spam
Warm Up Your Email – Email Warm Up Tool By Mailshake
What is Warm Up Your Email by Mailshake?
Warm Up Your Email is a leading email warm-up platform owned by Mailshake. The platform uses intelligent spam patterns to analyze and adjust your inbox for the least blocked emails. Warm Up Your Email's most well-known aspects are its quick setup, spam score, and spam pattern. While warming up your email, the software will calculate your inbox's effectiveness and learn from it. The company's website promises a 10-day spam pattern report, designed to inform you of needed changes. With things being done a bit differently, Warm Up Your Email can operate in situations other programs can't. The company utilizes humans to respond to your email, meaning that the service is even more reputable in a provider's eyes.

Warm Up Your Email Features
A standalone feature in an industry of automation, Warm Up Your Email utilizes human responses. The company claims that this helps increase your conversions and effectiveness. Even still, Warm Up Your Email does use automation in the form of its spam report and score. Warm Up Your Email provides custom human interactions while calculating efficiency through the company's algorithms. This combination of human and computer warming is claimed to build your reputation more effectively.
Warm Up Your Pricing
Mailshake
l has three plans starting at $29 per month. This plan offers 50 emails per day, although up to 100 emails per day are permitted by the company's $99 per month plan.
Folderly – An AI Email Warm Up Tool
What is Folderly?
Folderly is an artificial intelligence (AI) powered warm-up platform. The company utilizes algorithms and technical aspects to build your email reputation quickly. According to Folderly, this can be done in as little as one click. The company targets a 0% spam rate, open rates of nearly 80%, and reply-to rates of up to 15%. These industry-leading statistics are thanks to Folderly's unique AI-exclusive warm-up platform. This platform is used by over 200 employers including the University of California Berkeley, Texas Association of Businesses, Greater Rochester Chamber of Commerce, and more. Folderly utilizes statistics and tests to provide you with direct transparency and superior products. With over 50 email providers supported, an upwards of 100% deliverability rate, and DNS support, Folderly serves as an all-in-one email warm-up platform.
Folderly Features
Folderly's headlining feature is its AI-powered platform. The company's advanced artificial intelligence allows perfect delivery rates while boosting click and response rates greatly. Folderly also offers deliverability tests, spam fixes, and other email-centric solutions. Additionally, the company provides content analysis, which will automatically adjust emails until they are no longer marked as spam. Folderly's total package combines automation, transparency, and complete control under one platform.
Folderly Pricing
Folderly offers its services with a starting cost of $200 per month for unlimited emails. The company's three plans charge by the account number and monthly email number, with a maximum price of $20,000 per month.
Get Folderly and Warm Up Your Inbox
Warmup Inbox – Automated Email Warm Up
What is Warmup Inbox?
Warmup Inbox is an automated email warm-up service, which incorporates floods of emails. While other providers focus on gradually increasing emails, Warmup Inbox begins by filling your inbox. The company claims that while it sacrifices quality, its advantages more than make up for the disadvantages. Warmup Inbox utilizes dynamic content, which is pulled out of the spam inbox. This content strategy doesn't make sense to humans but is seen as legible and reputable by inbox providers. Additionally, the company will adjust the content to ensure that it stays unmarked by spam. Alongside its blacklist checks and live trackers, Warmup Inbox provides a customizable, but automated warm-up experience.
Warmup Inbox Features
Currently, Warmup Inbox features Gmail, Outlook, and SMTP inbox integration. The company also offers:
Inbox Health Scores,
Sending Control,
Domain Tracking,
Blacklist Monitoring,
Limiting Edits,
24/7 Support,
7,000+ Active Inboxes,
and Additional Ramp-Up Sending.
Warmup Inbox Pricing
Warmup Inbox charges just $9 per inbox, per month with its only plan. There are no restrictions or alternative tiers past the company's base plan.
Get Warmup Inbox and Warm Up Your Email Account
Maropost – an eCommerce Email Warm Up Tool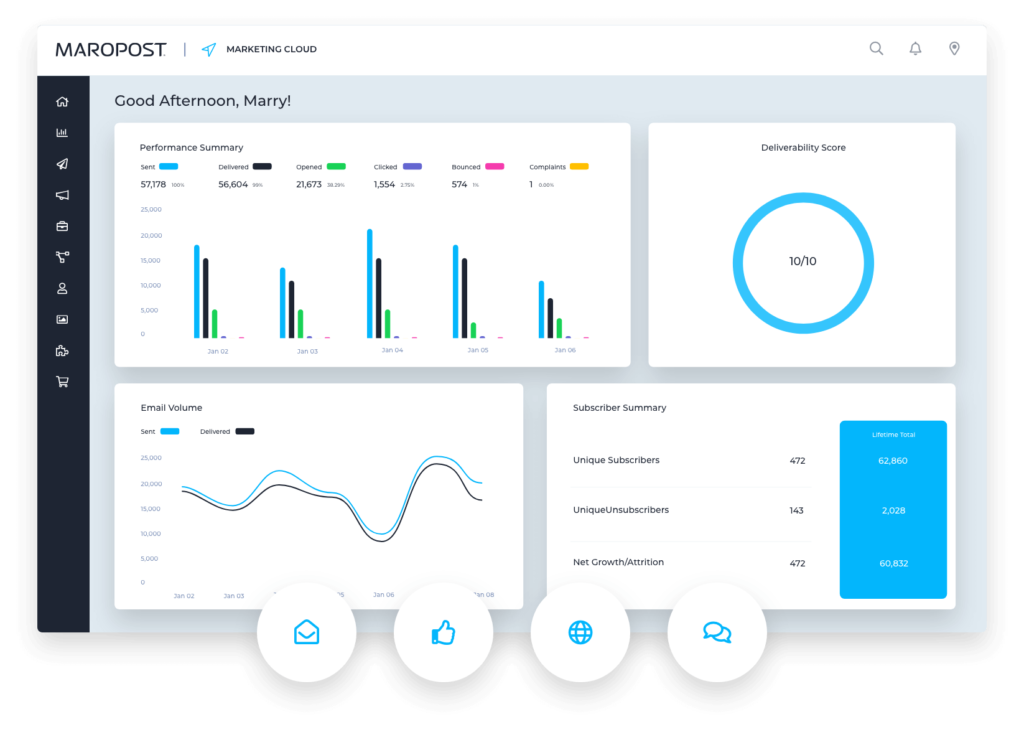 What is Maropost?
Maropost
is an all-in-one eCommerce and multichannel marketing platform. The company, built from the idea of uniting email, SMS, mobile, journeys, and eCommerce, offers warm-up tools. Maropost focuses on automating your inbox and marketing resources, including warm-ups. The company's platform, divided into two sections, consists of the marketing cloud and commerce cloud. The marketing cloud contains Maropost's email automation and marketing software. This service, used by companies such as Hard Rock, BikesOnline, Scott, New York Post, and Luxottica, is incredibly popular. While Maropost doesn't focus on email warm-up tools, the tools are built within the company's offerings. Cold email campaigns are a large part of Maropost, nonetheless. As part of its marketing cloud, you gain access to automated responses, inboxing, and more, atop additional marketing tools.
Maropost Features
Maropost offers email campaigns, A/B campaigns, transactional emails, marketing automation, email management, and integration. The company offers warm-up tools as a side-product, against the backdrop of its main marketing and commerce cloud services. Even still, the company utilizes its large presence and audience to provide quality email and marketing automation. Maropost's audience management, email marketing, and more are integrated within one click.
Maropost Pricing
Maropost's email and marketing offerings are all custom-priced. There are no concrete figures for the company's email warm-up pricing.
QuickMail AutoWarmer – Audience Import eEmail Warm Up Tool
What is QuickMail AutoWarmer?
AutoWarmer is QuickMail's email warming and cold marketing service. This service's defining aspect is its audience import, which imports your perfect audience. AutoWarmer then automates unique messages, which grows your email's reputation. This service is unlike the others within its industry, as it builds your email warming around your perfect audience. AutoWarmer adjusts itself around your audience to perform better in similar inboxes. AutoWarmer additionally provides detailed reports, collaboration features, and other advanced services. In total, the company expects to bring your open rate to 80% or above, which is incredibly high.
AutoWarmer Features
AutoWarmer's headlining feature is its audience import and automated services. The company claims that its services will work with any inbox, all of which can be easily automated. While QuickMail focuses AutoWarmer on automation, they include the option for you to integrate your unique messages for leads. Added alongside their leading automation services and audience targeting, and AutoWarmer works as a highly independent warming and cold-email program.
AutoWarmer Pricing
QuickMail's AutoWarmer service starts at $0 per month for access to the company's auto-warmer. The company does offer two other plans with a maximum cost of $69 per month for 1,500 emails per day.
OutreachBin – A Great Value Email Warm Up Tool
What is OutreachBin
OutreachBin is a leading email warm-up and outreach services provider. The company is well-known for its one-size-fits-all email warm-up tool which features all its solutions under one low-cost plan. Two services, Cold Email and Email Warm Up, are available as a subscription. OutreachBin Cold Email is the company's conversion-focused cold email campaign software. Email Warm Up is OutreachBin's automated warm-up tool. All of OutreachBin's services are made with "increasing your opens, clicks, & conversions" in mind. Marketed as an all-in-one package, OutreachBin serves as a warm-up and cold email campaign assistant.
OutreachBin Features
InboxWarm, OutreachBin's branded email warmer, comes with many company-exclusive features. The most beneficial feature is its plug-and-go operation method. All that's required to use InboxWarm is a subscription and a connection to your email provider. OutreachBin's software immediately gets to work, auto-setting your options for maximum efficiency. This software comes with an automatic spam-to-inbox conversion, which moves to guarantee your cold emails find their recipient. InboxWarm you with other InboxWarm users, guaranteeing you warm up your email alongside other users. Through this method, OutreachBin says their software will warm up a new email account within 4-6 weeks.
OutreachBin Pricing
OutreachBin
provides all its features with unlimited outreach at $29 per month. Everything is included in the company's base offering, with the added benefit of no additional plans or fees for a larger or smaller campaign. .
LemWarm – Part of a suite of tools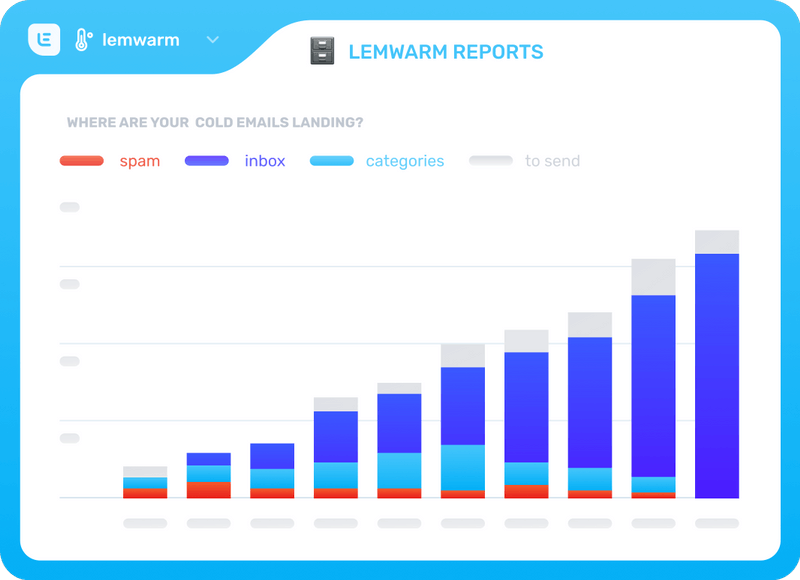 What is LemWarm?
LemWarm is the email warm-up tool of the company "lemlist." The product's claim to fame is its incremental warm-up method, which starts small and grows from there. While many other companies offer the ability to start low and increase, LemWarm has the feature built-in. According to lemlist, over 20,000 people use LemWarm's services, making it the "#1 warm-up tool on the market." LemWarm boasts companies such as
Zendesk
, Uber, SAP, and Malt as users. The program is designed around your complete oversight, with information on landings and rejections. LemWarm's dashboard is built to allow maximum control for minimal issues.
Lemwarm Features
The platform's leading feature is its incremental warm-up. lemlist claims that this results in a faster and more effective warming process. LemWarm also features 20,000 active users, whose real emails are used for warming. These emails let the service feature continued conversation threads. These threads keep your reputation high — LemWarm goes as far as to claim every email is removed from spam, read, marked as important, and responded to.
Lemwarm Pricing
LemWarm's services begin at $29 per user per month. The basic plan covers email warm-up, while the top two offer outreach and engagement services, capping at $99 per month.
Email Warm Up Tools – Conclusion
Email warm-up tools are a major requirement for any professional's unused email. With providers
like Google
willing to move any email without an established reputation to spam, it's a necessity in today's environment. After all, nearly half the world's emails come from spam sources. As such, it's almost a necessity to find an email warmer for you or your company's marketing team. Remember, these tools can almost guarantee delivery straight to your audience's inbox. Even still, there are hundreds, if not thousands, of email warm-up tools available on the internet. It's worth doing your research further, as many factors range between providers. Different services range in:
Quality
Price
Features
Open Rates
Delivery Percentages
Transparency
Emails Provided
and much more.
It's important to specifically decide what you need and investigate. Small aspects like what your ideal target rates are, your budget, and your estimated daily emails, can make a huge difference. Look at the price and size differences between just four of the above 12 tools:
| | | | | |
| --- | --- | --- | --- | --- |
| Name | Warmup Inbox | Warm Up Your Email | Warmbox | Folderly |
| Price | $9/month/inbox | $29/month | $19/month | $200/month/inbox |
| Daily Emails | Unlimited | 50 Emails Per Day | 50 Emails Per Day | Unlimited |
As such, this list, while of course helpful, is not complete or comprehensive. There are hundreds of tools more that are equal or greater in quality. It's useful to use this as a template and investigate email warm-up tools based on what you need or want. With the information provided, learn what you need to look for in a warm-up tool.
All email warm-up experiences are subjective and dependent, so decide what you need and look into what exactly works for you, specifically.
While you're warming up your emails, check out our post on the best
LinkedIn Post Ideas.
And if you need emails check out our review of
ZoomInfo Competitors
,
Hunter.io Alternatives
, and
Free Email Finders
. (We may receive credit for affiliate links on this page)