What Is LeadIQ?
LeadIQ is a sales intelligence platform that helps sales teams to identify, qualify, and connect with potential leads. It offers a range of tools and services to help sales teams find the right prospects, gather information about them, and engage with them in a more personalized and effective way. With LeadIQ, sales teams can access a wealth of data and insights to help them identify and target the right audiences, improve their outreach efforts, and close more deals. This powerful platform can help sales teams to succeed in today's competitive business environment by creating a smarter pipeline with noise reduction.
What Is LeadIQ Used For?
To succeed in today's competitive business market, LeadIQ is primarily used to assist sales teams with tracking sales triggers, personalizing prospective outreach, and identifying key prospect data to leverage.
Track Sales Triggers
Personalize Outreach
Identify Prospect Data
With respect to sales triggers, LeadIQ provides sales teams with real-time alerts and notifications about changes in their prospects' businesses that could indicate a need for their products or services. This can help sales teams to identify the perfect time to reach out and pursue new opportunities.
For personalized outreach, LeadIQ offers a range of features to help sales teams customize their outreach efforts and build more meaningful relationships with their prospects. This includes tools to help sales teams send personalized emails in seconds, direct dial phone numbers immediately, and use social media to contact leads.
To better identify prospective data, companies can use LeadIQ to access a wealth of data and insights about their prospects, including information about their demographics, interests, and behavior. This data can help sales teams to better understand their prospects and tailor their outreach efforts accordingly.
Who Uses LeadIQ?
LeadIQ has emerged as a promising lead capture, engagement, and management platform for sales teams to use. It is used abundantly throughout the startup environment by companies such as Optimizely WalkMe, MuleSoft, Segment, Gong, Clari, and more. Within these companies, various professionals can take advantage of the LeadIQ platform to connect with leads, develop new pipelines, and inevitably convert customers into paying clients. Learn more about some of the key user groups that may benefit from using LeadIQ below:
Sales Development Reps (SDRs): SDRs are responsible for identifying and qualifying inbound leads, and LeadIQ can help them achieve this by accessing millions of data points about prospects.
Business Development Reps (BDRs): BDRs are responsible for generating outbound opportunities, therefore LeadIQ can help them accomplish this by providing them with tools and insights to identify and engage with potential leads.
Account Executives: Account Executives can use LeadIQ to manage customer relationships by tracking and analyzing their interactions with prospects and closed deals.
Marketers: Marketers can take advantage of LeadIQ to identify and target the right audiences for their campaigns, track the effectiveness of their outreach efforts, and identify new sales opportunities.
What Does LeadIQ Do?
For customers looking to learn more about what LeadIQ does, their core platform consists of four key capabilities that are highlighted below:
Identify: Users can streamline prospecting, access clean data, and supercharge their sales capabilities by obtaining accurate emails and phone numbers to contact clients with.
Track: By following target accounts, LeadIQ helps sales times with tracking prospects by automatically notifying them about updated prospect information so that representatives and account executives can build meaningful relationships to close deals faster.
Scribe: Scribe enables sales teams to forget about writing compelling emails. This feature creates standout content to send to new and existing prospects so that your company can stand out against the competition.
Refresh: LeadIQ automates data cleanup on the backend so account managers, SDRs, and BDRs, can identify and generate inbound and outbound leads with up-to-date information.
How Does LeadIQ Work?
Given that LeadIQ has a couple of different platform capabilities, users need to understand the various steps needed to navigate and work with LeadIQ effectively. Let's take a look at some of the key steps on how your sales and marketing teams can use the service:
First, you need to sign up for a LeadIQ account by subscribing to their free or paid tier.
After establishing an account, you can immediately begin searching for leads using LeadIQ's database of over 500 million professionals. You can filter your search by company, location, job title, and more.
When you find a lead that you are interested in, you can view their contact information and company details. If you choose to not contact them immediately, you may assign them to a custom list for future reference.
If you decide to contact the lead, you can use LeadIQ's email automation tools to send personalized emails directly from your account.
In addition to personalized outreach, LeadIQ also offers integrations with popular customer relationship management (CRM) systems like Salesforce, allowing you to easily import your leads into your CRM.
You can track the performance of your campaigns and see how your leads are engaging with your emails using LeadIQ's analytics and reporting features.
As you continue to use LeadIQ, you can continue to add new leads and build up your list of potential customers for sales representatives to capitalize on in the future.
LeadIQ Features
When it comes to examining the features that LeadIQ provides to sales and marketing teams, it offers a comprehensive set that empowers companies to elevate the way they handle their leads. Take a look at the table below to identify the primary features of the platform:
| | |
| --- | --- |
| Lead Capture | Sales Onboarding |
| Prospecting Tools | Contact Management |
| Lead Segmentation | Pipeline Management |
By offering features such as lead capture, contact management, pipeline management, and many others LeadIQ is able to help sales teams recruit, onboard, and manage new leads with speed and efficacy.
What Does LeadIQ Integrate With?
LeadIQ seamlessly integrates with a wide range of tools and platforms to help sales teams streamline their workflows and optimize their b2b lead generation and management efforts. Some of the popular integrations that LeadIQ offers include the following CRM platforms, marketing automation services, and productivity tools:
With the ability to natively integrate with popular apps, LeadIQ can help sales teams easily identify and engage with potential leads. Representatives and managers alike can access and manage all of their lead generation and management efforts from one central platform to save time and increase productivity.
Who Are LeadIQ's Competitors And Alternatives?
Since LeadIQ operates in a competitive sales intelligence market, there are a number of other alternatives individuals and companies can choose from when it comes to solidifying leads. Below, you will find a list of the top-performing competitors that operate in the lead generation space and rival the functionality that LeadIQ offers to clients.
Cognism: The Cognism platform provides sales teams with a comprehensive database full of direct dial numbers and emails of B2B clients.
Lusha: A lead management platform that focuses on helping businesses to identify and use prospect contact information to secure outbound meetings.
Predict: Predict capitalizes on artificial intelligence technology to help recommend the best-fitting clients to sales teams so that they can return higher conversion rates.
EngageBay: This is a free sales CRM service that allows small organizations to build better customer relationships and operate in one place.
Apollo: A sales intelligence platform that offers several go-to-market strategies for marketing and sales teams to use for generating higher revenue.
LeadIQ Pricing
Pricing for LeadIQ for 2023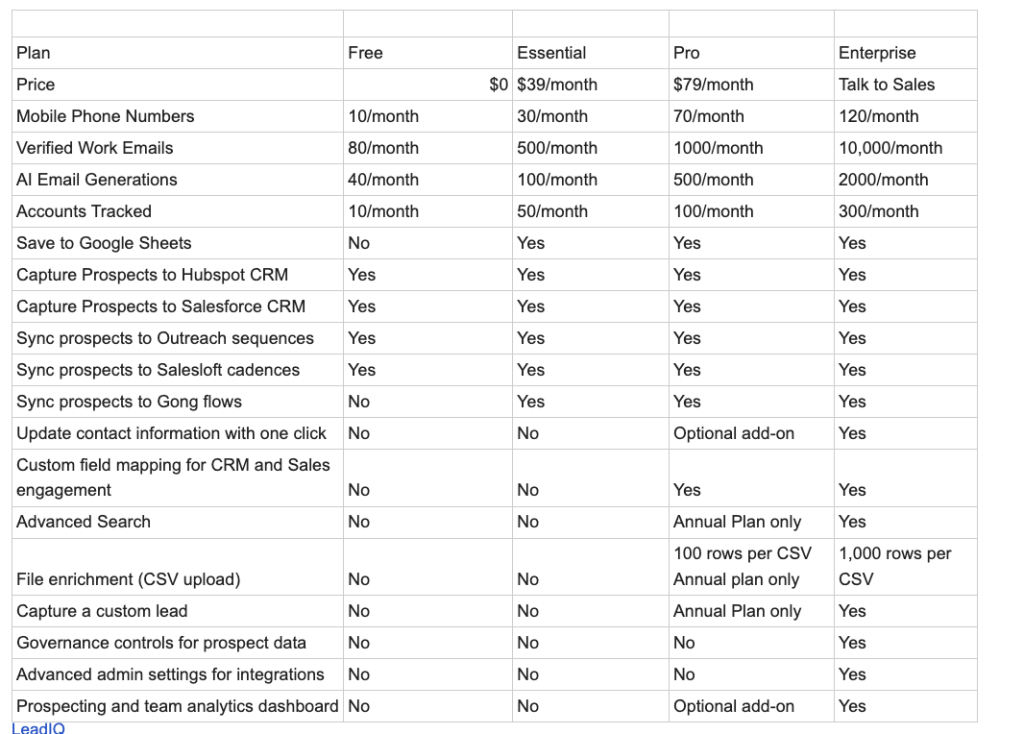 LeadIQ provides its prospective clients with multiple subscription tiers to choose from. Sales and marketing teams interested in purchasing access to LeadIQ can pick from four different pricing packages that fit their needs. Within each package, there is a limited number of verified emails, phone numbers, email generations, and accounts that can be tracked by each user.
| | |
| --- | --- |
| Free | $0 |
| Starter (Annual Plan) | $75/user/mo. |
| Pro (Annual Plan) | $130/user/mo. |
| Enterprise (Annual Plan) | Contact for details |
In addition to the annual plan, LeadIQ also offers buyers to purchase a monthly subscription instead. However, the monthly subscription costs more when compared to purchasing an annual package. For companies looking to capture leads and stimulate revenue growth, the team at LeadIQ encourages prospects to contact their sales team to schedule a meeting and ensure that businesses are receiving the best feature package for their unique needs.