In the present era, with remote working business models trending globally, outsourced SDR is a popular and effective practice. Businesses worldwide are leveraging SDR outsourcing companies for hassle-free top of the funnel growth.
So, why should your business consider hiring an SDR outsourcing company? And how can outsourced SDR services assist your organization's growth? If you have been searching for the answer, this guide will give you comprehensive knowledge about:
SDR outsourcing
How it works
Benefits and Cons
Things to consider when hiring an outsourced sales development team and more
What is an SDR?
SDR stands for sales development representatives responsible for sales prospecting. SDRs use various channels and tools to book qualified meetings. Instead of focusing on closing the deal, an outsourced sales development team strives to generate and qualify new leads.
An SDR outsourcing company takes over the top of the funnel sales responsibilities of your business to set up appointments with prospects. Outsourced SDR companies can help with outbound outreach and qualifying inbound leads.
Depending on the engagement, they may be responsible for basic qualifying of prospects before handing them off to your sales team.
This outsourced SDR process saves your account executives and sales team from the hassle of generating new opportunities or supporting them with additional leads. Instead, your in-house team can focus on closing the deal.
What is SDR Outsourcing?
SDR outsourcing refers to a business model when an outsourced SDR company takes on the responsibility to set appointments with potential customers. This typically involves cold outreach such as cold email, cold calling, LinkedIn outreach, and qualifying inbound leads.
There are three types of outsourced SDR models which are:
Pay-per-appointment
Pay for activities
A retainer model, i.e., there are no promises of the outcome with set targets.
Explaining SDR Outsourcing
Like other business processes, you can outsource your sales to an external service provider partially or entirely. However, here are two models of SDR outsourcing.
Full-Stack Outsourced SDR Services
In this type of outsourced sales development model, a service provider manages your entire sales process, i.e., from lead generation to closing the deal. In this outsourced SDR model, a company will not only generate leads for you but also engage your customer to sell your product. This is best for more transactional sales or short sales cycles.
You can cut costs without the need for an in-house sales team and focus your efforts on other operations.
Mixed Outsourced SDR Services
In this type of outsourced SDR service, you entrust certain part/s of your sales process to an SDR outsourcing company. Let us have a quick look at them.
Vertical SDR Outsourcing – in this mixed outsourced sales development model, you divide the sales funnel into two parts, i.e., one is in-house and let the SDR outsourcing company handle the other part. This is perfect for companies generating seasonal sales as it will feed your in-house sales team with quality leads to focus on selling solely.
Horizontal – this type of mixed SDR outsourcing model allows you to have both in-house and external sales teams operating simultaneously. Your teams can share a single market, or you can assign them different markets to broaden your outreach.
Geo-related – multinational organizations use geo-related SDR outsourcing with an internal sales team at the headquarters focusing exclusively on the domestic market. However, you opt for local outsourced SDR services to minimize costs and risks.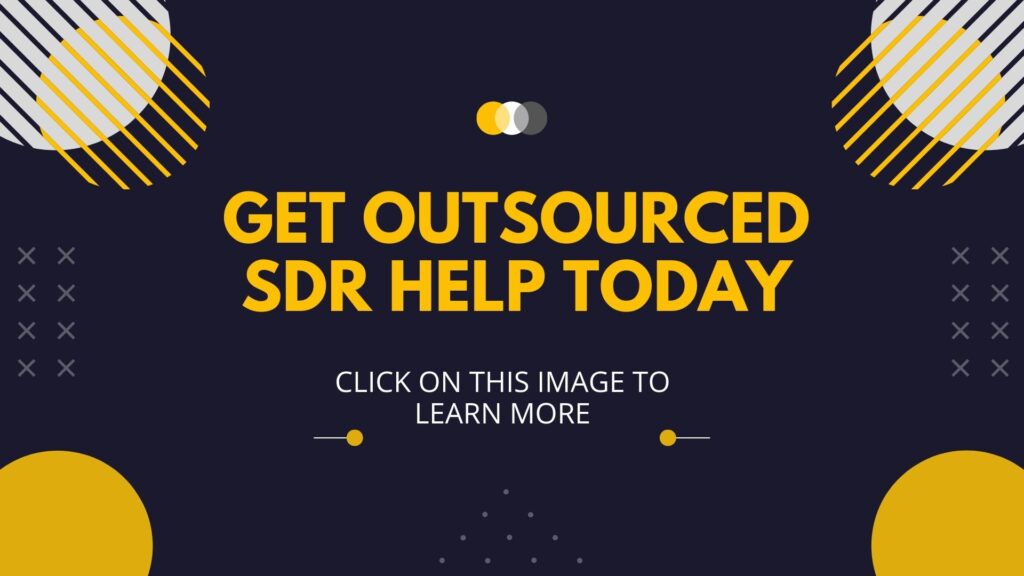 Inbound SDR
Inbound outsourced sales development representative contact warm leads generated through marketing initiatives. There are various methods an SDR outsourcing company receives leads to qualify them;
Use a contact form on your website to request a call or ask questions.
Using a web chatbot on your website for the customers to provide contact info
Engaging with the customer to sign-up for your newsletter, email list, or blog
Submitting contact info through a landing page form and providing downloadable content in return
Outbound SDR
An outbound SDR typically uses data from one of the many providers such as ZoomInfo, Hunter.io, Uplead, Apollo.io, ZoomInfo competitors, or other free email finders. The SDR outsourcing company uses various strategies to segment the lists for outreach. They may receive a do not contact list from their client or have access to a CRM with a defined sales ICP.
The next step for the outbound sales development representatives is to attempt initial contact with the leads. This can include phone calls, emails, text messages, or LinkedIn outreach.
Typically, leads used in outbound SDR do not always have previous knowledge about your business, products, or services. They're considered cold lead. Generating interest through outbound cold emails and calls is difficult. Especially with the proliferation of tools like Salesloft and the alternatives. According to a study, less than 2% of the cold calls actually convert into set appointments.
However, outbound SDRs can use personalized outreach with quality cold calls in an outbound sequence to reach prospects and book meetings.
Get Connected To Top SDR Outsourcing Companies At No Cost
(You'll talk to RevPilots, we'll assess your needs, then make a recommendation.)
SDR Outsourcing Best Practices
SDR outsourcing may allow your sales team to focus on closing deals instead of prospecting. Salespeople are expensive hires and having them focus on top of the funnel tasks such as research and list building which can be outsourced is a better use of in-house company resources.
The outsourced SDR company can also focus 100% on top of the funnel. Because prospecting and cold outreach is such a grind, sending it to an outsourced sales development shop may be a way to eliminate part of this burden for your sales team.
Here are four best practices when considering outsourced SDR services for your company.
Adaption Requires Patience
Like a new employee at work, outsourced SDR will require time to adapt and get up to speed. SDR outsourcing companies take time to learn everything about your business, proper messaging, and quickly train their team on how to handle objections. These companies are usually made of professional SDRs who will get up to speed faster than a new SDR you hire in house but you'll still need to give them 30-60 day before they hit their stride.
Give your outsourced SDR team some time to understand your business, the customer, and common objections. It would be best to provide whatever insights you have and share your outbound playbook, including any previous cold email copy and cold call scripts.
Similar Company Size
SDR outsourcing companies need to have experience with cold outreach to similar company sizes your company targets. If you target enterprise companies and they don't have a track record of booking meetings with enterprise companies, you should avoid them.
ICP Similarity
If the outsourced sales development shop you work with has never targeted the buyer you're going after, it may be worth looking for someone who has. Some titles are notoriously challenging to get in contact with, such as IT, cybersecurity, government, and healthcare/hospitals. It's not 100% dealbreaker but some titles are easier than others.
Outreach Expertise
If the outsourced SDR firm focuses on cold email and your targets are mostly reached by cold calls, it's not going to be a fit. It's critical to understand how best to contact your prospect. Some places only make cold calls. While that can be effective, an omni-channel approach is usually the best.
Outsourced Sales Development Benefits
SDR outsourcing companies offer several benefits, including:
Cost-Cutting
Outsourcing SDR companies allow you to cut the direct cost of hiring sales representatives. You will also be able to avoid management and administrative costs associated with hiring and running an in-house team.
You do not have to worry about employees' insurance, taxes, and compensation benefits. The SDR outsourced services provider will take on all that hassle. Other cost-cutting domains include office rents, office support, and hardware expenses.
No More Hiring and Training Delays
Did you know that the average time to train a sales development representative is around 90 days? On the other hand, hiring an SDR can take a few weeks to several months.
Leveraging Latest Technology and Resources
An outsourced SDR may already have experience and access to the latest sales tools. This saves you from the hassle of making costly upgrades and shopping for additional licenses.
Expertise
Yes, outsourced SDR services will cost you money, but you will gain valuable access to expertise along with a sales development representative's team that is always available. The team has outbound experience that knows how to grind out cold outreach to book meetings. If provided with a sales battlecard, they can use it to overcome common objections.
Scalability and Flexibility
Outsourcing your sales development operations will give you a chance to focus on managing the sales opportunities. For instance, you are a early stage tech company aiming to penetrate a specific niche with your offering. You can hire an outsourced SDR company to target new potential customers without spending months having to build an SDR team.
This will help you get qualified leads in a much shorter time period than doing it in-house. Your in-house sales team can take these leads and run the sales cycles.
Outsourced Sales Development Negatives
Like any other thing in life, SDR outsourcing comes with its own set of drawbacks. Here are 2 of the main disadvantages of using outsourced SDR services.
Giving Up Control
As you hand over your sales development operations to an SDR outsourcing company, you will be relinquishing control (partial or complete) of part of your sales process and over your customers' first interaction with your brand. Your business will be reliant on the outsourced sales development representatives on the treatment of your customers, and the first feeling created.
Losing Information
One of the classic arguments against outsourced SDR services is the loss of information. This implies that your outsourced sales development solution provider will not be transparent with their internal processes and how they carry out the sales operations to target potential markets and customers.
You also risk critical feedback from the market at most third party SDR services are focused solely on booking meetings, not the nuance of learning from the market. SDR teams that are in-house will often share information from the market to their managers who can push that information to marketing and product teams.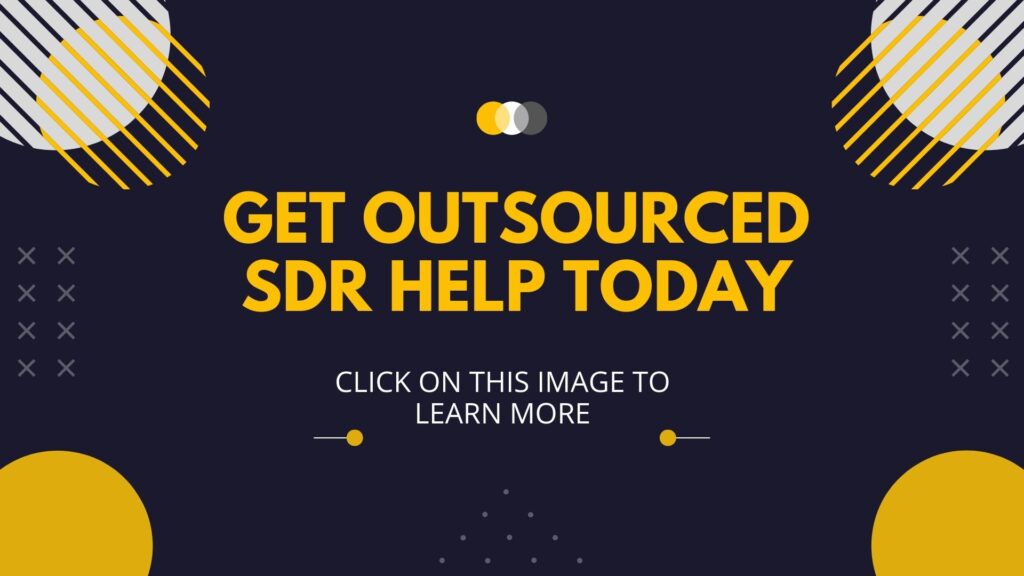 Outsourced SDR Services
There are various strategies and channels an outsourced sales development team can use. Here are the standard SDR outsourcing methods used to target prospects.
Cold Calling
Cold calling refers to making outbound calls to prospects who are not expected the call. The customer you are calling has no idea about your business. These are unexpected calls to targeted prospects made with the goal of booking a meeting.
SDR outsourcing companies use customer contact databases to acquire contact information for cold calling. Cold calling can be an effective way for companies to get in contact with prospects, especially because fewer companies focus on making cold calls. An SDR outsourcing company can provide hundreds or even thousands of cold calls per day.
The drawback is that cold calling may not be the most effective for the industry you're targeting. It may also take a hundred calls before one qualified lead is generated. The good news is that outsourcing cold calling to outsourced SDRs can be an effective way to generate thousands of cold calls per week. Cold calling is a numbers game so this should generate new qualified meetings.
Cold Email
Cold emails are similar to cold calls where a customer is not expecting your email. You have never interacted with the customers you are contacting, nor did you receive a request or inquiry from the people you are about to contact.
In this process, you send out an initial email to potential customers with the goal of booking a meeting.
An advantage of cold emailing is that you can target exactly who you want and see if they open your email, reply to it, and test messaging. It is a data driven approach to booking qualified meetings. W
SDR outsourcing companies should be experts in cold email. They should know how to personalize emails for maximum impact. They should also know how to iterate the messaging via A/B tests.
It is important for you to spend time with your outsourced SDR service provider to create customized email templates, A/B testing and make sure that the message resonates with your brand image.
LinkedIn Outreach
LinkedIn is the world's largest business networking platform. The service currently has more than 800 million users in over 200 countries. This is a great place to generate qualifying leads if you target the B2B sector.
SDR outsourcing companies use LinkedIn outreach to generate meetings. The main mode of communication of LinkedIn is through direct or one-to-one messaging. So SDR outsourcing companies will use LinkedIn Inmails to contact prospects.
It is a 5-step process that involves the following tasks
Identifying your target customers belonging specific sector
Outsourced SDR services provided will use LinkedIn Sales Navigator. This will help you search for potential customers in your niche.
Connecting with the target audience via direct messaging.
Sending messages or sequences of messages to communicate and engage potential customers.
Monitoring responses received from customers
SDR Outsourcing Prices
A sales development representative in the United States earns $53 870 in salary on average. Here are the prices for five SDR outsourcing companies.
What to Look For In SDR Outsourcing Companies?
SDR outsourcing can be a great way to generate more qualified meetings. More qualified meetings mean more revenue. However, not all SDR outsourcing companies are created equally. Many companies that hire a B2B outsourced sales development firm have a bad experience. In order to select the right partner, you want to consider a few things.
Experience and Industry
New SDR companies are popping up every day, so you need to ensure that you hire one with proper experience. Do your research to determine that the SDR outsourcing company has years of cold outbound experience, ideally within your industry.
The Location
You may find it surprising, but the location of the outsourced sales development team you are planning to hire does matter. An off-shore SDR outsourcing company may be cheaper, but a local outsourced SDR services provider will almost certainly have higher quality talent.
A local provider will also be more proficient with the language and expressions that customers can identify with. This does matter, especially in certain industries.
For example, if you want to target customers to make a personalized call or write a personalized email to a potential customer to buy a product, having an off-shore SDR outsourcing company might backfire. So do not consider saving money as a good thing here.
However, in some spaces where outbound activity is by far the most important factor, not quality of messaging, going overseas can be the right choice.
Cooperation and Transparency
As much as you would love to trust everyone you work with, it is best to ensure your safety first. An SDR outsourcing company you want to work with must be willing to share information and how they plan to target your potential customers.
Only pick a company that is willing to share weekly or bi-weekly reporting.
SDR Outsourcing Companies
Here are 5 SDR outsourcing companies you may want to consider.
This SDR outsourcing company moves fast and helps companies achieve sales targets. Is popularly known amongst the SDR outsourcing companies
This award-winning data-fueled and fully integrated SDR outsourcing company cater B2B companies. Uses an omnichannel approach to identify, engage and generate qualifying leads.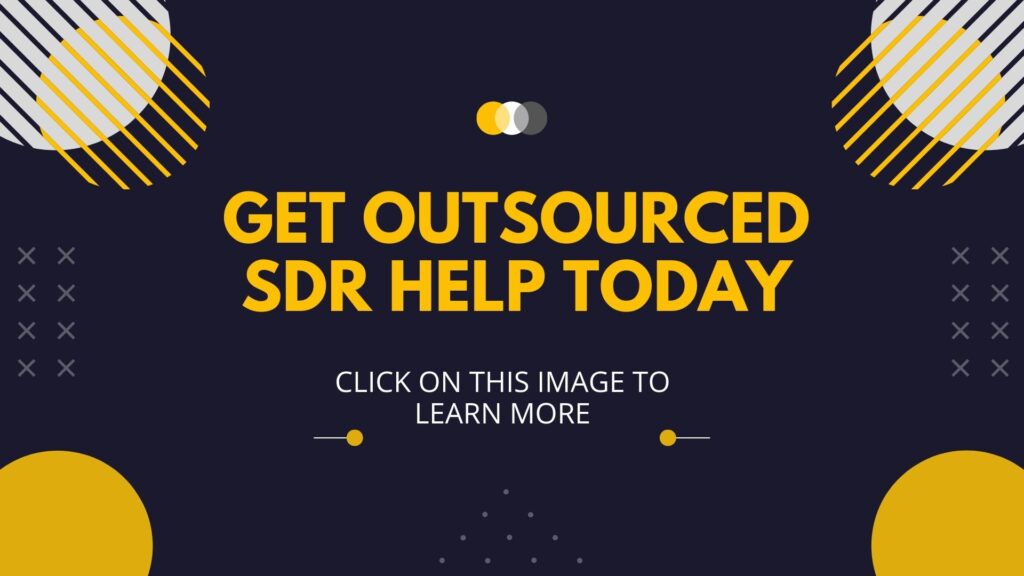 If you are looking for an SDR outsourcing company using multi-channel strategies to boost sales, thiss one of the more well known SDR outsourcing companies out there.
This outsourced sales development service provider is an option.
If your business is looking for a dedicated sales team with a primal goal to target prospects, design sales campaigns and generate qualifying leads, can do it for you.
Conclusion on Outsourced Sales Development
As convenient as SDR outsourcing may sound, finding the best SDR outsourcing company can be a real challenge. There are many firms that promise a lot and under deliver. Too often they're focused on acquiring new customers and locking you in for a 6 to 12 month engagement. That's why it's critical to get referrals to top outsourced SDR providers
Outsourcing SDR work is a great way to supplement the top of your funnel. Adding SDRs in house is a costly investment, especially if you have a short timeline. Mixing in-house and out of house is the best of both world.
Check out our guide on outsourced sales for startups, B2B Sales Consulting, and SDR Recruiting.