Airtable pricing is available on their website except for the enterprise plan. We have those details below so you don't have to talk to sales to get an understanding of your potential Airtable costs.
What Is Airtable?
Airtable is a low code/no code platform that is used to create databases. You can think of Airtable as a combination of a spreadsheet and database. It's easy to use and can be quite powerful for creating various projects and products. Over 250,000 companies use Airtable to create everything from content calendars to low code products. Airtable integrates with a ton of products, including box.com, Asana, Zapier, and many more tools. Airtable has five main features: Interface Designer, Views, Automations, Sync, and Reporting. Airtable is an excellent spreadsheet platform option, but be sure to check out some of its competitors to find the software that fits your needs.
Meet Airtable
Airtable Pricing
Airtable pricing consists of four different options.
Free – The free plan is a great way to test out Airtable. You can even add up to 5 creators. You only get 1 app per base which may not be enough.
Plus – The Plus plan is a solid upgrade from the Free plan. You get everything in the Free plan plus some key improvements It may not be enough for a serious Airtable user. The cost is $12 per user, per month or $10 per user, per month, billed annually.
Pro – This is the most popular plan, and for good reason. It's much more salable than the Plus plan. It $24 per month, per user or $20 per month, per user billed annually.
Enterprise Pricing – See below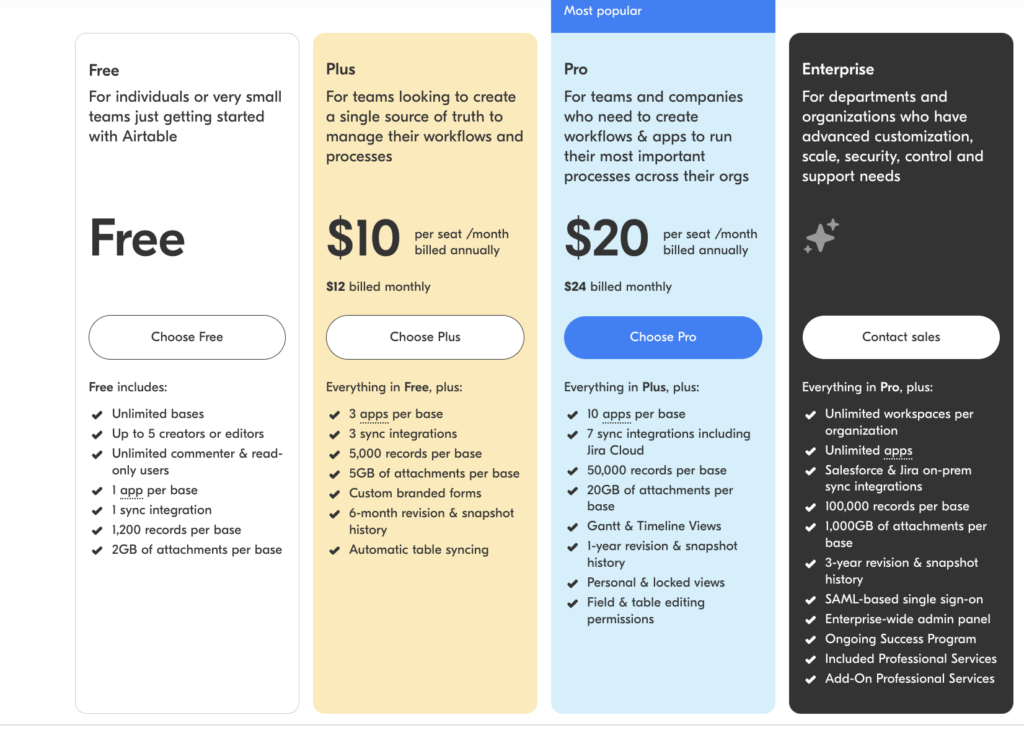 For a more in-depth comparison of the different options, you'll want to visit the Airtable website.
Airtable Enterprise Pricing
So how much does the Airtable Enterprise plan cost? Airtable pricing for the enterprise Airtable plan isn't publicly available. However, we've obtained the pricing. Airtable Enterprise pricing requires a minimum of 20 billable users, it starts at $10,000 annually and has a minimum of a one year commitment. Airtable's enterprise plan has almost unlimited storage, 3 year revision history, SSO and upgraded security to highlight the key enterprise features.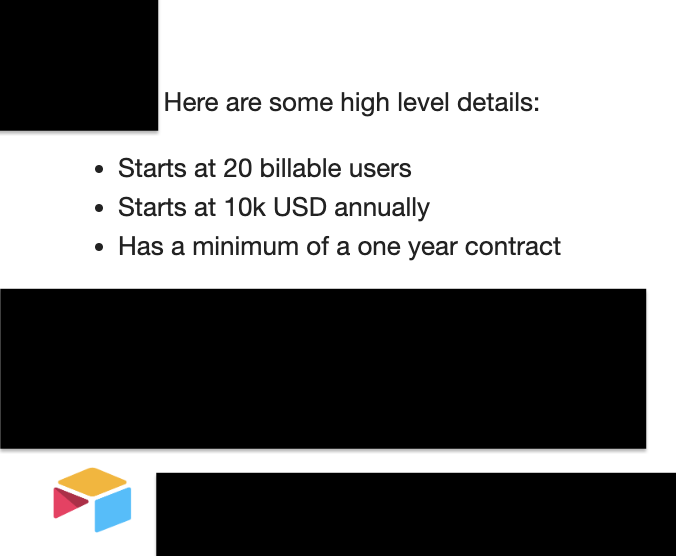 Airtable Discounts
Airtable offers discounts on their Plus and Pro plan of 20% if you select the annual contract option if you're looking to reduce your Airtable costs. That will save you $2 per month on the Plus plan, per user and $4 per month on the Pro plan, per user. Selecting the annual option makes sense if you know you're going to be using Airtable long term. Airtable's cost is reasonable given the potential Airtable has for users.
You may be interested in our comparison of Airtable vs Trello.
Airtable Alternatives For Project Management