What is Seamless.AI?
Seamless.AI pricing is changing but before we jump into pricing, let's cover what Seamless.AI is. Seamless.AI is a multi-software providing artificial intelligence company, offering a combination of email and phone validation, contact building, search engine, news, and other software.
The company focuses significantly on incorporating AI in verifying and building an existing database registry, providing Seamless.ai's existing catalog alongside yours. Seamless.ai currently has dozens of some of the most significant software companies as customers, all of which use the company's wide selection of products.
Seamless.ai has an extensive catalog of services and products, all of which are available in varying degrees to each of the company's three pricing tiers. Although the products are available, Seamless.ai limits data points behind a specific threshold, which exists by the monthly or annual cost of a business' decided plan.
Seamless.AI Product Demo
Seamless.AI Pricing
Seamless.AI pricing seems to range in size, with some Basic estimates sitting at around $95 per month and others ranging to upwards of $150.
Seamless.AI's pricing is available behind account creation, with the company providing recommended pricing based on a business' size. That's most clear with Enterprise pricing, which revolves around the database size and potential use by any business that signs up. While not explicitly stated on the company's Pricing page, pricing is accessible through an account.
Enterprise pricing is in a way like Seamless.AI's custom bulk pricing, which provides a discount depending on the sheer number of data points and software usage planned. In any case, the company charges annual contacts, priced at a slight discount if paid annually, in total, rather than on a month-to-month basis.
There are no additional fees for each of Seamless.AI's extensive other solutions, as they are usable via its "Credits" payment source. Everything is available as listed in the below product comparison.
UPDATED Seamless.ai PRICING – 2023 confirmed
Pro – up to 5 licenses, 6,000 for the year, paid upfront, for one person you can do it for 2364, 1000 searches per seat per day
Enterprise – more licenses, 10 and above, $79.40 per user per month, build annually, minimum of 10 seats. $9528 for 10 seats, might be able to go lower, still 1,000, unlimited exports.
Some details about the subscription and service…
Virtually unlimited access and leads. Up to 1,000 searches per license per day!
Unlimited CSV data downloads – upload directly to any CRM.
Instant ROI for your Sales Navigator workflow
Salesforce direct integration. 4 ways to import. Complete CRM mapping customization.
HubSpot direct integration. 4 ways to import. Complete CRM mapping customization.
LinkedIn connection makes sales prospecting on the world's largest B2B social platform a breeze
"Find All" functionality – one click full page data capture
Direct dials and cell phones – the most of any B2B platform in the US
Built-in automated email verification tool
Contact Intelligence – Data insights, links to websites / LinkedIn profiles
Dedicated customer success team and daily webinars for ongoing support
Customer support and service that the bigger companies can't offer. You have my undivided attention to maximize this platform.
Pricing
$99.40/user/ month paid annually – starting with 5 licenses
Seamless.AI Pricing Tiers
The company currently provides three pricing tiers, consisting of Basic, Pro, and Enterprise, in addition to a free trial. While Basic and Pro have set conditions, Enterprise is custom, in that companies pay for what they want.
Basic provides access to everything, excluding Seamless.AI's Salesflix sales library, advanced organizational management, saved searches, and autopilot, in addition to locking off chat and account management customer support.
Pro allows access to all mentioned, with plans to incorporate saved searches and autopilot (late October 2021). In total, this plan provides 1,000 credits per user per day, which is the company's currency to find emails, phone numbers, and insights. Additionally, Pro gives access to live chat messaging with the Seamless.ai team.
Lastly, Enterprise is custom in credits and users, with everything included, alongside an account manager. This is the most significant option — the same one used by companies like Google, HP, Adobe, Microsoft, and more.
Seamless.AI Product Comparison
The company's three tiers include:
| | | | |
| --- | --- | --- | --- |
| | Basic | Pro | Enterprise |
| Credits | 250/month | 1,000/user/day | Custom |
| Users | Single User | 5 Included Users | Custom |
| Contact Intel | Yes | Yes | Yes |
| Company Intel | Yes | Yes | Yes |
| Direct Dials | Yes | Yes | Yes |
| Data Enrichment | Yes | Yes | Yes |
| Chrome Extension | Yes | Yes | Yes |
| CRM Integrations | Yes | Yes | Yes |
| Enterprise Security and Compliance | Yes | Yes | Yes |
| Technographics | Yes | Yes | Yes |
| Salesflix Sales Library | No | Yes | Yes |
| Advanced Org Management | No | Yes | Yes |
| Saved Searches | No | Planned | Planned |
| Autopilot | No | Planned | Planned |
| Customer Success/Support | Email and Knowledge Base | Chat, Email, and Knowledge Base | Chat, Email, Account Manager, Knowledge Base |
Seamless.AI Enterprise Pricing
Thank you for your interest in Seamless.ai
Our pricing packages exclusively depend on various factors such as; Number of Employees, Features, and type of solutions you're looking for.
As we've talked, it'll cost around USD $20,000 for your team size of 20 members if you choose a yearly payment method.
On this package, you'll have full features of our sales tool with customization options. So it'll be roughly USD $1000/user/year.
We can arrange a meeting to discuss further about the goal, purposes and other information.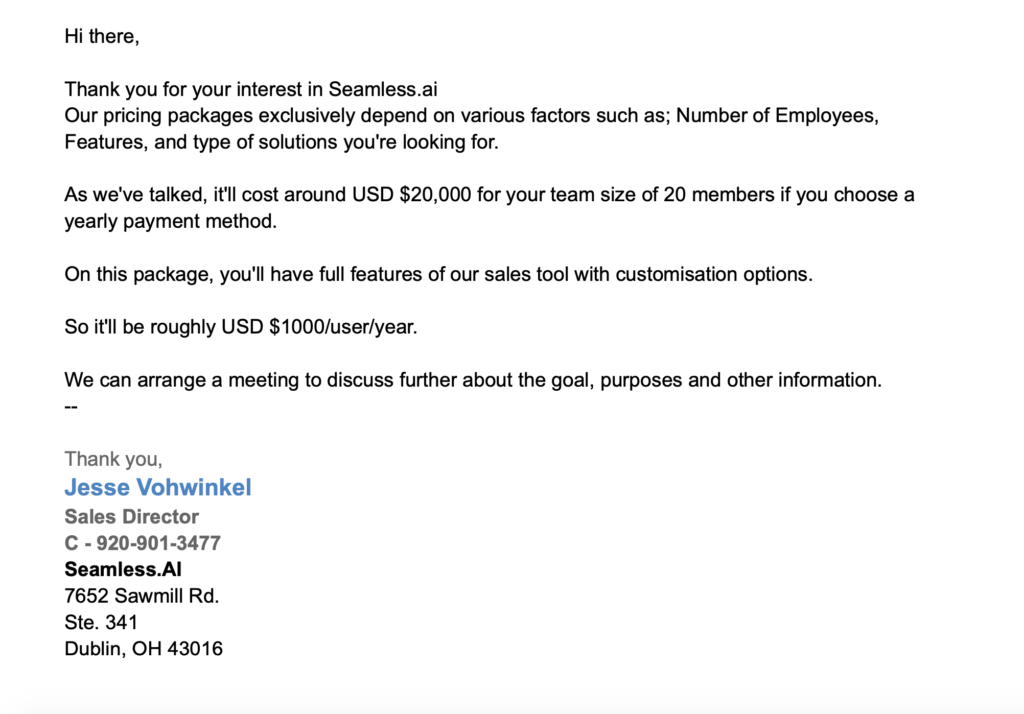 Every plan includes access to Seamless.AI's:
Email Validator,
Phone Number Validator,
Contacts,
CRM Imports,
AI Search Engine,
Research Pitch,
Locations,
Common Connections,
News,
Employee Lists,
Competitors List,
Web Technologies,
Digital Marketing,
Alerts,
Financials,
CSV Downloads,
And Recommendation Engine.
How Much Does Seamless.AI Cost
While not explicitly mentioned by the company without an account and associated business data, Seamless.AI pricing ranges in price from $65 per month and above. The company constantly undergoes pricing changes, with the bottom price having doubled before being cut in half.
There is a lot of constant change with Seamless.AI's cost, meaning businesses will likely need to contact the company beforehand or schedule a free demo/create a starter account to find the price for their specific needs. In addition, everything is designed explicitly around the use case, meaning that larger companies will have to opt into further plans like the Enterprise or Custom options to use the resources needed.
If Seamless.AI Isn't a Fit, Check Out These Seamless.ai Alternatives
When considering other options in the category, you can give ZoomInfo a try via their ZoomInfo Free Trial or check out other ZoomInfo Competitors, ZoomInfo Alternatives. We also have more affordable options listed with Hunter.io alternatives, Hunter, Lusha, Cognism, and free email finders. Other options include, Crunchbase, Snov, RocketReach, Apollo, and many others.