Are you looking for SugarCRM pricing? We've got you covered with an easy to understand breakdown of pricing, plans and and SugarCRM alternatives.
What is SugarCRM?
SugarCRM is a customer relationship management (CRM) platform that allows businesses to have strong tracking and management of online communications with customers. SugarCRM is built around the idea of "letting the platform do the job" and it features software applications for marketing automation, sales automation, and customer service. Helping businesses to create custom campaigns for each of their customers, accelerate the sales cycle, and create better customer relationships. SugarCRM also is supported by an expert team of consultants, implementors, support agents, and operations personnel, that brings to the user one of the most awarded customer support services in the business.
SugarCRM Pricing
SugarCRM pricing is divided into three different plans, each of them aiming at a different section of your business:
market (for marketing)
sell (for selling)
serve (for customer service)
Each of these plans has different features, storage space, and tech support. Also, there is available an Enterprise plan, this one offers a wider range of features, and freedom, and is one of the most valuable for any business.
SugarCRM Pricing Plans
SugarCRM market pricing
Starting at USD$1000 per month for 10k contacts
The company marketing platform is a multi-channel platform that features inbound and outbound email marketing tools, social media management capabilities, AI-driven predictive analytics, and Google Ads management tools. It helps you to create clever campaigns for your clients, and keep track of everything with Advanced Analytics tools.
Feed the funnel and align with sales to build the right pipeline: the market tool of SugarCRM is pre-integrated into the SugarSell platform so you can keep dynamic feedback within the areas of your business, leading you to a better insight into your buying journeys and customer behaviors.
Billed annually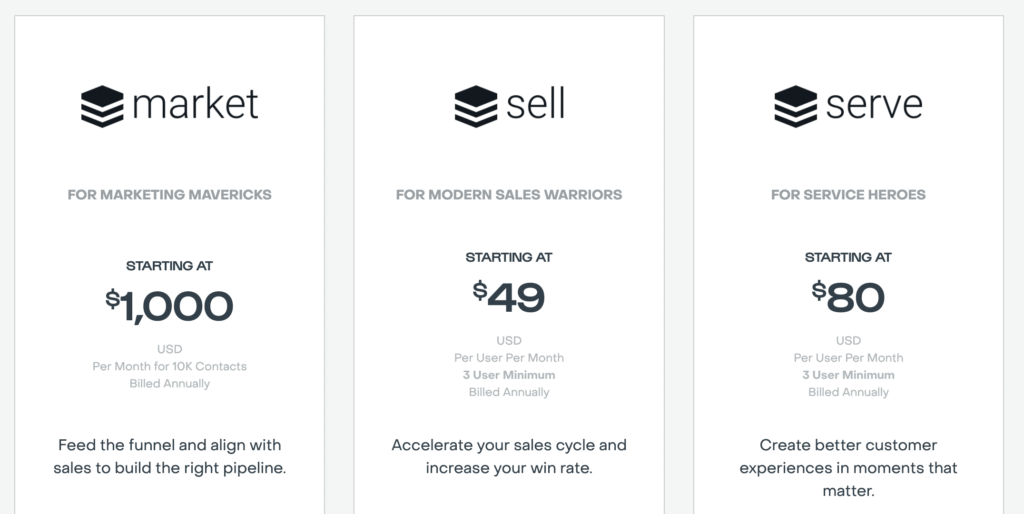 SugarCRM sell pricing
SugarCRM sell features three different plans, each one with more features than the last, and of course a different cost.
SugarSell Essentials
$49 per user per month 3 user minimum and 5 user maximum
It features a sales force automation for growing teams. Perfectly fit for a team of 3 or 5 people, with basic support and ease to upgrade if it is needed
Billed annually
SugarSell Advanced
$80 per user per month 3 user minimum
It features enhanced force automation with generous extensibility, add-ons with AI capabilities, and standard support.
Billed annually
SugarSell Premier
$135 per user, per month and a minimum of 10 users
The Premier plan is the most extensive plan of the SugarSell platform. It features comprehensive sales automation force capabilities. Its aimed at complex businesses, with a built-in AI system and enhanced support, made for the most demanding customers.
Billed annually
SugarCRM serve pricing
Starting at $80 per user, per month and a minimum of 3 users
The SugarCRM serve platform helps to create a better customer experience. Reply to customer emails and support queries with ease, keep everything and a glance and be aware of your customer needs. SugarCRM serve features a powerful communication service console UI, a console that intelligently prioritizes customer issues by SLA, priority, severity, and a temperature system that helps you to know your relationship with customers. Among other features that help to improve your customer support system
Billed annually
SugarCRM Enterprise pricing
SugarCRM Enterprise is the SugarCRM premier sales force automation for on-premise deployment. It features a maximum level of customization and control, with comprehensive CRM capabilities in on-premise solutions, complete authority over the CRM technology stack and software updates, and supports any level of tailoring from custom fields, to new functional modules, to completely headless embedding in other applications.
The SugarCRM Enterprise plan has a price starting from $85 per user. per month, with a minimum of 3 users and is billed annually
SugarCRM product comparison
SugarCRM plans have different features, here are some comparison charts of some of those features so you can have a glaze of what each plan can give to your business. We recommend you to fully explore the comparison chart on their official site so you can have a full insight before deciding what plan you choose.
How Much Does SugarCRM Cost?
SugarCRM market will cost annually $12000. Market is the most expensive feature and if you are a small business you are on your right to think it is expensive. On the other hand, it will give you a great upgrade on your marketing insights and efforts
SugarCRM sell cost will depend on the plan you choose, but in the Premier plan each of the users will play annually USD$ 1620.
SugarCRM serve annual cost will go $960 per user
SugarCRM Enterprise's annual cost will be $1020 per user.
If SugarCRM isn't a fit, check out these SugarCRM alternatives: