If you're looking to buy business leads you are faced with many choices. In this article, we'll break down what to consider a few top paid options and free options as well.
What Are Business Leads?
Business leads can often refer to contact information of prospects or the contacts at a business who have interacted with another business regarding their products or service by clicking a link or filling out a form. Business leads for this article are going to be contact information such as a company or contact at the company, with the relevant contact information. It includes the company's name, contact name, email address, work phone number, and mobile phone number.
There are various sources of business leads through which the business can connect and turn these prospective leads into customers like — phone numbers, and email addresses. Some of the common business lead sourced via LinkedIn and even tools that scrape contact information from email signatures.
Business leads are important for any sales-led organization. It is important to note that every business lead is a potential customer. Outbound lead generation is essential for generating sales pipeline. The more business leads a company can contact, the more business opportunities they could theoretically generate.
In order to grow a business, many companies need to buy business leads for cold outreach. This will ensure that they have the contact information required to effectively prospect new customers.
Lead generation, when done the right way, can ensure a consistent flow of sales opportunities for the business. An effective b2b lead generation strategy will convert leads  into customers.
Why Do Companies Buy Business Leads?
Companies buy business leads to generate sales pipeline. They do this via a few methods.
Business leads for the purpose of this article are considered prospect contact info. Companies purchase business leads so they can
Send cold emails
Make cold calls from cold call lists
With the ultimate goal to build pipeline. Pipeline is built by first booking meetings with prospects
Another reason companies buy business leads is to acquire high-quality leads. Quality lead providers have a huge database of contacts for a wide range of business prospects. This can be filtered down to specifications like location or software to match the business's requirements. This can include filtering by job titles, location, recent funding, by the technology used by the company, and many other variables.
Companies also purchase business leads to save time: Yes, lead generation can take place via marketing activities but this can require a lot of time and effort to attract certain prospects. With business leads, salespeople can make calls and send cold emails to build a pipeline. Otherwise they'd have to manually source these leads.
If you're looking to make more cold calls, you may want to check out this review on Connect and Sell.
What To Look For If You Buy Business Leads?
Buying business leads can be a significant expense, Pricing for ZoomInfo, Clearbit, Seamless, Uplead, and Lusha all show how costly this can be. This is why a business must look for the following when buying business leads:
Lead quality is the most important factor because if the contact details are incorrect, the leads are worthless. Buying business leads that are of high quality means the more likely you'll be able to reach your prospects. What makes a lead, a quality lead is that it's accurate and regularly updated.
Ask to test a sample of their data
Test the list provided for your specific customer that the business is targeting. Call a contacts to check if the information is correct and up to date. Email the contacts as well to see what the bounce rate is like. Every vendor will provide that and some like ZoomInfo have a free trial. Testing the data sample of contacts will help in determining if the list includes accurate and up to date information. It's also important to test various categories. Most vendors will be happy for you to sample their data and compare it against other business lead competitors.
While it's easy to get attracted to an affordable list, businesses should keep in mind that cheap always doesn't mean quality. In fact, cheap almost always means low quality except for Apollo. The research found that low-quality leads end up being 60% more expensive because of the amount of data cleansing it requires. Going cheap when buying business leads is almost always a mistake. What you save in money, you'll pay in time and frustration.
Buying Business Leads From Databases
A database provider like ZoomInfo, Uplead, Seamless, Lusha, and other alternatives are great options when you want to buy business leads. When considering a business lead database:
Is the data quality up to your standards?
Does the pricing fit your needs?
How often are the leads updated?
What type of integrations do the databases have?
What other features are offered by the database?
How many exports are included?
Is there a free trial or do they offer a free sample?
Do they have your ICP?
What quantity of your ICP is available?
Do they have mobile numbers and direct dials?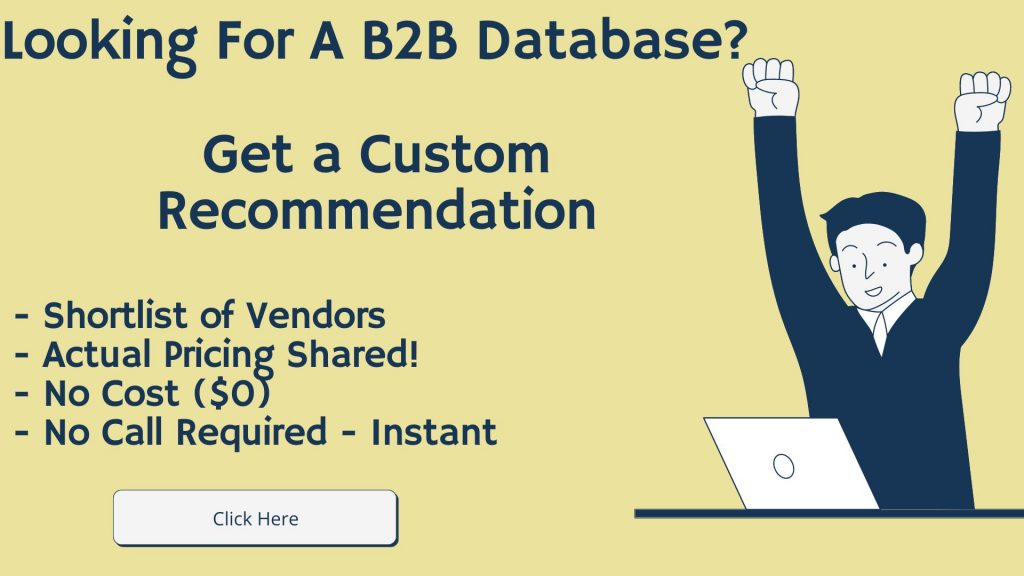 ZoomInfo – Business Leads Category Leader

What is ZoomInfo?
ZoomInfo is one of the leading and trusted business lead databases and a top choice when buying business leads. ZoomInfo helps the sales and marketing team by providing accurate B2B contact information. This software as a service platform provides marketers and salespeople with an actionable tool required for prospecting, lead scoring, and more. It provides detailed information which helps the business better understand their ideal customers.
Features + Product Highlights
ZoomInfo has various features and products. It requires a conversation with sales to determine what you need.
Intent: This helps company target the right leads at the right time
FormComplete: This feature removes the guesswork that goes into converting a lead into a customer by connecting with the CRM and capturing all the information on that contact. It also decreases the number of required fields and shortens the conversion process.
ZoomInfo Chat: Chatbot or live chat is a great way to make the business interactive and engaging, but the problem arises when it's difficult to understand whether or not the prospective lead the business is interacting with will turn into a customer. This is where ZoomInfo Chat helps. It provides extensive information on the customer being talked to, which helps shorten the lead conversion process. It's fully programmable chatbot automates the interaction process and customizes it according to the customer's behavior and input.
Chorus: It is a conversation intelligence platform that tracks conversation and captures important information from the sales calls made to the lead. It analyzes the conversation to identify the customer's behavior, look for areas for improvement, and repeat the manners which are profitable to the business. It maximizes sales by analyzing the performance and providing actionable recommendations.
Enrich: Regardless of how in-depth information a business has about a contact, it keeps changing every year or so. This is why it is important to keep updating that data as bad information can affect the reputation of the business. This is where Enrich comes as a savior. It connects with the CRM and constantly runs in the background to validate the information. This ensures that the contact information is correct and up to date.
Engage: It is a full-scale sales engagement solution that provides third-party insights into how and when to interact with prospective customers. This tool automates dialing and emailing by creating task queues. With the aim to make every call count, it utilizes ZoomInfo's database containing contact information and enables auto-dialing.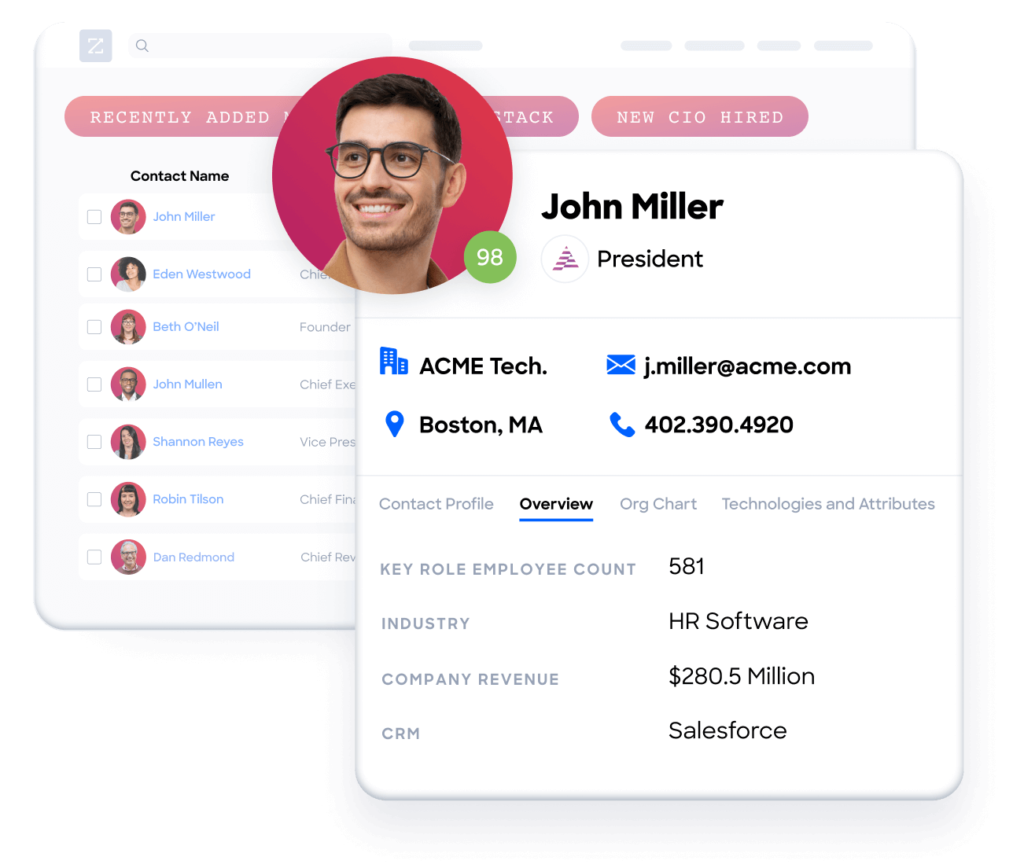 Pricing
While there is no pricing information available on the website, the following is the information we can tell you how much ZoomInfo costs.
Pros and Cons
Pros:
Good user interface and functionalities
Easy to navigate
Provides real-time insights on buyer's intent
Reliable customer support
Data segregation according to the business requirements is easy.
Seamlessly integrates with CRMs without any lag
Cons:
It is expensive
Data accuracy is not always up to the mark
Expensive for small businesses
Data inaccuracy depending on the segment
Cognism – Best For Buying International Leads

Cognism is based in the UK and has cornered the European market.
What is Cognism?
Cognism is a leading premium sales intelligence platform that offers solutions to accelerate marketing and sales growth. It has an internationally compliant database and vast global coverage which makes it the right fit for businesses of all sizes-small, medium, and large. The real-sale intelligence platform helps in identifying and engaging the team with the ideal accounts. It offers solutions for businesses to schedule and manage multi-touch bound strategies in one place.
Features + Product Highlights:
Prospector: This feature helps in identifying accounts and customers that match the business' criteria. It combines firmographic data, technographic data, and buyer's intent to ensure the right message is sent to the customers. It makes sure that the right customer is contacted by providing high-quality and phone verified contact data. With this feature, businesses can build persona and target audience and display ads to those who are more likely to respond.
Enhance: By providing up-to-date and accurate contact information, Cognism prevents data decay. It refreshes stale records and fills in data gaps to ensure the information in the business's hand is always correct and compliant with the B2B norms. It provides context to the contact information beyond the standard data points like geographical location, size, buyer's intent, and more. Campaign effectiveness and deliverability are enhanced with relevant offers.
Chrome Extension: It offers a chrome extension that speeds up the conversion process by providing premium email and mobile data for valuable prospects. It recognizes multiple entries into the target account and prioritizes the prospect list through a combination of different factors like the company's fit, designation, role, and email address. It verifies the contact number on the phone, and on-demand which increases the time spent in striking meaningful conversations with the prospect.
Intent Search: It helps businesses identify which businesses/customers are looking for their service or product. This ensures that they are targeting the right decision-makers, which shortens the conversion process and boosts the chances of profitability. It provides real-time insights into the account searching for the product or services by collaborating with intent data lead, Bombora. It captures warm opportunities, increases relevance with customized engagement, and speeds up the sales cycle.
Compliance: By providing a database that complies with the international laws and policies, it enables revenue contributors to connect and close with confidence. The database provided by Cognism meets all the B2B processing requirements. It helps businesses focus more time on wooing the prospects by providing them with a list of do-not-call cleaned numbers.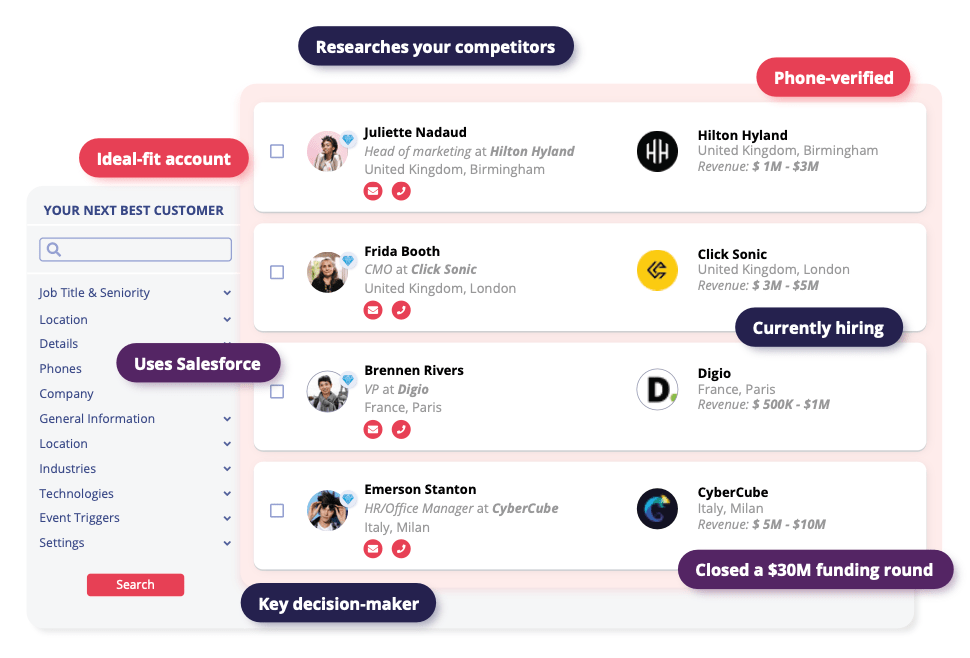 Pricing
It offers customized pricing depending upon the size of the business and its requirements. There are two Cognism pricing plans- Platinum and Diamond.
Platinum offers:
Platform Access And Integrations
Company profiles
Verified data
Technographics
Sales triggered events
Customer Support
Diamond offers:
Intent data
Advanced Customer Support
Pros and Cons
Pros:
Intuitive and easy to use the software
Large database with best contact quality
Excellent support system
Cons:
Complex implementation and mapping
Importing CSV can turn into a tedious task
Does not always provide the correct email address.
Lusha – Buy International Business Leads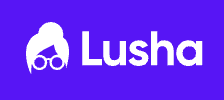 Another overseas business lead provider.
What is Lusha?
Lusha is a B2B data provider that helps businesses acquire the needed contact information. Designed for businesses of all sizes, it helps business access accurate contact information.
Features + Product Highlights:
Lusha Extension: This feature allows businesses to access contact details and B2B information by adding Lusha Extension to their Chrome browser and connecting it with LinkedIn Sales Navigator, Salesforce, and Recruiter. It provides businesses with valuable information regarding the customer on the company's buying committee. Being ISO 27701 certified, it ensures privacy and security.
Prospecting Platform: It provides most complaint data with its seven-step data verification system, Lusha 7 trust filters. The self-serve platform makes onboarding a hassle-free process, requiring no training. Businesses can get up to 1000 contacts and company details in one search which helps target highly-priortized accounts. Dashboard Analytics provides enhanced transparency into the B2B sales prospecting activity of the team, which helps to better understand where the credits are being utilized.
API: Businesses can find accurate prospect data, contact email, direct dials, phone number, and more with their Person API. It also simultaneously updates the system with information like company name, size, industry, and more.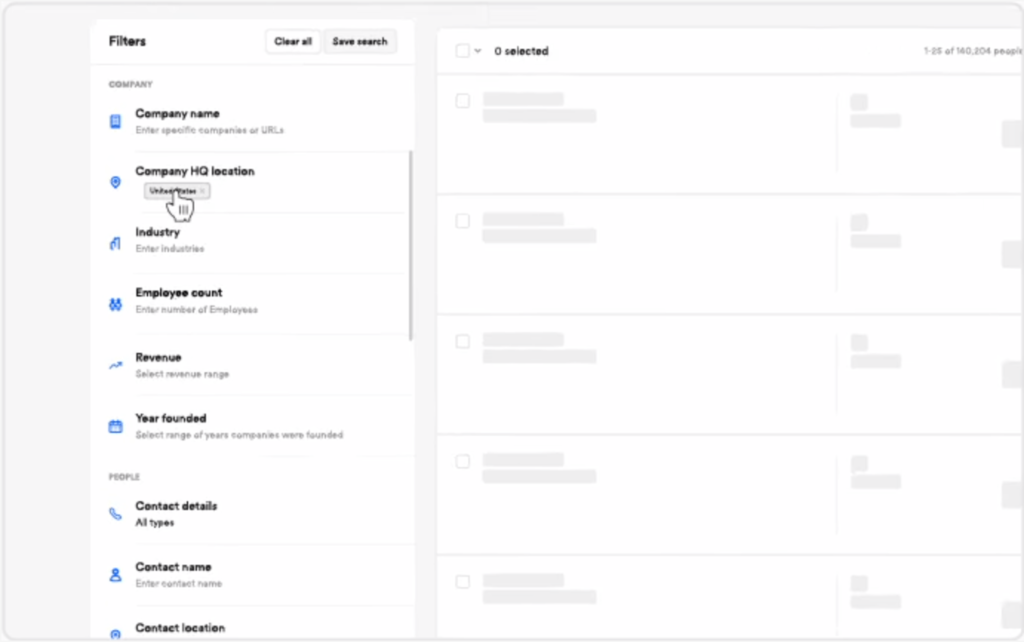 Pricing
| | |
| --- | --- |
| Edition | Pricing |
| Starter | Free |
| Professional | $276/user |
| Premium | $420/user |
| Enterprise | Pricing available |
Pros and Cons
Pros:
Useful for outbound sales development.
Finding contact details is easy
It offers real-time information
It seamlessly integrates with LinkedIn Sales Navigator.
Cons:
Quality of data for America can be improved
Does not offer a CSV uploader
It can be expensive for small businesses
Updates are time-consuming
Apollo – Affordable Business Leads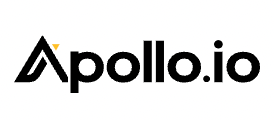 We have an extensive Apollo review and complete Apollo overview.
What is Apollo.io?
It is a sales intelligence and sales engagement platform. It has a database of millions of contacts that you can easily import into their sales engagement platform. Apollo is a strong option for startups who need to buy business leads.
Features + Product Highlights:
Database: Millions of contacts with emails and phone numbers
Sales Engagement Platform – Email sequencer that allows you to create outbound sequences and a/b test them.
Collaboration: Salespeople and their teams can collaborate in a structured and safe environment. Managers can assign users roles and define board access. It makes sure that the board members are informed of the action deadlines.
Dashboard: The intuitive dashboard helps board members to view and access all the information regarding the team in one place like tasks assigned, meetings, and more.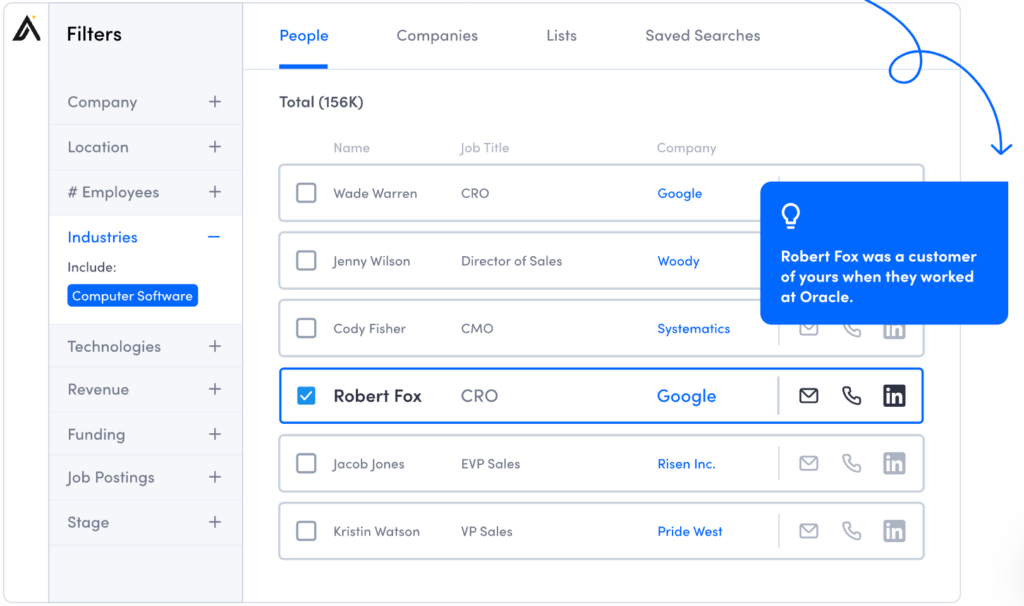 Pricing
The pricing plans are available on their website for everything except the custom plan. If you're looking for Apollo custom pricing we have you covered.
Pros:
Great value
Seamless integration of database and sales engagement platform
Easy to use
Apollo extension works well
Clean UI
Easy to create sequences and a/b test
Helpful filters which save time otherwise spent on prospecting
It provides highly-detailed result
Cons:
New limits are placed without any prior notice to their existing users.
Sometimes create duplicate account records, which leads to errors.
Takes too much time to load or at time freezes for no specific reason.
The free version is quite limited
Data quality can be inconsistent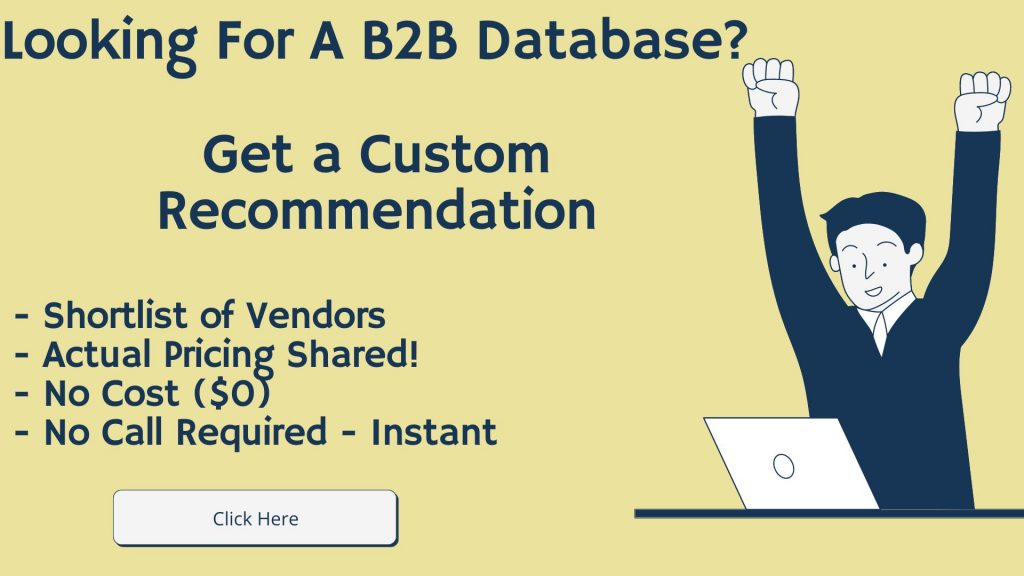 Clearbit – Business Lead Enrichment

What is Clearbit?
Clearbit is a B2B data activation platform that aids marketing intelligence and helps businesses close more deals in a shorter span. It provides the immediate context required to score, route, and speed up the journey of the customer. It appends more than 100 data points to the company, and the technology being used.
Features + Product Highlights:
Integrations: It offers integration with leading sales and marketing tools like HubSpot, Slack, Zapier, Salesforce, Pardot, Marketo, and more.
Smart Chat and Scheduling: Salespeople can connect with targets and high-quality leads through personalized chats and self-serve meet scheduling. It offers improved onboarding for prospects and customers through chat. It automatically identifies high-value accounts and encourages the sales team to approach them with personalized content and close the deal.
Lead Management: It provides consistent context that helps in improving lead scoring, and routing in real-time preventing manual sorting, bad fits, and misrouted leads.
Segmentation: It makes use of machine learning to help businesses identify the best accounts and targets based on more than 100+nique attributes like tags, technology, employee size, and more. It uses one unified data to structure everything from account-based marketing to product-led growth.
Revenue Analytics: It aims at eliminating ambiguity from the campaign performance by providing real-time insights into the website traffic.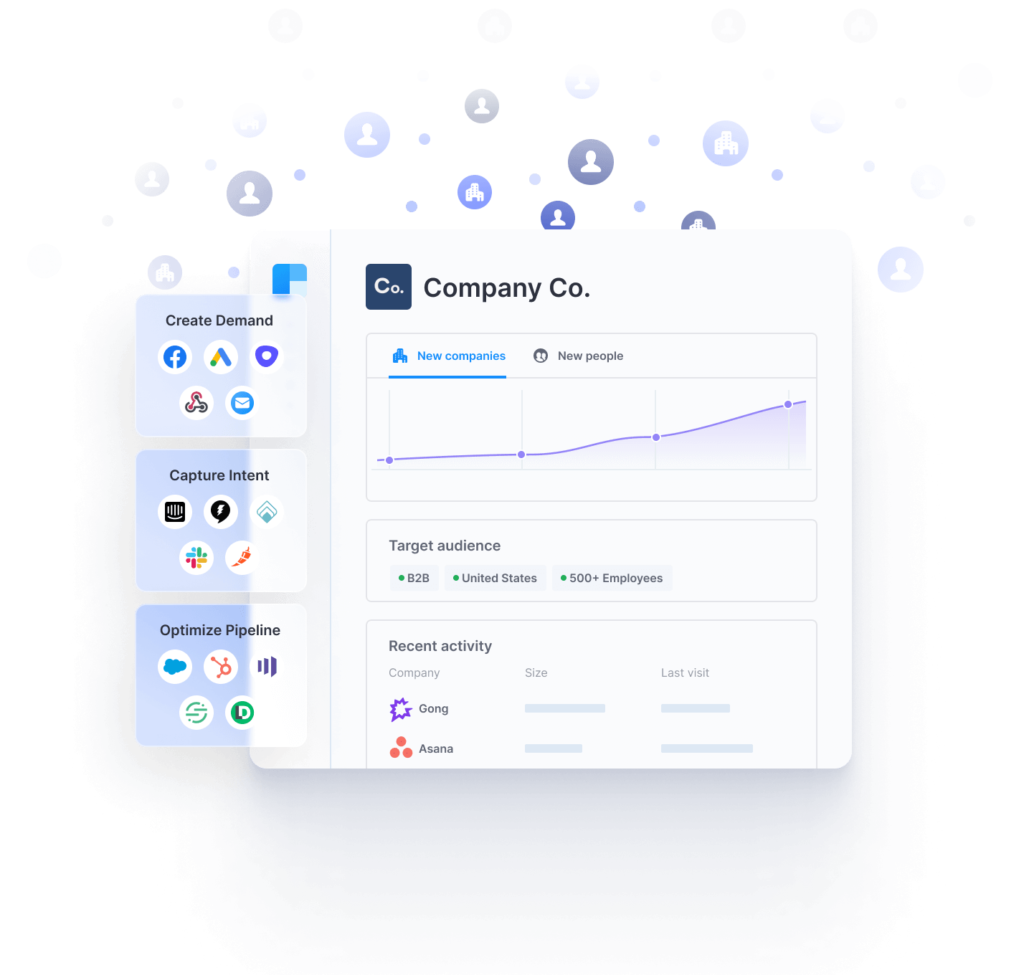 Pricing
You need to speak with sales to get an accurate understanding of cost but you can check out our Clearbit pricing.
Pros and Cons
Pros:
Simple layout and easy navigation
Provides accurate real-time updates
It just works
Cons:
It is not suitable for small businesses.
Does not offer direct dial.
Seamless.ai

What is Seamless.ai?
It is a B2B sales intelligence platform that helps sales and marketing teams find business leads in real-time. Many individual salespeople use Seamless when they need to buy business leads for prospecting.
Features + Product Highlights:
Pitch Intelligence: It provides customized insights on every lead and account so that the sales team can approach with a personalized message at the right time. Technographics provide an insight into the tools and technologies used by the prospects.
Chrome Extension: It helps find information about the contact like phone number, email address, and more on LinkedIn, Sales Navigator, Recruiter, or any other B2B website with just a few clicks.
Data enrichment: It prevents data decay by ensuring that the data is up to date and accurate.
Integration: It offers integration with various third-party applications like HubSpot, Salesforce, Pipedrive, Zoho, Outreach, and more.
Autopilot: It automates list building and helps the sales team build pipelines at a faster rate, which further speeds up the conversion.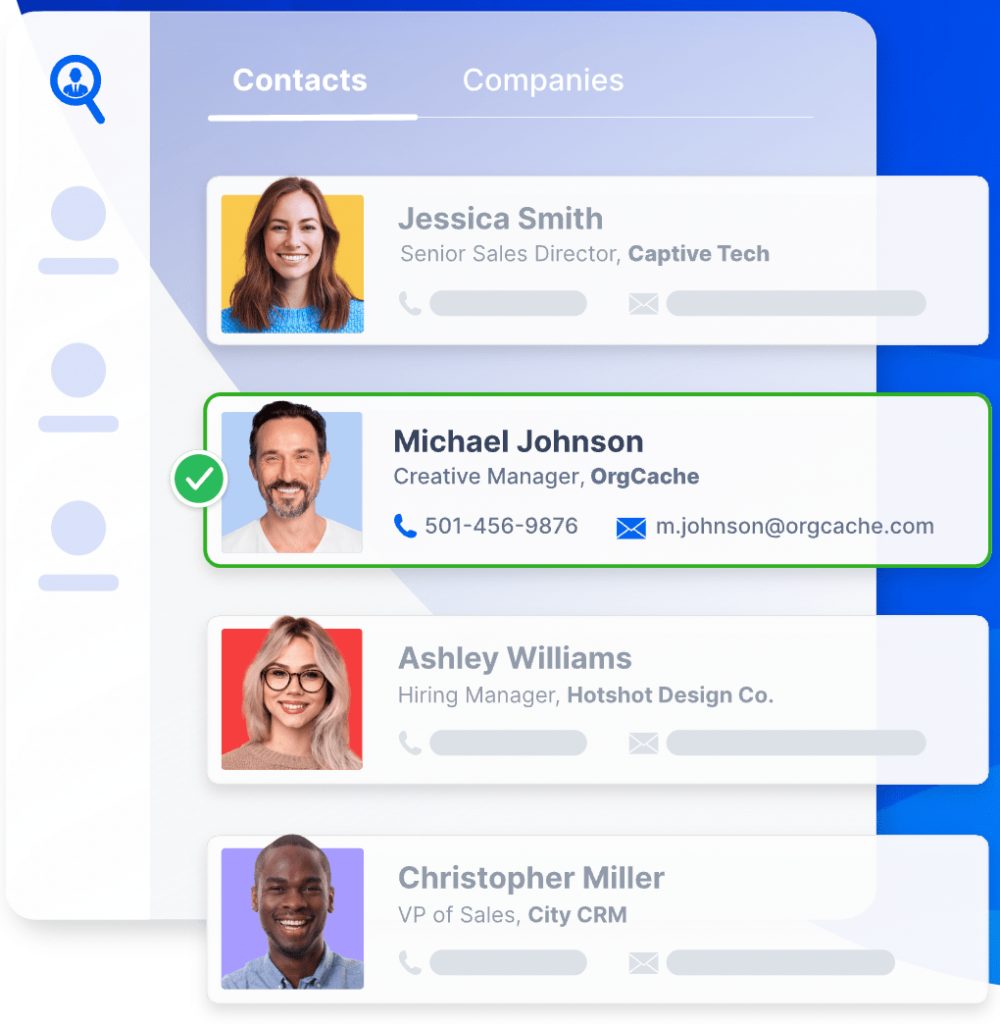 Pricing
It offers four plans- Free, Basic, Pro, and Enterprise. The free plan is for users looking to try seamless.ai. Basic costs are $97/month, view other Seamless Pricing
Pros
It is quick in terms of building lists and pulling up data
Searching for industry-specific contacts is easy
Cons:
Navigation can be challenging
Customer Support is not very helpful.
Poor sales experience
Data inaccuracy can be an issue.
UpLead
What is UpLead?

UpLead is a B2B Database and business contact data provider that is designed for businesses of all sizes to help them manage account-based marketing, email verification, targeted sales generation, opportunity engagement, and more. It aims at improving lead conversion by providing the sales team with the ability to create a customizable B2B sales list, accessing information using look-ups, and engaging with prospects.
Features + Product Highlights:
Prospector: This feature gives the sales team the ability to prospect B2B contact with higher accuracy. It provides more than 85m+ contacts. The wide range of filters updates the prospects list in real-time.
Data Enrichment: It provides the lead's contact information such as email address, phone number, social links, and more with just a few clicks. It pre-qualifies companies with sales intelligence. Email enrichment helps businesses know their customers at a personal level.
Email Finder: Businesses can find the right email and contact details of the decision-makers. The sales team can use the company name or URL to find the email. The emails are verified in real-time.
Intent Data: This helps find prospects that are looking for the product or services that the business has to offer. It eliminates the guesswork and helps the business connect with the leads looking for the solution. It provides a list of engaged leads, to whom the business can send the right message at the right time.
Technographics: It generates a list of prospective leads, depending upon the technologies that the buyers use or intend to use. It connects the sales team with over 16000 data points. The Chrome extension can capture information regarding the technology, as the sales team is browsing through the website.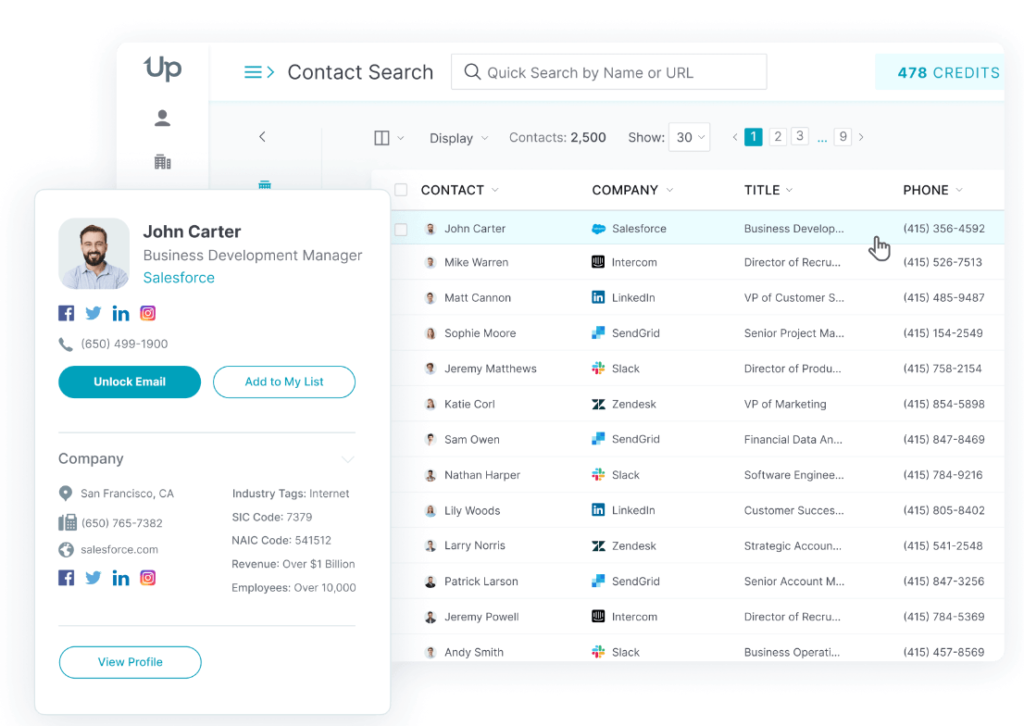 Pricing
More UpLead pricing.
| | |
| --- | --- |
| Edition | Pricing |
| Free | $0 |
| Essentials | $74/month |
| Plus | $149/month |
| Professional | $299/month |
Pros and Cons
Pros:
Impressive UI
Easy to use
Affordable
Integrations
Cons:
It does not offer refunds
No provision for after-sales support and service
LinkedIn Sales Navigator – An Alternative Way To Buy Business Leads

LinkedIn is the largest social media platform for business professionals. There is a tool called LinkedIn Sales Navigator that is a premium LinkedIn feature used by many sales teams to build business lead lists.
What is LinkedIn Sales Navigator?
It is a paid tool for sales professionals that promotes social selling by connecting different B2Bs. It offers various tools and filters to help businesses create a business leads list. It up-to-date data is based on self reporting and many of the business lead databases source their contacts from LinkedIn. With its actionable insights and information, this tool helps in better understanding of business leads and prospects.
Features + Product Highlights:
Prioritizing and Qualifying: LinkedIn Sales Navigator makes recommendations based on previous information saved. Businesses can also set different criteria for list preferences and be updated based on changes.
Advanced Search: This feature helps in conducting a sales research, finding prospective leads, and building a B2B list based on certain search filters. It helps businesses search for their ideal type of customers with filters like keywords, geography, industry, job title, keywords, and more.
SNAP: Sales Navigator Application Platform is a limited access tool that businesses can utilize for a LinkedIn review of their integration. It only considers those integrations that overlap with Sales Navigator and provide value to LinkedIn customers. Some of its key features include communicating with the leads, identifying more lead opportunities, logging activities in SalesForce CRM, real-time updates, saving new leads, and more.
Tracking: Businesses can keep track of people and companies by saving up to 10,000 leads and accounts. They can make use of custom lists to manage leads and accounts and organize existing workflow. Alerts provide real-time up to date information regarding leads and accounts. Businesses can also save information about leads and accounts using notes.
Engage: This feature gives the ability to engage with prospects and customers using the team's network. The Teamlink allows the business to view the team's connections of those that have Sales Navigator Team or Enterprise. The size of the connections can be increased using the Team Link Extend without giving members full access to LinkedIn Sales Navigator.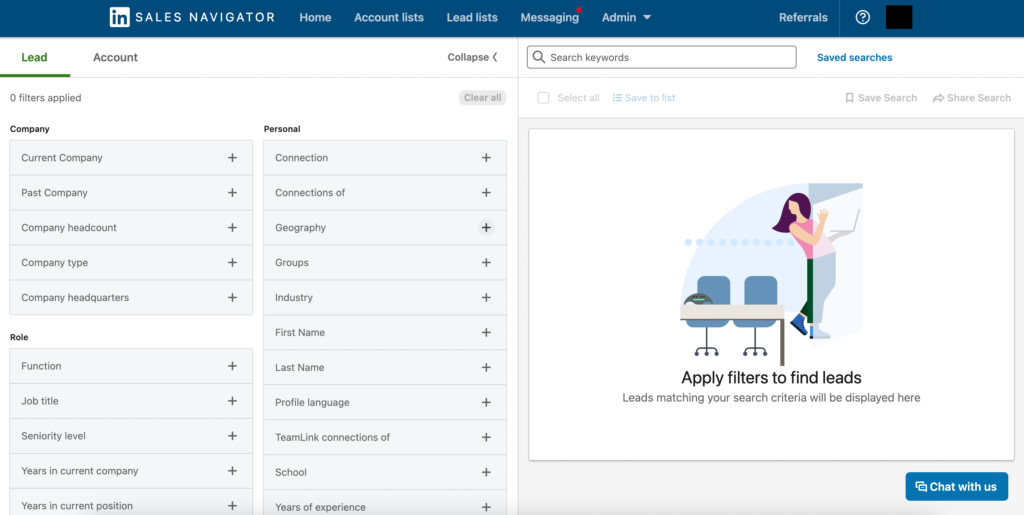 Pricing
| | |
| --- | --- |
| Edition | Pricing |
| Sales Navigator Professional | $99.99/user/month |
| Sales Navigator Team | $149.99/user/month |
| Sales Navigator Enterprise | Starts at $1600/year |
Pros and Cons
Pros:
Easy to use with a little experience
Importing contacts to Salesforce is simple
Enormous database of contacts
Cons:
It can expensive with many seats
First-time users might find it difficult to navigate
It does not offer a flexible payment option
Does not provide contact information
You need a third party tool to acquire contact information
Business Leads From a Third Party
If you're not sure if buying business leads from a database provider is right for you, you can always hire a lead generator to build a list. Sites like Fiverr and Upwork have plenty of affordable talent who will spend time following your instructions to create a business lead list. They often have access to LinkedIn Sales Navigator in order to acquire the contacts you need. After they do that, they'll use another tool to enrich the business leads to provide you with their contact information.
Fiverr: Fiverr offers lead generation and lead qualification services, where freelancers from across the world provide lead generation prospect email lists and more for businesses operating in various industries.
Upwork: Upwork connects businesses with qualified lead generation specialists. Businesses can post their ads and choose from online marketing and lead generation specialists from around the world.
This is an affordable option. It's also going to have fresh contacts as they're recently soured and enriched the day the work is assigned. However, this is not easy to scale, it can be time consuming, and you'll almost certainly not get phone numbers. It's a good fit for a small team that isn't ready to commit to outbound at scale.
Freelancer.com: It is another platform where businesses can post their job and hire lead generators.
Free Business Leads Tools
There are various business lead tools available online which can help in finding email for free so you don't need to buy business leads, with some offering free email credits or free trials.
Find the complete list here.
The following table is a list of tools available online that find emails for free with no limit.
Are there any more B2B leads tools you did like us to cover? Drop the suggestions in the comment section below.