If your team uses Salesforce, you have likely seen both the benefits and drawbacks of the CRM and may be considering using a tool to make it easier, and wondering which is better, Dooly vs Scratchpad. Salesforce has taken over about one-fifth of the market, and many businesses rely on sales force as their customer relationship management (CRM) platform. However, Salesforce is not always user friendly. 
From clunky user interfaces to excessive data entry, sales and marketing professionals have plenty of complaints about Salesforce. These negatives have sparked new companies to form, building workspaces that integrate with Salesforce.
Dooly and Scratchpad are two popular examples of productivity suites that work directly with Salesforce. Users can work out of Dooly or Scratchpad instead of Salesforce, but their data and actions are recorded in the CRM. While the two products are similar, one might be better for your company than the other. Keep reading to learn about Dooly versus Scratchpad and which one is better.
What is Dooly?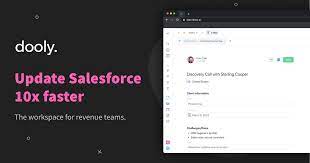 Dooly is a platform that helps sales and marketing professionals manage their data entry. With so many sales tools available today, sales teams can be overwhelmed when it comes to data entry and management. Busywork can bog teams down, they spend too much time coming up with LinkedIn post ideas, and finding emails. Dooly uses AI to automate many of the processes sales professionals use every day.
Many of the tools and apps salespeople rely on today to do their jobs do not communicate with one another. The data must be entered and maintained in each individual program. Updating records, entering new data, and sifting through multiple platforms for specific information can be time-consuming and tedious. 
Dooly uses AI to intelligently funnel data to integrated apps and platforms in real-time. Dooly records data and populates connected apps in an instant. It also provides guidance to salespeople based on their data across all relevant platforms.
Dooly claims to save five hours of "gruntwork" each week for Salesforce users. Sales and marketing teams that rely on Salesforce are the targeted clientele for Dooly, and their top sales teams include Asana, Contentful, Procore, BigCommerce, Figma, and Postclick.
The user interface for is set up like a dashboard where salespeople can view their opportunities, create playbooks, and manage contacts and tasks. According to Dooly, setup can take as little as 60 seconds to get started using the platform.
Dooly Overview
Sign up for your free Dooly account, use our affiliate link: TAKE ME TO SIGN UP FOR DOOLY.
What is Scratchpad?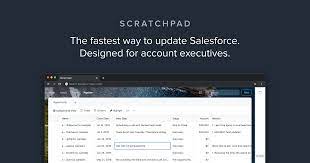 Like Dooly, Scratchpad was designed to make it easier and faster to use Salesforce. The platform was developed based on conversations with sales professionals who were not satisfied with Salesforce, including the UI and data entry process. Scratchpad is described as a workspace built on top of Salesforce, providing a suite of productivity tools to sales professionals.
Scratchpad provides users with a variety of tools that integrate with Salesforce, including spreadsheets, notes, tasks, and search features. With Scratchpad, salespeople can interact with their data across all integrated platforms and save time when it comes to data entry and management.
For salespeople that spend a considerable amount of time completing administrative tasks or managing data, Scratchpad is designed to streamline processes and cut out unnecessary steps. Sales professionals can record notes or data, which is added to all relevant platforms and captured by the proper apps, including communication tools, calendars, and CRMs.
Scratchpad is considered a collaborative tool, allowing teams to share their notes and data. Usability is also important to Scratchpad. Like Dooly, Scratchpad relies on a dashboard-based user interface. Users can create workflows, manage opportunities, and find contacts. Top-performing sales teams like Adobe, Dolby, LogMeIn, SurveyMonkey, and Udemy all use Scratchpad.
Scratchpad Overview
Dooly vs. Scratchpad Features
Dooly and Scratchpad both claim to provide a better user interface and experience for Salesforce. To accomplish this, the platforms offer a variety of tools to capture information, update records, and manage sales data. When comparing Dooly vs Scratchpad it is important to make sure the features you need are provided by the platform.
| | | |
| --- | --- | --- |
| FEATURE | DOOLY | SCRATCHPAD |
| Dashboard Overview | Yes | Yes |
| Chrome Extension | Yes | Yes |
| Notes Tool | Yes | Yes |
| Tasks Tool | Yes | Yes |
| Calendar | Yes | Yes |
| Playbooks | Yes | No |
| Pipeline Management | Yes | Yes |
| Live AI Listening | Yes | No |
| Smart Triggers | Yes | No |
| Custom Views | Yes | Yes |
| AI Guidance | Yes | No |
| Forecasting | Yes | No |
Dooly Features
Dooly breaks their platform down into four main features: Notes, Pipeline, Playbooks, and Integrations. Each feature offers a variety of tools and capabilities to meet the needs of sales teams and make it easier to use Salesforce.
Notes: With Dooly, salespeople can sync their notes directly with Salesforce without going into the CRM platform. Sales Development Representatives can be more efficient with their time. Salesforce fields can be added directly into notes and updated like text. Smart Sync syncs notes to Salesforce in real time, including fields and activities. Note templates can be created and shared with the team to add Salesforce fields and sell faster. Dooly can also identify new contacts and add them to your Salesforce instance.
Pipeline: The Dooly dashboard enables users to update Salesforce with one click, including a fast interface. Sales funnels can be viewed visually and edited as needed. Easy drag-and-drop functionality makes it simple to update deals or move items around. You can create custom views to see your Salesforce data in a way that makes sense. You can also sort and filter data, add unlimited fields, and create cards to organize information.
Playbooks: Playbooks from Dooly help sales teams close deals faster by providing talking points and content when it's needed most. Live AI listening scans your notes or listens to your calls to pull important data. Smart triggers pull up relevant information or data when keywords are used or said and kill sheets or battlecards can be viewed instantly if competitors are mention. Content from other sources can be linked to your cards for quick and easy access.
Integrations: Dooly integrates with a variety of sales tools and acts as a central hub for important sales data and information.
Sign up for your free Dooly account, use our affiliate link: TAKE ME TO SIGN UP FOR DOOLY.
Scratchpad Features
Scratchpad breaks their platform features down by user role. Different members of the team have different needs, and Scratchpad strives to cater to each individual user, including account executives, sales leaders, and revenue operations.
Account Executives: With Scratchpad, account executives can consolidate their data into one convenient dashboard. Users can update their next steps and enter required Salesforce fields directly from Scratchpad. Account information can be pulled in real-time across the web, and data entry is reduced by five hours per week.
Sales Leaders: Sales leaders can maintain up-to-date Salesforce data without having to hound their team every day. Data entry is easier and faster, helping sales leaders achieve better quality CRM data. There is also complete visibility into the sales team to identify struggling areas and improve sales. With data sharing tools, the entire team can stay in the loop.
RevOps: By consolidating sales data, Scratchpad keeps important data from spreading across different platforms without oversight. Revenue operations can find important data faster and flag time-sensitive information directly from Scratchpad. You can even set rules within the platform to ensure all necessary fields are required and create templates to properly collect and manage data.
Dooly vs. Scratchpad Integrations
Dooly and Scratchpad both integrate directly with Salesforce, but they also integrate with other sales and professional tools. If you are considering Dooly vs Scratchpad, check that the tools you use daily integrate with the platforms.
| | | |
| --- | --- | --- |
| INTEGRATION | DOOLY | SCRATCHPAD |
| Gmail | No | Yes |
| Google Calendar | Yes | Yes |
| Google Chrome | Yes | Yes |
| Google Drive | Yes | No |
| Guru | Yes | No |
| Office 365 | Yes | No |
| Outreach | Yes | No |
| Salesforce | Yes | Yes |
| SalesLoft | Yes | No |
| Slack | Yes | Yes |
| Zoom | Yes | No |
Dooly Integrations
When it comes to Dooly vs Scratchpad, Dooly offers more integrations than Scratchpad. Users can sync their Google Calendar or Microsoft Outlook calendar with Dooly to maintain a consistent and up to date calendar. Dooly also integrates with other sales engagement tools like SalesLoft and Outreach. The Zoom integration enables Dooly's AI assistant to "join" your sales calls and listen for triggers. When a keyword is said, Dooly will display relevant cards and data in real-time to help with the conversation.
Scratchpad Integrations
Scratchpad currently only offers a few integrations, but it does sync with your Google Calendar and Gmail account. The Chrome extension enables users to view sales data from anywhere on the web without having to change tabs or open a new browser. Scratchpad also integrates with Slack to manage conversations and share important information.
Scratchpad vs. Dooly Pricing
Pricing is very similar for Dooly vs Scratchpad. Both Dooly and Scratchpad offer free versions of their platform as well as paid tiers. They also offer custom pricing for enterprises or large sales teams. Besides the free account option, Dooly subscriptions start at $25 per user per month and Scratchpad subscriptions start at $19 per user per month.
Dooly Pricing
Dooly pricing offers three pricing tiers: Starter, Growth, and Enterprise. The right tier will depend on the unique needs of your business and the number of users accessing the platform. The Starter plan is free forever and targeted towards individuals. The Growth plan is $25 per user per month and is targeted for individuals or small teams that want to ramp up their sales. For large teams, the Enterprise plan is customized based on a variety of factors. Each plan includes different features and functionality.
Starter: Notes synced with Salesforce, pipeline editor, integrations with other tools, and up to 5 users
Growth: Everything in the Starter plan, full note history, advanced pipeline editor, AI playbooks, and unlimited users
Enterprise: Everything in the Starter and Growth plan, custom integrations, unlimited AI playbooks, and concierge onboarding.
Scratchpad Pricing
Scratchpad offers four pricing tiers: Free, Premium, Team, and Business. As with Dooly, the right pricing tier will depend on the features your business needs and how many users you have on your team. The Free plan is targeted for individuals and small teams and is completely free. The Premium plan is $19 per user per month and is intended for individual account executives looking to increase their productivity. The Team plan is designed for small and medium-sized teams and costs $39 per user per month. Finally, the Business plan is intended for medium and large teams with advanced needs and pricing is customized.
Free: Create or update 25 Salesforce records per week, productivity essentials (Notes, Tasks, Search, etc.), 100 notes linked to Salesforce, and email support
Premium: Create or update unlimited Salesforce records each week, productivity essentials, unlimited notes linked to Salesforce, and priority email support
Team: Everything in the Premium plan, 7 days of change history, highlight the latest changes, unlimited personal tiles, 5 team tiles, 5 team grid views, 5 team Kanban views, global actions configuration, 3 note templates for team, 1 Salesforce custom objects, 1 related objects list, and priority video call support
Business: Everything in the Team plan, 365 days of change history, unlimited personal tiles, unlimited team tiles, unlimited team grid views, unlimited team Kanban views, unlimited note templates for team, unlimited Salesforce custom objects, unlimited related objects lists, and personalized 1:1 onboarding and workflow audit
Free Trial for Dooly or Scratchpad
Free trials for Dooly vs Scratchpad are different. In addition to Dooly's free subscription tier, the platform offers a free 30-day trial for its Growth tier. Scratchpad also offers a free subscription tier, but it does not offer free trials on the paid tiers. Users can try Scratchpad for free by using the Free pricing plan. 
Sign up for your free Dooly account, use our affiliate link: TAKE ME TO SIGN UP FOR DOOLY.
Scratchpad vs. Dooly Reviews
Scratchpad and Dooly are evenly matched when it comes to overall reviews online. G2, a popular software review site, has five-star ratings for both platforms with about 400 reviews each, and shows that Dooly vs Scratchpad are close in rank. However, Dooly consistently has better ratings for its features and functionality while Scratchpad has better ratings for its customer support.
Scratchpad Reviews
Scratchpad reviewers appreciate the easy-to-manage dashboard and the quick interface between Scratchpad and Salesforce. The Chrome extension is also a favorite feature, and users praise the ability to enter data or edit notes from any tab without having to open more programs. Some reviewers also mention the different data viewing options, including the Kanban boards, as a plus.
When it comes to drawbacks for Scratchpad, users cite a lack of forecasting and prospecting organization. Reviewers also note that it is difficult to hunt for Salesforce fields when taking notes instead of taking notes in a free-form style.
Dooly Reviews
Templates in Dooly are frequently cited among positive reviews, and users appreciate the ability to create custom templates for their notes and easily pull in fields from Salesforce. Users also appreciate the auto-save feature, so their notes are always saved as they type. The integrations are appreciated by sales teams as well as the ability to standardize information.
Users have cited bugs occurring with Dooly from time to time, which results in lost information. There are also some Salesforce features, like Custom Activates, that cannot be pulled into activity fields or notes within Dooly.
Scratchpad Use Cases
Scratchpad provides a variety of use cases for revenue teams on their website, but they are lacking detail. When comparing Dooly vs Scratchpad, Scratchpad's website is thin on information and only offers three use cases:
Sales leaders
Revenue operations
Dooly Use Cases
When it comes down to Dooly vs Scratchpad for use cases, Dooly offers more detail and real-world examples for their platform. Dooly provides a variety of use cases on their website, including:
Sales operations
Sales enablement
Customer success
Marketing
If you're considering Sales Outsourcing, tools like Dooly and Scratcpad are a great way to ensure the data gets entered into your CRM.
Comparing Dooly and Scratchpad: Conclusion
Which platform is better: Dooly vs Scratchpad? Overall, Dooly seems to offer more features, integrations, and use cases than Scratchpad. However, Scratchpad can cost less per month than Dooly, depending on your subscription tier. The price difference is small though, and users may appreciate the extra features and functionality more than the minor cost savings. Online reviews for Dooly are also more favorable than Scratchpad, and the Dooly website provides considerably more information about the product than Scratchpad.
Sign up for your free Dooly account, use our affiliate link: TAKE ME TO SIGN UP FOR DOOLY.