When it comes to Apollo.io pricing, it is all available on their site except for the custom plan. Apollo.io offers pricing for various plans that can fit every budget, even if you have no money to spend.
(we may receive an affiliate fee for links in this post)
What is Apollo.io for?
Apollo.io is for cold outreach and sales prospecting. Apollo is a B2B sales tool for prospecting. Apollo is made up of two main features. The first feature is the sales engagement platform. It allows a user to create outbound sequences, made up of cold emails, calls, and other activities. The second main feature is their database of contact information that has over 25 million contacts, when compared to ZoomInfo or ZoomInfo competitors, Apollo pricing is a no brainer for the database for smaller companies and even some mid-size organizations. There are other features like lead enrichment but for most use cases, the two main features will cover what you need.
Having the database and the sales engagement tool in one platform, makes it seamless to import leads to cold email. There is also built-in reporting which will save users a ton of time. Especially if you are limited with resources.
If you're looking for a deeper dive to understand what is apollo.io we have you covered.
Apollo.io Overview
Apollo.io Pricing
Apollo.io pricing is straightforward for three of their four plans.
Free – You get 50 email credits per month which is great if you simply want to test the product out. You can still send emails and add them to outbound sequences. If you need more free emails check that link out. With the free plan you're limited with two outbound sequences.
Basic – You get 200 email credits and unlimited sequences. There's really no point in paying $49 a month for this plan. This is likely designed as an inferior plan to make you upgrade to the next plan.
Professional – For $99 a month you get unlimited email credits, unlimited sequences, and you can a/b test your sequences. Additionally, there are a bunch of other features included that are worth it. When it comes to value, this plan is insane for the price. Similar email sequences go for $99 a month and do not include unlimited email credits. The only place this plan kinda falls short is if you need phone numbers. That's why you may need to upgrade to the custom plan but Apollo pricing here is an excellent value.
Custom – Apollo pricing for this is customized, especially with regards to the number of phone numbers you need. We have more details below on pricing and what this might cost. It's more likely you're a professional sales team with a strong need for large volumes of outbound, APIs and phone numbers.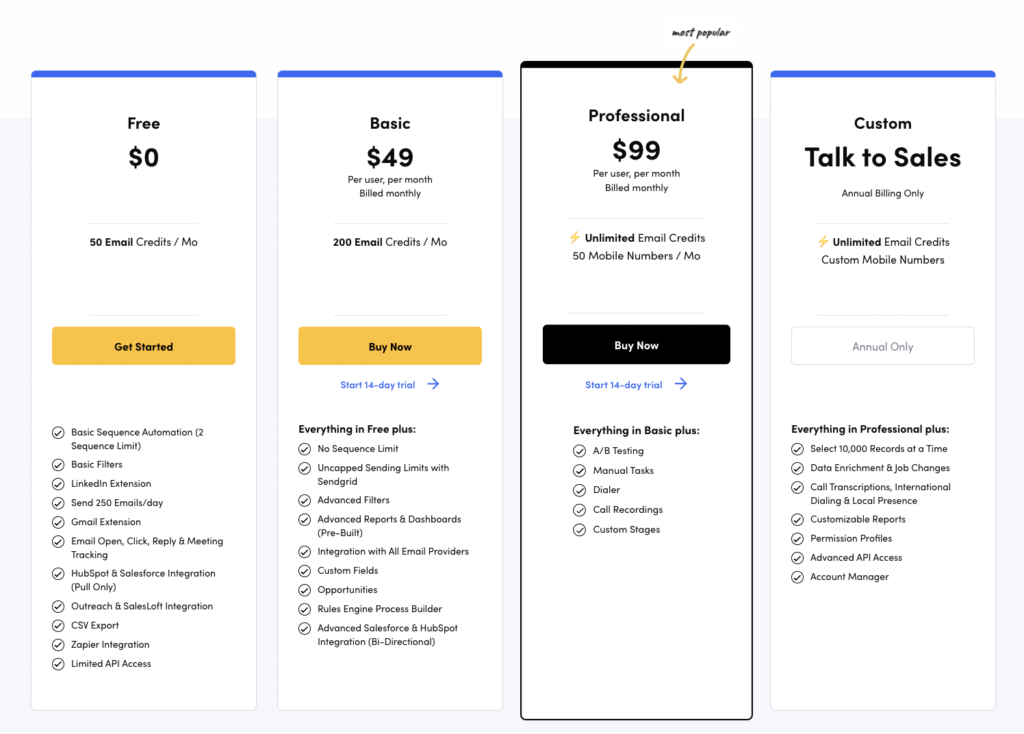 Apollo Pricing Considerations
What is unique about Apollo is that it provides a ton of value. The sales engagement platform alone is more affordable than tools like Outreach and Salesloft. But the real value is getting access to 25 million emails you can use for cold outreach. This will supercharge your sales efforts without breaking the bank.
Apollo.io Discounts
If you're looking to bring down the Apollo.io cost, your best bet is to sign up for an annual plan. That brings Apollo.io pricing down by 20% for each plan.
Apollo
Monthly

Pricing Per User
| | | | |
| --- | --- | --- | --- |
| Free | Basic | Professional | Custom |
| $0 | $49 | $99 | n/a |
Apollo
Annual

Pricing Per User
| | | | |
| --- | --- | --- | --- |
| Free | Basic | Professional | Custom |
| $0 | $468 | $948 | Starts at $6,000 |
How Much Does Apollo.io Custom Plan Cost?
Apollo pricing for their enterprise plan is as follows:
The cost for the custom annual plan is priced at $6,000 per year and each additional seat costs $1,200 per year. This is a plan that is for larger sales teams or sales teams that do a very high volume of outbound sales. Some outsourced SDR companies could use this too.

If Apollo Pricing Is Too High, Check Out These Apollo Alternatives
Although it may be unlikely that you find the pricing for Apollo to be too high if you're looking for a great value, there are other tools you can consider. Here is a list of Salesloft alternatives that include a few cheaper sales engagement platforms.