Are you looking for Connect And Sell Pricing? It can be challenging to the cost for ConnectAndSell as well as an unbiased review. In order to get detailed pricing, you're required to hop on a call with their sales team. Don't worry, we've got you covered. We have Connect and Sell pricing for both plans laid out in detail below.
We'll also take a look at Connect and Sell as a tool to add to your inside sales team tech stack, learn how it works, how to evaluate it, understand how a free trial would work, and look at Connect and Sell competitors and alternatives.
What is Connect And Sell (ConnectAndSell)?
Most people probably think the name is Connect and Sell but it's actually ConnectAndSell. What Connect and Sell helps salespeople make a lot more cold calls per hour, which should result in more call connects than would be normally possible if your sales rep dialed phone numbers on their own. Connect and Sell is agent-assisted dialing. This means it's labor-based, not AI, so humans could theoretically navigate phone trees. Connect and Sell makes it explicitly clear that it is not an auto-dialer.
With a tool like Connect and Sell, a salesperson could be making approximately 120 to 130 dials per hour. That's a lot dials. For a regular salespeople, manually dialing phone numbers, they could be expected to make 80 to 100 per day. That's a typical number that most sales management and sales consultants would agree is reasonable.
As many sales leaders know, most dials go unanswered. Connect and Sell does the work here by making more dials than one rep could make on their own and then transferring the call when someone answers. This is a basic math equation for sales leadership. More calls, means more conversations. More conversations, means more meetings booked.
| | |
| --- | --- |
| ConnectAndSell Dials Per Hour | Manual Dials Per Hour |
| Plan 1: 120-130 | 20-25 |
| Plan 2: 220-225 | 20-25 |
Connect and Sell Demo
Connect and Sell Pricing
Connect and Sell Pricing ranges from $1,500 per month, per user to $3,000 per month, per user, depending on the plan.
The ConnectAndSell pricing plans do not require an annual contract. Although a three month minimum is recommended to get a hang of the tool because it can be awkward to use. Most customers will sign up for a 6 month plan but Connect and Sell pricing does not have commitment minimums.
No implementation fee either in the Connect and Sell pricing.
Another thing that is including in the cost of Connect and Sell is coaching and live listen.
Connect and Sell Pricing Plans
Connect and Sell Pricing 125 dials per hour – $1,500 per month, per user
Connect and Sell Pricing 225 dials per hour – $3,000 per month, per user
The pricing here is straightforward. For almost double the dials per hour, you'll pay almost double per user, per month.
Connect and Sell Cost – Before Your Buy
When you do the math on the value that Connect and Sell can provide from an activity and output perspective, the Connect and Sell pricing will seem like a good value. If you have a Sales Development Representative who can book one meeting per day, it's possible that they could book 4 or 5 meetings with Connect and Sell. However, it's not that straightforward.
Before you purchase Connect and Sell, you'll need to buy business leads, because you'll need a clean list of phone numbers. Without enough phone numbers, you can't get much use out of the tool. What Connect and Sell offers in the volume of activity provided, they make up with running quickly through your prospect's phone number lists. It's important you have plenty of contacts.
It's important to do the math on your data provider before you consider the cost of Connect and Sell because without the phone numbers, and ideally direct dials, you can't use it. Take a look at ZoomInfo Competitors, ZoomInfo Pricing, Cognism, Seamless, Apollo, SalesIntel, and Lusha.
The cost for additional phone numbers could easily be $10,000 a year.
It's also important to make sure you have experience and success booking meetings with cold calling.
Connect and Sell Integrations
ConnectandSell has a few key integrations that keep the product within your sales team's workflow. They also have their own product you can work out of. You may want to log into their browser based platform because some CRMs can be too slow to keep up.
Connect and Sell has a bidirectional API.
Connect And Sell Reviews
The main feedback after speaking with users of Connect and Sell is that it can be awkward to use. The handoff from the human assisted dialer to your salesperson is not natural. Companies undoubtedly get use to it but that's the main negative. There are alternative products that do not receive this feedback.
Another negative is that you don't know who you're getting connected with. Suddenly you're pitching someone.
People have said that with the proper list, clean numbers, and strong SDRs, the value is immense. Teams that focus on large markets with similar buyer personas can have a lot of success with Connect and Sell.
Connect and Sell can also be a great tool for outsourced sales service providers to leverage to scale their outbound activities.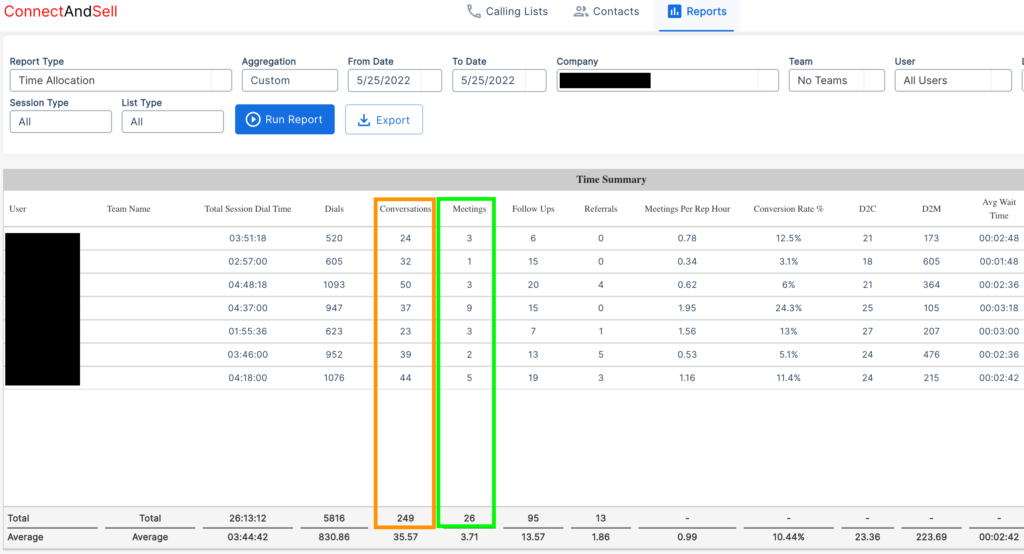 Connect and Sell Free Trial
ConnectAndSell does offer a free trial. They really want you to use test drive their product. If you're considering the tool, it's a no brainer to try for free. You can bring as many SDRs and AEs as you'd like for the day for the free trial.
Connect and Sell Competitors and Alternatives
When it comes to Connect and Sell competitors and alternatives, the main company to consider is Orum. MonsterConnect, Phoneburner, and Koncert are other Connect and Sell competitors.