In this article we'll explain what is Apollo.io so you can determine if it's a sales tool for prospecting that fits your needs. We've got Apollo.io pricing, even for the custom plan and if that's not a fit, we'll provide suitable Apollo.io alternatives for every price point. Apollo.io is a sales engagement platform that has risen rapidly in popularity in the category over the last couple of years and is worth considering for any Founder or sales team.
(we may receive an affiliate fee for links in this post)
Apollo.io Product Overview
As mentioned, we're going to give you an answer for what is Apollo.io. We'll take a complete look at the Apollo.io sales automation tool and all the features and functionality available.
Apollo.io is a sales engagement platform that combines what are normally two unique functions. A database of contacts and the ability to run full outbound campaigns. This is a true differentiation point among other sales automation tools in the category.
The product provides an extensive database of over 200 million contacts across 10 million companies that you can quickly access and important into their workflow tool.
The workflow tool allows a user to build out complete sequences which can be customized to an individual's needs. It includes…
Emails
Calls
Task Management
Rules Engine
Like many SaaS tools, Apollo pricing plans impact features and functionality. For the purpose of this Apollo.io review, we'll mention everything and explain differences in the Apollo Pricing section.
Apollo.io Overview
Apollo.io Database
A standout feature is the ability to instantly access millions of contacts via Apollo's database. This is a time saver, especially for companies who are priced out of more premium contact database offerings. The data feature comes with five main components. The first being the "prospect searcher" which allows a user to target the specific type of prospect (company or contact) with 60+ filters. Notable Apollo prospect search filters include VC Funding, Technologies Used, and Job Changes. This feature is a great value for any company looking to implement a B2B sales prospecting strategy.
The accuracy of any contact database is always going to vary. Apollo does guarantee that you receive accurate emails and phone numbers. With the shift to work from home, they even offer mobile numbers.
For users of LinkedIn, their LinkedIn prospecting feature can be handy. It provides the ability to obtain the contact information of LinkedIn users, push their information to your CRM, add to a sequence, and see what other information you may have on the prospect.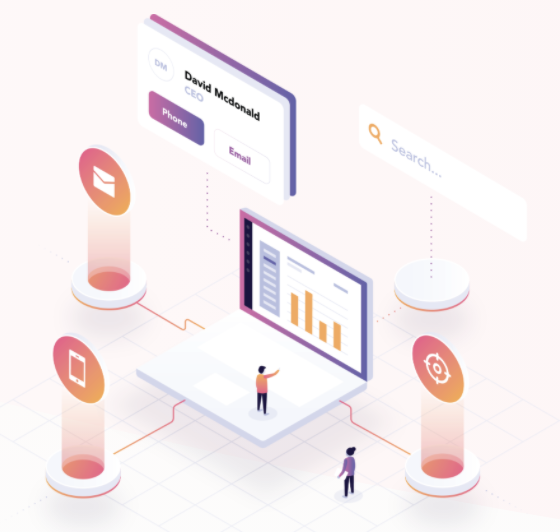 Data Enrichment
Data enrichment is a nice value add to their data offering because they will enrich your data records with their 65+ data points contained in the Apollo database. Apollo Refresh can help your CRM stay up to date by notifying a user when a contact changes jobs or gets promoted.
Apollo's database feature is clearly a huge value add. Not all data functionality is included in their pricing plans. Data enrichment for instance is considered the Custom Level, which still may be worth it depending on your needs.
Data providers vary in quality and can be very dependent on a user's needs. It's important to get a random sample of data based on your buyer personas to assess quality. Some databases are stronger than others in terms of specific buyer personas.
When it comes to phone numbers, mobile numbers can be hard to acquire from any data vendor, even ZoomInfo. Apollo does an okay job of enriching contacts and providing their cell phone numbers.
Enrichment Overview
Workflow
The workflow feature of Apollo's product is the core offering of their outreach tool. It's part of a now crowded space which includes alternatives to Apollo such as category leaders, SalesLoft and Outreach.io. Like those tools, Apollo gives a user and team the ability to easily create custom sequences.
This is the foundation of any modern outbound sales organization and Apollo can power a single user to a large outbound team.
The sequencer allows for all the standard features you'd expect such as;
A/B Testing
Automated Emails
Custom Field Personalization
Out of Office Detection
A/B testing is especially important because it allows a user to quickly optimize outbound emails.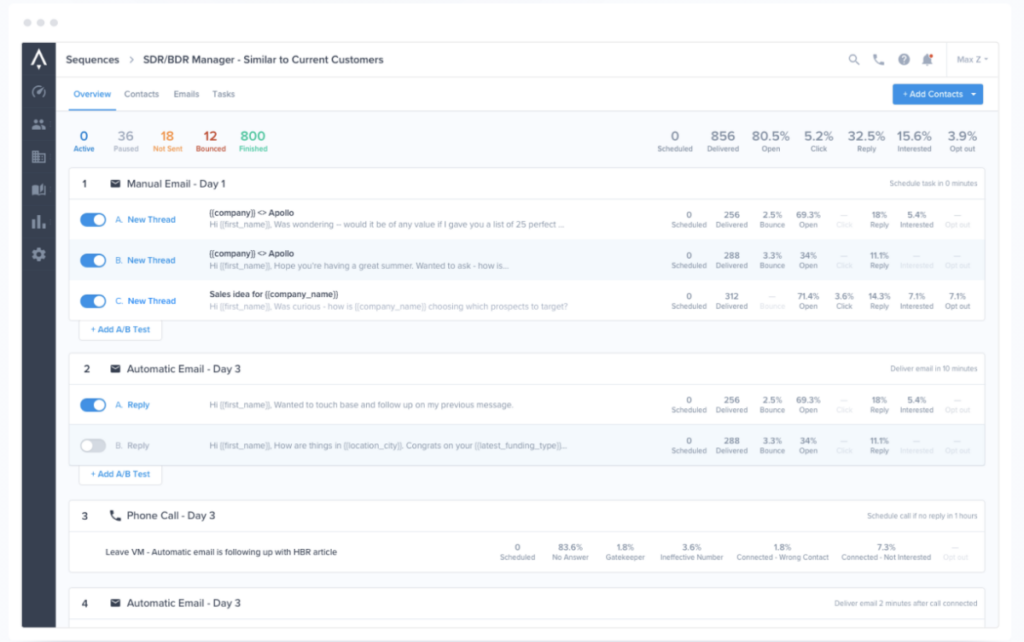 The dialer feature is only included in the Premium and Custom plans. This may be an issue for more budget conscious customers looking to make cold calls. But cold calling can be expensive as you can see with this Connect and Sell pricing which requires high-volume cold calling lists.
The dialer makes it faster for a user to make a call by simply clicking a button.
There's also the option to;
Record Calls
Create Transcriptions
Log Calls in CRM
Copy Area Code of Prospect
A feature that may rub prospects the wrong way is the ability to copy their area code as that often increases the answer rate. Apollo's dialer sync's nicely with the database because it provides direct numbers.
Apollo's Task Management provides reps with some research on target accounts.
The Rules Engine helps to create standards among salespeople based on specific triggers, activities, and stages.
Workflow Overview
Apollo Intelligence
The Intelligence feature of the Apollo platform is made up of;
Analytics
Scoring Engine
The Cockpit
Prebuilt dashboards make it easy to get up to speed when analyzing the stand and important measurements such as conversion rates and connect rates.
There are a variety of other variables you can use to slice and dice the reports for more insights.
Want to know what size company is most responsive to your outreach? That's easily done. The Analytics functionality of Apollo provides an easy way to get reporting to improve messaging, targeting and overall execution.
Apollo's scoring engine has a pre-built scoring model based on prospect's behavior to show a user who they should prioritize outreach and follow up to. For example, if someone opened your email 5 times in the past hour, you'll be notified as they've been scored higher which gives a user reason to reach out. You do have the ability to customize your own scoring model and even with the pre-built scoring, you can see how the score is calculated.
The Cockpit is where an individual user lives to get a single view of all their tasks, activities, and other relevant information. This view is fully customizable.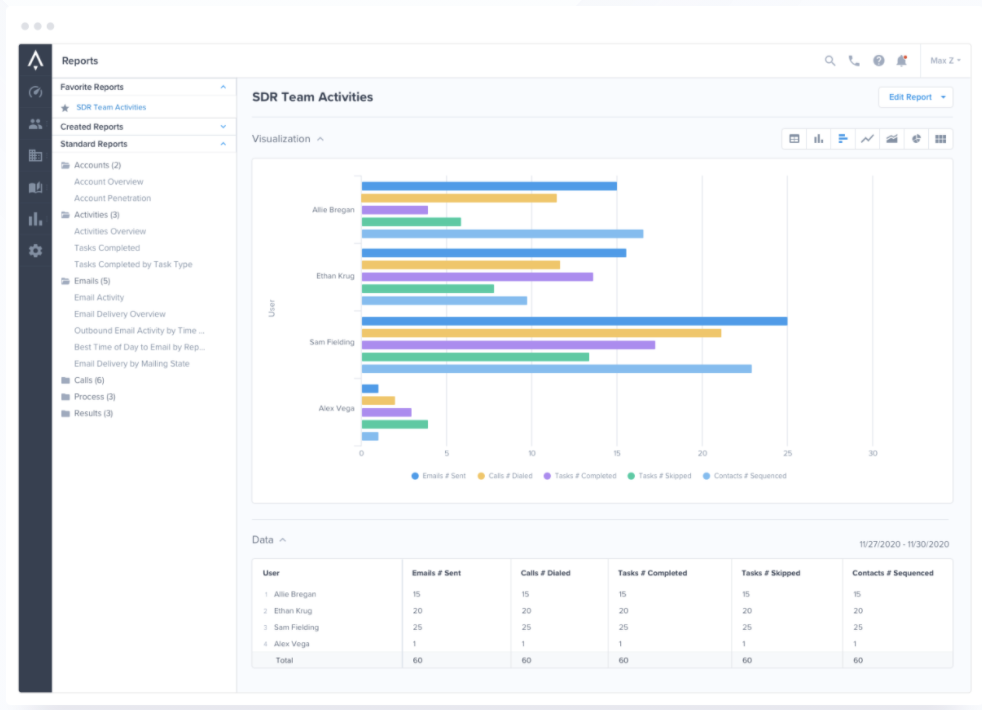 Apollo.io Integrations
An Apollo.io review wouldn't be complete without mentioning integrations. Integrations with Apollo hit the mark with the standard integrations required by most sales teams.
Notable CRM integrations include Salesforce and HubSpot.
Apollo email integrations include Gmail and Outlook.
| | |
| --- | --- |
| Apollo CRM Integrations | Apollo Email Integrations |
| Salesforce | Gmail |
| HubSpot | Outlook |
Other important integrations are LinkedIn, Marketo, and Sendgrid.
Apollo also offers an API.
Apollo.io Intent Data
According to an update on 9/20 – Apollo now offers intent data.
Apollo.io Pricing
You're probably wondering how much does Apollo.io cost?
Apollo pricing varies with four different plans. All pricing is per user. The first plan is free, the second plan, the Basic is $49 a month. The Professional plan is $99 a month. And the fourth plan, Custom, which includes everything mentioned in the product overview above, requires a call to receive pricing. UPDATE: we have Apollo custom pricing.
Apollo.io Monthly Pricing
| | | | |
| --- | --- | --- | --- |
| Free | Basic | Professional | Custom |
| $0 | $49 | $99 | n/a |
Apollo.io Annual Pricing
| | | | |
| --- | --- | --- | --- |
| Free | Basic | Professional | Custom |
| $0 | $39 | $79 | Call |
Apollo offers the ability to pay Monthly or Annually for all plans except the Custom plan. With an annual subscription, the Basic plan drops from $49 a month to $39 and the Professional plan drops from $99 a month to $79 a month, per user. There's no discount for the Custom plan because it requires an annual subscription.
Apollo.io Pricing 2023
The free plan is a good way to test Apollo. But you must use Gmail. It provides enough contacts to try out but it is limited in taking your outreach to the next level.
With the month to month option, anyone serious about doing cold outreach and is looking for a sales automation tool, would be silly not to try the Professional plan for $99 a month. This plan includes access to the full database of contacts. Paying $50 more a month, you also get access to important features such as A/B testing, the dialer, and custom stages.
…anyone serious about doing cold outreach and is looking for a sales automation tool, would be silly not to try the Professional plan for $99 a month.
The main catch with the Professional plan for most users is that you can only import 25 contacts at a time to sequences. This is a small inconvenience for access to such a large database and is Apollo's way to create a speed bump from abusing their database at such a low cost. Additionally, direct dial numbers are limited to 50 a month.
Upgrading to Apollo's Custom plan requires a more robust outbound sales need and usually limited to companies who have full outbound teams. It's likely overkill for an individual user.
The main benefits with the Custom plan are a customized amount of direct dials, no real limit on selecting records to import to sequences (50,000), and Enrichment.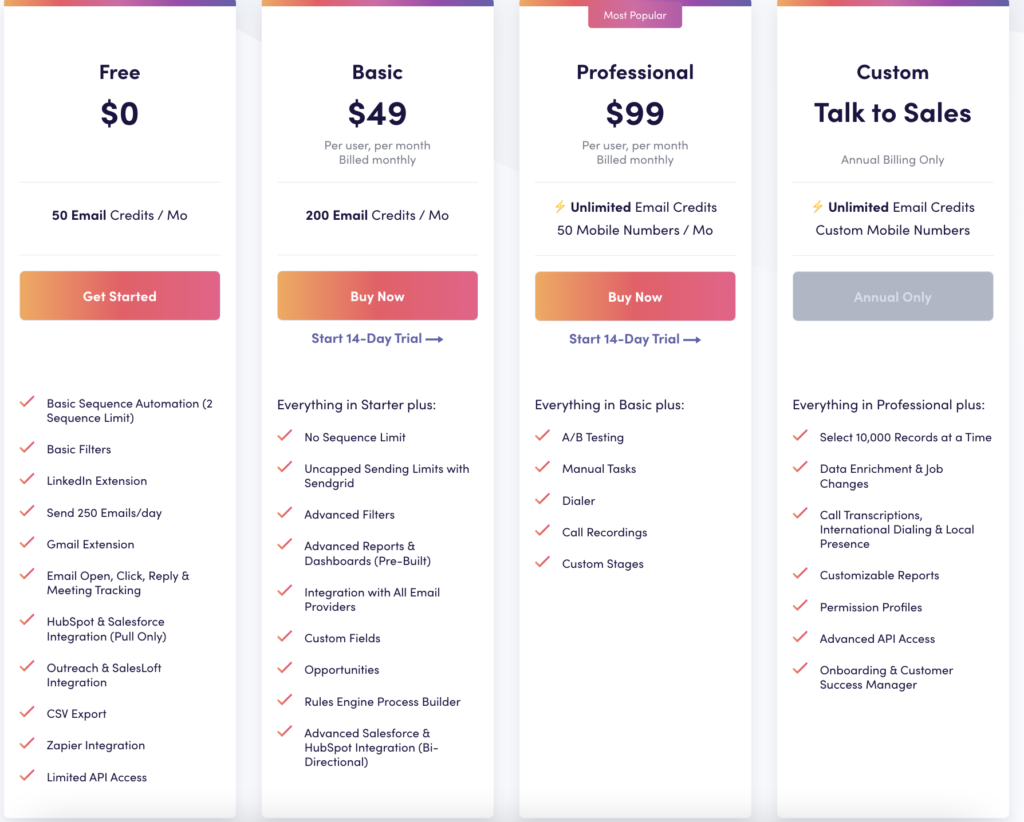 If you're a small team looking to keep costs low or a bootstrapping founder, the professional plan is tremendous value. If you are comfortable with an annual contract and you've confirmed the data fits your needs, it can be a great buy.
Alternatives to Apollo.io
There are many Apollo.io competitors that a buyer may consider when looking for a sales engagement platform. Even though Apollo is considered one of the best sales outreach tools. you may want to evaluate other options.
SalesLoft competitors and Outreach are sales engagement platform category leaders.
There are other suitable options like Groove, Mixmax, Xant Playbooks, Yesware, PersistIQ, Autoklose, and many more. This is a crowded space.
If access to Apollo's database is the main reason for your purchase, there are Apollo.io alternatives such as; Zoominfo, Lusha, Seamless.ai, Clearbit, Uplead, and the list goes on and on. The database space is even more crowded because it's foundational to cold sales outreach. There are also many Hunter.io alternatives to consider and you can even consider a free email finder.
Who are Apollo.io Customers?
Apollo claims to have over 275,000 users at startups to Fortune 500 companies.
Notable Apollo customers include; Gong, GoDaddy, Intel, Atlassian, Docusign, Drift, Eventbrite, Appdynamics, Brex, Peloton, EY, Semrush, Compass, Jobvite, and Autodesk.
If you're looking for Apollo.io case studies, click here.
Apollo.io Customer Service
Customer Service via email is offered for all plans except the Free plan. The Custom plan provides a Dedicated Customer Success Manager, plus Training and Onboarding.
Customer service is located overseas which is usually fine. The chat option is pretty effective in solving most issues during normal business hours. The team is responsive and friendly.
Who Is Apollo For?
When it comes to sales engagement platforms, Apollo.io is a great tool for small business, startups, and small sales teams. The tool is a crazy good value and makes it seamless to import contact data into outbound sequences. It is not ideal for large sales teams. For larger teams, Outreach or Salesloft is a better choice. But if you're an early stage startup, solo founder, or small business looking to do cold outreach, you can't go wrong with Apollo. If you're on the fence, they offer a generous free trial.
Apollo.io Reviews
After using Apollo for well over a year, it's pretty clear it has a few things going for it. The first is that the price point is affordable for what you get. It's an excellent value for a sales engagement platform and contact database. The UI can take some time to get used to. It's definitely not something you can immediately get started with without having to play around with some functionality. Another issue is is that the default setting for sending out emails from your inbox are pretty high and you risk getting send to spam. It's important to warm up your email domain so check out our writeup on the best email warm up tools.
What's really nice about Apollo is the contact database being integrated with the sales engagement platform. It makes it seamless for small companies and startups to get going. However, the data quality is okay and certainly misses a chunk of the market. You have access to manually source more emails with the upload contact function and their Chrome extension. If you need more emails, try our list of free email finder tools.
The easy a/b testing and analytics to show you what is working and what is not, makes it a useful tool. For what you get for the price, it's worth every penny.
Overall, it's a great value and it would be hard to imagine a startup or Indie Hacker not seriously considering signing up for a month to test it out.
Speaking to other users, they say the same things. Some people graduate from it after they start building out their SDR teams and get a bigger budget. If you're looking to move to something like ZoomInfo, you might want to try the ZoomInfo free trial first.
Apollo.io Conclusion

After reading this, you should have a good understanding of what Apollo.io is. The combination of the database plus the sales engagement platform makes this product an appealing and worth giving a shot. Especially at the monthly Professional plan price point because of the risk free flexibility.
Great value for the Professional plan
Monthly contract available
Two in one functionality
If you're currently building out your sales stack, you may be interested in a comparison of Zoho vs Salesforce if you need a CRM. Zoho does not integrate with Apollo!
Apollo.io FAQ
If you're considering a tool like Apollo. You need to ensure your email accounts are warmed up properly. Check out this list of the best email warm up tools.