Businesses need a variety of tools for their growth, and finding the best sales tools for prospecting is a key purchase. Prospecting sales tools are available readily in the market, but not every one of them is right for your business. In this post, we will guide you in detail about the best B2B sales tools for prospecting.
What Are Sales Tools For Prospecting?
Software tools that sales professionals use to improve their prospecting, such as finding prospects, and reaching out to them with the goal of booking a meeting, can be described as sales tools for prospecting. The phrase "sales tool" refers to a broad category of solutions, including sales intelligence, prospecting, customer relationship management (CRM), data connectors and integrations, and sales acceleration, to mention a few. Sales tools for prospecting often amplify behavior, good or bad, when trying to book meetings and move prospects through sales cycles.
Why Do Companies Buy B2B Sales Tools For Prospecting?
Companies purchase B2B sales tools to improve sales team prospecting performance. They support prospecting activities and can amplify the performance of the sales team. One purpose of these tools is to locate target businesses and contact information such as emails, contact numbers, mobile numbers, and LinkedIn accounts. They can spend less time manually sourcing data and more time on sales prospecting. Here are some reasons why sales tools for prospecting make sense to purchase and worth considering for your next SaaS renewal.
To book more meetings
The top of the funnel is where the sales pipeline starts. Many sales tools help salespeople book more meetings. Without new meetings, companies will struggle to grow.
Power up their SDRs and BDRs
Your BDRs and SDRs will be more productive and can thrive with the right sales tools. Some of these tools assist in generating leads, increasing conversion rates, engaging clients, and creating exciting content. Other sales tools help BDRs improve internal sales processes and engage and qualify leads.
Break through the noise
A brand can grow and increase brand awareness by using a well-developed marketing plan. But it's not easy. Brands must break through the noise to distinguish themselves from competitors. As a means to break through the noise and stand out from the competition, using sales tools to connect with your prospects is a way to break through the noisy marketplace of brands selling similar sales tools.
For cold outreach
Cold outreach is one of the best ways for companies to get in front of prospects who would otherwise not know about their business. It is a foundational activity of inside sales and outside sales teams to approach prospects who are not aware of their offering to introduce themselves and the company.
Cold emailing
Cold emailing is one of the most scalable and cost effective ways to book meetings. Inside salespeople can effectively leverage cold emails to fill the top of the funnel. Cold emailing tools provide visibility into activity, as well as what is working.
Cold calling
Cold calling tools help your sales team increase the number of calls per minute, and track sales activity about call performance.
LinkedIn outreach
LinkedIn is great for prospecting. It can be used for social selling, as well as sending prospecting messages and doing research on sales prospects. Sales tools for prospecting on LinkedIn can eliminate ours of human outreach and prospecting labor may be avoided using LinkedIn automation tools. You can automate the request message and the follow-up messages so that they are sent automatically while you focus on other activities.
Goal is to build pipeline, book meetings, introduce their service
Your outbound sales prospecting process has one clear goal. Book more meetings. Getting in front of clients is why sales tools for prospecting is usually a worthwhile investment.
What to look for when buying sales tools for prospecting?
There are a ton of sales tools available, and evaluating them can be overwhelming. The entire software category of tools promises to boost productivity. They all claim to generate ROI. As far as buying sales tool for prospecting, you should consider the following:
Integrations – Does it integrate with my CRM?
It's crucial that a sales tool integrates with the sales team's current workflow. Wether that's through the CRM or another piece of software where they spend most of their time. If a tool doesn't integrate in a salesperson's workflow, it will cost time and may not be used.
UI/UX
Sales tools for prospecting that have a good UI/UX will be easier to use. Adoption will be quicker too. Your sales team wont have push back on using a new sales tool that may change their daily prospecting process.
Reporting
Reporting gives you a clear picture of where your sales team is at, every stage of the sales process from prospecting to close. This removes the element of uncertainty from your sales management decisions. Your sales prospecting tool should include a reporting component to assist salespeople, managers, and leadership in understanding daily activity numbers, conversion rates, etc. This can be used for coaching, as well as identifying new opportunities. Ask any Inside sales consultant and they will tell you how important it is to be data driven.
Price (annual and monthly contracts)
The fact is, even the best sales tools for prospecting may not be worth locking yourself into an annual contract when you can select the second or third best prospecting sales tool and have the flexibility of a monthly contract. It's important to consider the contractual terms before purchasing.
Ease of Use
Even if you have the highest of goals when using a sales tool, it is not worthwhile if it simply makes your regular tasks more onerous. A time of adjustment exists with any new sales tool for prospecting. But if the software makes your sales team feel like they're pushing a boulder up hill, your team will not adopt it.
Will the team use it regularly?
A new prospecting sales tool should be seen as something that will fit naturally into the workflow of your team. This means adding to your stack has to come with the confidence that it will be used on a regular enough basis to solve a problem, otherwise you'll waste money.
Redundancy – Do we already have something similar?
Simply put, you don't want to buy something that another tool can do. It will cause uneven adoption among the team. You're better off waiting until renewal time to see if this is the best sales tool for prospecting needs.
Customer Support and Training
The foundation of an excellent customer experience is customer service support. But choosing which technologies are best for your company, screening vendors, and putting the system in place may not be a simple task. Before investing in a sales tool for prospecting, consider the customer support and training provided by the vendor.
Implementation Time
Sometimes the best sales tools for prospecting are the easiest ones to implement. If implementation requires a lot of resources, it may not be worth the investment. The last thing you want to do is spend weeks getting a tool implemented when an alternative could have been implemented in a couple of days.
Value
Every sales tool for prospecting is going to promise a clear return on investment. The truth is, prospecting sales tools often amplify good and bad behavior. To ensure you can get enough value out of new sales tool, you need to ensure your team is on the right track. Outreach isn't going to book more meetings if your copy is terrible.
Free Trials
Before committing to the next prospecting sales tool, see if you can get a free trial. For example, before you buy business leads, you'll want to sample data from multiple vendors to compare quality.
List of Sales Tools For Prospecting
There are numerous sales tools available for prospecting. Each sales tool has pros and cons to consider. Budget is also a concern. Pricing can vary quite a bit, including contract structure. Below is a list of notable picks:
Best Sales Prospecting Tools for Lead Generation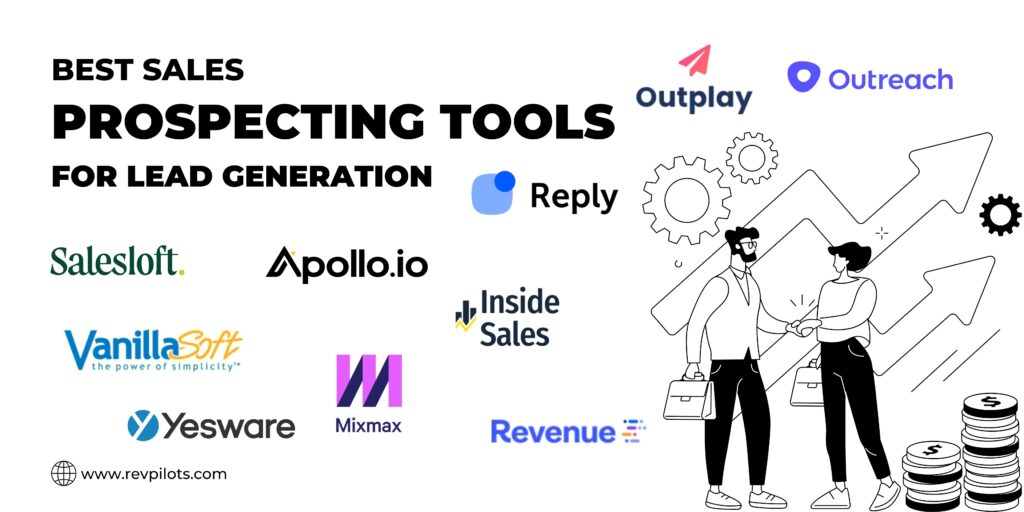 When it comes to running outbound sequences to book meetings form cold outreach, a sales prospecting tool like a sales engagement platform, is table stakes. This tool helps to keep your outbound sales team on track to hit their meeting booked quota.
Salesloft
Salesloft is a powerful sales tool for prospecting. Effective sales engagement platform maker Salesloft assists sellers and teams in booking more meetings when it comes to prospecting.
Salesloft helps companies set up outbound sequences to send cold emails and cold calls, and other outbound activities. You can customize your messaging to speak directly to prospects' concerns and organize your exposure to save time while increasing efficiency.
Salesloft Overview
Pricing
Check out our guide on Salesloft pricing.
Apollo
Apollo is a sales tool for prospecting that combines a sales engagement platform with a contact database.
Focused on the B2B market, Apollo prides itself on a database of 220 million global contacts and its ability to authenticate contact data for prospecting.
With its 5-step email verification, verified mobile numbers and company information, and pay-back guarantee for every bounced email, companies can trust Apollo's data for sales prospecting.
Another handy feature of this platform is the Persona Lookalike functionality that uses AI to automatically suggest new prospects and updates that fit the company's current criteria. Users can rapidly create customer lists and do contact searches inside their target organization.
With its insightful analytics and automated technologies, you can expect Apollo to cut down your sales prospecting work.
Apollo Overview
Pricing
Free version is available with 50 email credits per month
Initial Cost: $49.00 per month per user (20% discount on annual billings)
Professional: $99 per month per user
A 14-day free trial is available for paid packages
For a larger breakdown and review, check out this deep dive on What is Apollo.io.
Outreach.io
Outreach.io is another sales tool for prospecting that enhances sales prospecting activities with AI-driven technology and automated workflows. It offers tested playbooks and simplified workflows to improve sales prospecting success.
Outreach.io reduces the risk of failure by providing clear, actionable feedback. For instance, it tells the users whether their deal is 'on track,' 'slipping,' or 'delayed.'
With visual pipeline feedback, users can forecast their progress, see the exact percentage of slippage in their deals and understand how much pipeline coverage they need to reach their goals. In this way, businesses will never spend more than what's required.
It allows businesses to track the effectiveness of their programs and pipeline input in real-time to gain insights that boost ROI.
Outreach.io brings together intelligence about conversion, income, and engagement at one place and bridges the sales execution gap. Outreach is considered a sales prospecting tool category leader in the sales engagement category of sales tools.
Outreach.io Overview
Pricing
Demo available on request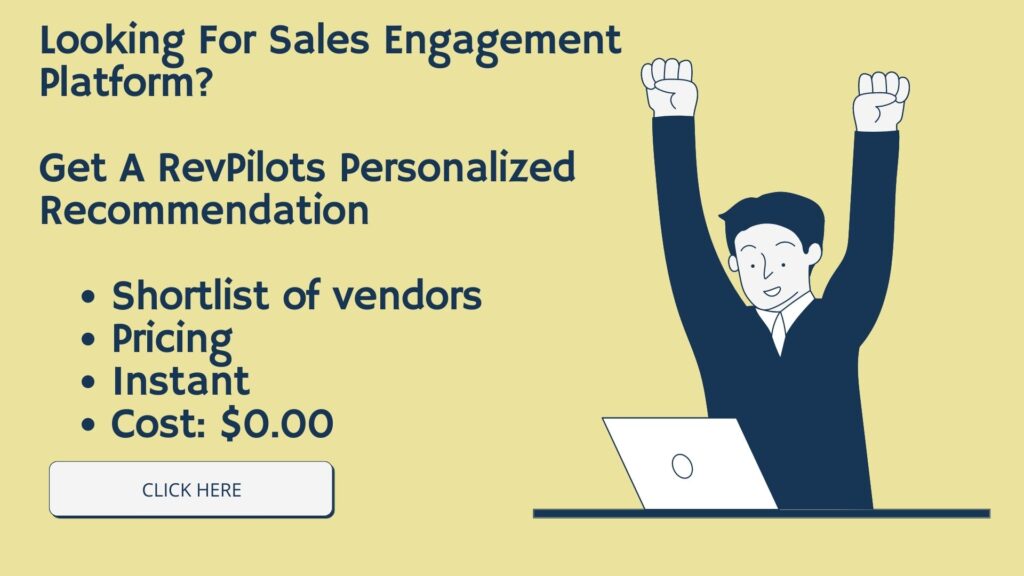 Yesware
Yesware is an add-on for email outreach, designed to work directly from inside your Gmail and Outlook mailbox. It's one of the original email based sales tools for prospecting.
It offers several features, including tracking email campaigns, showing how recipients interact with the emails, allowing easy follow-ups and automatic data transfer to Salesforce. Businesses can also incorporate calls and emails and add their custom touches with Yesware.
Yesware comes with a meeting scheduler that lets companies create a meeting link, place it in their calendar, and email prospects directly. There are pre-written emails for almost every scenario possible, for instance, "Email Opened, No Reply," "Voicemail Follow Up," and "Decision Maker Unknown."
Yesware is a solid solution for companies that are torn between outreach platforms that are either too heavy or too light.
Yesware Overview
Pricing
Free forever plan available with basic support, tracking and meeting scheduler
Pro: $19 per month per user
Premium: $45.00 per month per user
Enterprise: $85.00 per month per user
23% discount on all plans if paid annually
Mixmax
Mixmax is also an email-focused sales prospecting tool that automates your work inside Gmail.
Businesses can share calendars, embed polls and surveys, automate creation and updation tasks, and track user interaction with their emails.
Mixmax assists businesses in; including the company name, lead's name, and other necessary details in their emails. Like Yesware, it also automates Salesforce syncing and integrates with other useful tools, such as Dropbox, Zoom, Pipedrive, Greenhouse, etc.
You can monitor when potential customers view your emails and follow the links with Mixmax's tracking tool, giving you additional context for the following stages.
It is a sold sales tool for prospecting for outcome-based messaging and enhanced customer experience.
Mixmax Overview
Pricing
Sales engagement:
Growth: $65 per user per month
Email Productivity:.
Free Plan with 100 emails tracked per month with other basic features
Starter: $12 per user per month
SMB: $29 per user per month
A 14-day free trial available for selected plans
Upto 25% discount on annual billings
Reply.io
Reply is designed to improve team efficiency and sales by providing automation and authentication services. Users of this sales tool for prospecting can move LinkedIn contacts to Reply, validate the email addresses, create a sequence of touch points (email, call, LinkedIn, task, etc.) and use its advanced suggestion to improve the quality and scheduling of emails.
Reply offers a wide range of services. These include CRM integration, multiple profiles and contacts, detailed analytics, client management, multi-channel sequences, and native and no-code integrations. Flexible options are available for all kinds of clients.
Reply.io Overview
Pricing:
Three options, i.e., sales engagement, email search, and email warm-up
Sales engagement: Individual (Starting from $70 per month), Business (Starting from $50 per month) and Agency (Starting from $50 per month)
Email search: Starting free with 200 email credits per month
Email warm-up tool: ($29 dollar per email account per month)
A 14-day free trial is available for all paid plans
Outplay
Outplay is another sales engagement platform in a crowded category of sales tools for prospecting. Outplay allows users to gather more prospects through smart sales sequences across multiple channels, including LinkedIn, Twitter, email, chat, SMS, and phone calls.
The platform's dashboard visualizes important sales metrics and provides tools such as calendars, scheduling tools, and behavioral lists. Along with email tracking, businesses can detect when prospects visit their websites and the exact pages they spent their time on. 
Outplay Connect – its Chrome extension –might be the handiest feature of this platform. With this tool, users can add prospects from LinkedIn and email with a single click, make calls, send emails and take actions from within their browser.
Outplay Overview
Pricing
Startup (only trial available)
Growth ($99 per user per month)
Pro ($120 per user per month)
Enterprise (personalized quote)
A 14-day free trial is available for all paid plans
Discount available on annual billings
XANT – Playbooks
Playbooks by Xant allows the integration of modern technology in your sales process to increase its growth and efficiency. This is a prospecting sales tool that has lost ground in the sales engagement platform category.
Apart from having standard sales tool features like a dashboard, CRM reporting, data analysis, email templates, and integrations, it also offers many unique features. For instance, Playbooks shows a scorecard based on which businesses can prioritize potential customers. There are insights available for each prospect gathered from various sources, including LinkedIn. Moreover, it collects data from different Playbook users to provide 'Buyer Hints' that help sales reps form their action plan.
Sales reps can make calls and emails from within the dashboard. In addition, they can embed videos, links, and personal calendars to better target prospects.
Users can find this product in the mobile version too.
Playbooks Overview
Pricing
Pricing varies according to the services and is set up through personal consultation
No free trial
Demo available on request
Revenue.io
Revenue.io offers sales engagement, analytics, conversation guidance, and live call insights. It's a all in one sales tool for prospecting. It aids teams through voice communication. Reps get warnings and notifications of necessary details they must provide in their interactions with prospects during their calls, Zoom, and Microsoft Team meetings.
One of its standout features is Average Handling Time, which provides dynamic priority lists and tells sales reps what actions must be immediately taken.
While it offers many standard features, its real-time guidance capabilities are what set Revenue.io apart.
Revenue.io Overview
Pricing
Four packages, namely Elite, Professional, Core, and Pro Plus (pricing available on demand).
Video and live demos available
VanillaSoft
VanillaSoft is a sales engagement platform that provides dashboard metrics, in-platform communication, and automatic activity logging.
Users such as SDRs and AEs can utilize its queue-based lead routing to determine which leads to contact first. It has an auto dial feature, VoIP, call recording, scripting, tracking, and automated email and SMS marketing. The best channel for contacting prospects is automatically given to every person with its advanced AI.
VanillaSoft has a database of about 40 million contacts that can be an excellent asset for companies and individuals alike. This prospecting tool allows companies to follow every lead efficiently and without any guesswork.
VanillaSoft Overview
Pricing
Pricing starts as low as $80 per month and is available on demand
A demo is available at request
Other lead generation sales tools for prospecting
Mailshake
PersistIQ
Koncert
Datananas
Autobound
Bloobirds
Conquer.io
Buzz.ai
FrontSpin
Dialsource
Salesvue
Sales Intelligence Tools For Sales Prospecting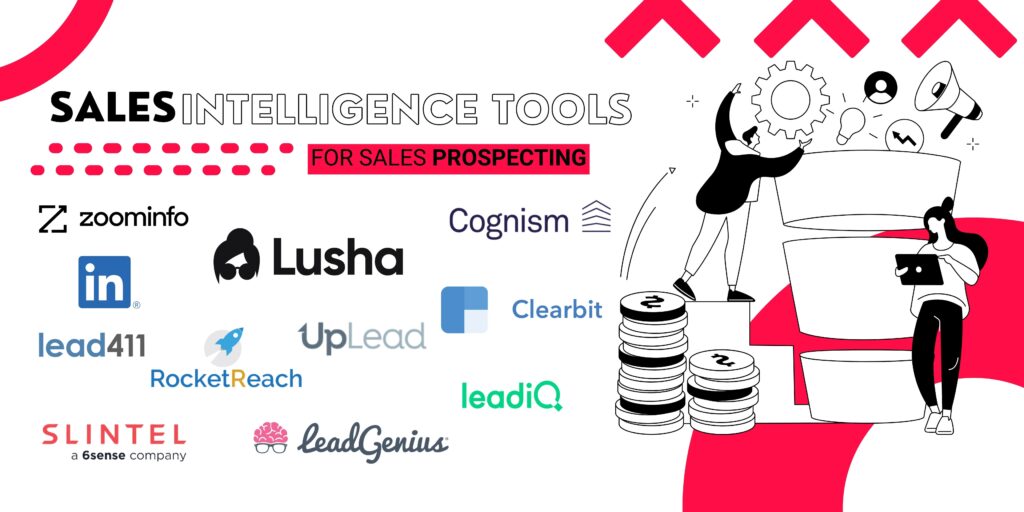 Acquiring the contact details of prospects is foundational to sales prospecting. Using a data provider to acquire email addresses, direct dials, mobile phone numbers, and even personal email addresses is needed for any sales team that is prospecting. Here is a list of top options for sales tools for prospecting data.
ZoomInfo
ZoomInfo is an intelligent multi-platform OS designed to fulfill the needs of a business in every way possible. It provides an accurate B2B database (direct dials, mobile dials and verified email addresses) with 300+ attributes so you can find the right buyers. Users can automate their sales process and create simple yet effective workflows with a few clicks.
A unique offering is Chorus.ai –an AI powered conversation intelligence that automatically records calls, keeps track of conversations, informs about general trends, compares multiple approaches, and allows companies to forecast confidently.
ZoomInfo also provides a website chat box that can be activated by specified prospect activities and allows businesses to create automated sales flows that can be triggered by their prospects. In this way, the sales rep does not need to be aware of every minute change; ZoomInfo automatically detects it and starts the company's standard process. If you're still wondering what is ZoomInfo, we can help.
ZoomInfo Overview
Pricing
Three packages (SalesOS, MarketingOS and TalentOS).
ZoomInfo Free trial available with Professional+ of SalesOS
LinkedIn Sales Navigator
LinkedIn Sales Navigator is one of the most popular sales tools for prospecting. Wether you're an Account Executive or Account Manager, Sales Navigator can aide all of your prospecting strategies. It provides all the necessary features for prospecting, including an advanced search feature with multiple filtering options, similar prospect suggestions, in-platform contact creation for CRM, notifications for notable leads and in-built messages.
Once businesses have relevant prospects, they can organize them into manageable lists, add notes specific to each prospect, share content that can be viewed without downloading and find out real-time insights about them.
Although it offers less advanced AI-powered features, it tackles all the standard requirements of a sales rep and is a good tool for lead generation. Any inside sales consultant or sales manager will tell you that in the B2B space, if your buyer is on LinkedIn, you need LinkedIn Sales Navigator.
LinkedIn Sales Navigator Overview
Pricing
Three pricing plans (Core, Advanced, Advanced Plus)
Free trial available with Core and Advanced
Demo available for Advanced Plus
Pricing available on demand for all plans
Uplead
Uplead is an excellent tool for prospect list building as it claims to have a data accuracy of over 95%. Users can utilize its 50+ search filters to find qualifying leads, obtain verified emails and direct dial numbers, use the bulk lookup features to find thousands of leads at once, export data to CRM directly, and use intent data to find ready-to-buy prospects. Check out this comparison of Uplead vs ZoomInfo.
Uplead pays back in the form of credits for every bounce and poor data. It's a tool worth considering if you're looking to buy business leads.
Uplead Overview
Pricing
Free Trial: 5 credits
Essentials: $74 per month (2040 credits); additional credit for $.60
Plus: $149 per month (4800 credits); additional credit for $.50
Professional: $299 per month (12,000); additional credit for $.40
More detailed Uplead pricing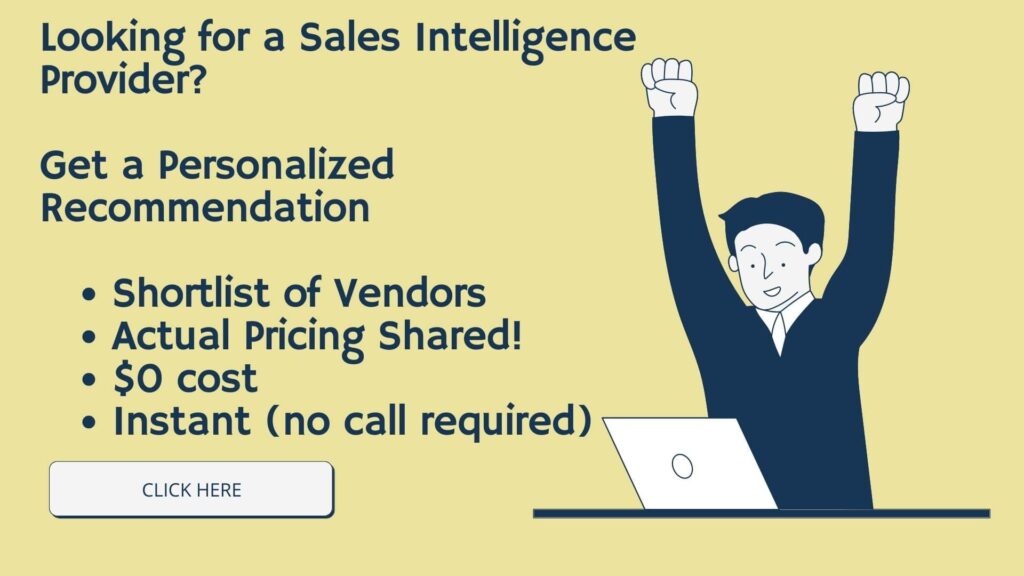 Lead411
Lead411 is another B2B sales tool for prospecting that provides advanced search features, accurate databases and ordered contact lists.
It uses a business's ICP profile to find highly qualifying prospects. Users can narrow down the search by specifying filters such as the technology a company uses, leads with direct dial numbers and email addresses, etc.
Once a company enters a list of prospects, Lead411 intelligently places it at a specific position, depending upon its growth score. All the data is verified, re-verified and formatted through its advanced AI, proprietary algorithm and a human verification system.
Lead411 Overview
Pricing
Basic: $99 per user per month
Pro: $199 per user per month
Enterprise: Available on consultation
Add-ons like SMS and email automation ($75, $100, and $125)
A 7-day free trial available
RocketReach
RocketReach is an AI-powered B2B sales tool for prospecting introduced with the intention of automating lead generation, contact discovery and profile searches.
It has an advanced search feature that returns accurate data 85% of the time and has the ability to provide personal and professional emails and direct dial phone numbers.
Companies no longer need to manually find missing key data points. By simply uploading the lists to RocketReach, all the necessary information, including emails, contacts, work titles and history is inserted. It integrates with Google spreadsheets and other similar platforms, removing the need for manual addition completely.
Users can also get intelligent email analytics right in their mail boxes. In this way, they can craft emails that have a higher response rate and never turn up in the spam.
RocketReach Overview
Pricing
Individual plan
Essentials: $59 per month with 125 lookups/user
Pro: $119 per month with 300 lookups/user
Ultimate: $299 per month with 833 lookups/user
Additional RocketReach Pricing for Team and Enterprise plans
Slintel
Slintel is an b2b sales tool for intelligent prospecting. It shows indicators that allow you to decide how best to target prospects, for instance, companies that are using the competitor's products can be contacted right before their upcoming software renewal.
With Slintel's advanced technology, businesses can find out exactly what's in the technology stack of their prospects and market their product accordingly. Like other sales prospecting tools, it provides an AI qualified database, advanced search options and data validation as well.
Slintel Overview
Pricing
Startup, Growth and Enterprise Plans
Prices available on demand
Free demo available upon request
Cognism
Cognism is another B2B sales for prospecting in the sales intelligence software category. Cognism allows businesses to grow through a database of verified direct dials, mobiles and validated emails. A popular feature is Cognism Prospector, which identifies and filters out accounts matching a company's requirements. Cognism detects when the buyer is about to make a purchase and has technographic and firmographic filters to find the best-fit accounts for your company. Businesses can more accurately target prospects that fit their ICP for their GTM strategies.
With Cognism, businesses can find the right prospect with little to no research and use their preferred outreach method at the right time! To find out more about, check out this write up on ZoomInfo vs Cognism which is considered a top ZoomInfo alternative.
Cognism Overview
Pricing
Demo available on request
Clearbit
Clearbit is a B2B-focused sales prospecting tool that helps businesses capture prospects from their website and social media. It offers 100+ B2B attributes such as industry, company size, and technology to detect the ideal candidates for your business.
Clearbit also sends triggers whenever a valuable prospect visits your website and notifies you of the exact actions they take. Users will find their leads automatically sorted to drive the best ones towards sales. Businesses also get rich insights about their website and social media campaigns, allowing them to sift out the best strategy for running ads and outreach programs.
In short, Clearbit allows businesses to generate more leads, drive higher revenues, and convert website and social media visitors into customers. This article on Clearbit vs ZoomInfo might be helpful.
Clearbit Overview
Pricing
Three packages available; Acquisition package based on ad investment; Conversion package based on monthly traffic and Operation package based on size of database
Pricing available on demand
Free demo available on request
LeadGenius
LeadGenius offers two services –Flow and DataHub –to optimize sales prospecting for B2B companies.
Users can use Flow to curate highly targeted prospect data from the web and enrich their existing database with a few clicks. They can also create custom workflows to automate repetitive tasks.
With DataHub, LeadGenius provides project-specific data through its unique personalized crawlers. It simplifies TAM analysis and allows complex data segmentations and informed operations on different segments by providing intent signals and custom attribute settings.
With its intelligent prospecting features, LeadGenius can help your SDRs execute on prospecting goals.
LeadGenius Overview
Pricing
Free plan available for Flow; other plans include Premium for $50 per month and Enterprise with pricing unlisted.
Pricing available on demand for DataHub
Free demo available for DataHub
LeadIQ
LeadIQ is built to reduce the workload on the prospecting team and one of the many ZoomInfo competitors. It lets teams capture leads through a single click while browsing through LinkedIn and other sites. With its ability to understand the quality of each lead, users don't need to spend time sorting through the contacts. LeadIQ automatically sequences the captured leads and enriches the existing database. It also detects contact duplication to ensure that each new entry is unique and accurate.
With LeadIQ, companies can capture valid work and personal email addresses and get notifications when an old contact changes positions. This tool is focused on businesses of all sizes.
LeadIQ Overview
Pricing
Free plan available with limited features
Starter and Pro plans start from $75 and $135 per month, respectively
Discounts available on annual payments
Lusha
Lusha provides its users with advanced search filters and firmographics to quickly find highly relevant prospects. It also creates an Ideal Customer Profile based on a company's search behavior and provides insights and metrics to help them reach their goals.
With Lusha, companies can get upto 1000 contacts and companies per search that automatically get sorted into sequenced lists. Similar to LeadIQ, Lusha's dashboard analytics allows you to track your team's activity and progress.
Lusha Overview
Pricing
It offers a free plan with 5 credits and 1 user
Paid plans include Pro ($29 per month per user) and Premium($44 per month per user) packages
It also offers an Enterprise plan that is customized for each client but you can check out our Lusha pricing
Other B2B Sales Tools For Prospecting Details
Intent Data B2B Sales Tools For Prospecting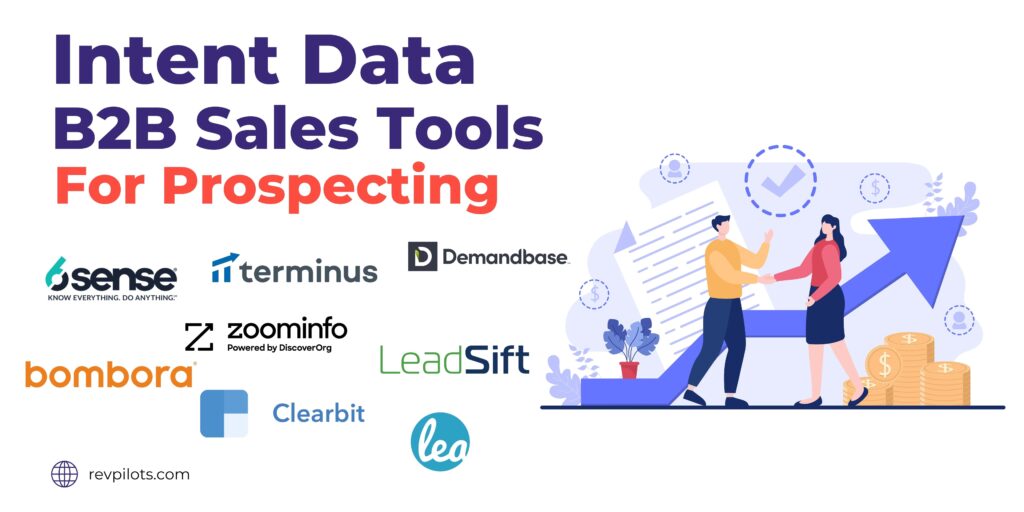 6sense
6sense Revenue AI is an advanced platform for intent data and buyer signals to help businesses to target the right buyers, at the right time.
This tool uses advanced AI to understand buyers' activities' signals before they contact the business. Businesses can use its predictions to target buyers early in their journey, leading to faster deals and higher revenues.
6sense ensures its users target the right buyers at the right time by predicting outcomes and providing personalized, actionable insights.
Users can also leverage the data this tool provides to run successful campaigns and outreach programs over social media and the web.
6Sense Overview
Pricing
Prices depend on the custom services purchased
Demo available
Bombora
Bombora is another B2B intent data platform that follows prospects across 5000+ B2B websites and provides data about what they are interested in. With Bombora, businesses can prioritize and sort through their leads to find the ones in the final phase of their buying process. This B2B sales tool for prospecting can also detect leads interested in learning more about their business through promotional materials and re-target customers when they plan to purchase by understanding their research process.
The platform provides the exact stage prospects are in their buying journey and the topics that can drive them towards action. In this way, it helps businesses stay relevant to their most worthy prospects. Bombora is used by many other sales prospecting tools as the source of their intent data.
Bombora claims an ROI boost of 342% and is one of the most widely used tools in the market.
Bombora Overview
Pricing
Customized pricing plans according to the volume of data, integrated platforms, and level of support
Free demo available on request
ZoomInfo Intent Data
Besides providing a highly accurate database of companies and contacts, ZoomInfo also provides quality intent data to help businesses capture quality leads. By targeting companies looking for keywords and topics closely related to a business, Zoominfo ensures that businesses spend their time on prospects ready to buy from them. When it comes to sales prospecting tools, ZoomInfo's B2B data is always considered at the top, but the intent data not as much.
It tells users the exact topic searched and the time intent signals were detected. To ensure that businesses never miss an alert, ZoomInfo allows them to create custom workflows that are triggered when intent signals are captured.
In this way, ZoomInfo ensures that the pipeline is always brimming with valuable prospects that can be converted into buyers through minimal contact.
ZoomInfo Overview
Pricing
Demandbase (InsideView)
Demandbase is another intent-data platform designed to detect and decipher buyer intent signals for B2B sales prospecting. To ensure accuracy, its AI analyzes the actual content users are perusing instead of the content tags. It also removes unnecessary and irrelevant keywords and provides only the most optimized version of the data.
Demandbase users can also distinguish the quality of intent by looking at the keyword quality, intent history, intent trends, and the strength of the signal obtained.
Demandbase also partners with Bombora Surge and automatically updates when new data is available to notch up their intent-driven platform. It can import from other intent data providers too.
If you want a sales tool for prospecting to capture customers early in their buyer journey, Demandbase is an option.
Demandbase Overview
Pricing
Individual packages and bundles available with customizable pricing plans
Demo available on request
Terminus
Terminus is a B2B platform for Go-to marketing and ABM marketing. It helps users target the most valuable accounts by gathering bulk third-party Intel. Businesses can understand which accounts are ready to start a conversation about their product. It's a B2B sales tool for prospecting that helps to find prospects in market.
Terminus pairs its intent data with other services, for instance, advertising, web personalization, targeted email marketing and retargeting customers who intend to purchase again.
With the all-in-one platform of Terminus, users can drive higher revenue and connect successfully to accounts.
Terminus Overview
Pricing
Customizable pricing products and plans
Include products for ad, email, chat, and web experiences, as well as revenue and digital attribution
Includes basic, advanced, professional, and enterprise plans
Demos available on request
Leadfeeder
Leadfeeder is a sales tool for prospecting. It allows businesses to identify potential and interested customers by providing information about people who visit the company's website and sorting them by their behavior. It offers clean data by deleting unwanted companies while turning anonymous traffic into real names.
Businesses can use Leadfeeder's data to determine the topics their prospects are interested in and build highly relevant pitches. They can also determine the campaigns and channels driving the most valuable prospects to their website.
With Leedfeeder, businesses don't need their prospects to fill a form; they can get perfectly secure, GDPR-compliant data full of email addresses, contact information, and work positions of their website visitors.
LeadFeeder Overview
Pricing
Lite version: 0$ with leads of worth seven days only
Premium plan: $79 per month
A 14-day free trial available
Clearbit
Clearbit is another platform that uses buyer intent data to help businesses make informed outreach efforts. With its IP intelligence software, Clearbit links visitors to companies, provides information about the actions they take and the products they are interested in and helps businesses build more targeted campaigns and websites.
It provides intelligent chat support that lets users engage with clients showing intent or losing their interest. Providing real-time notifications on Slack, email, or Salesforce, Clearbit ensures all valuable prospects are correctly targeted. Clearbit can enhance your sales prospecting tools.
Pricing
Free demo available on request
Leadsift
Leadsift claims to provide a 360 view of the buyers' journey. It uses public web data to sift out companies researching topics related to your products and services to help focus your b2b sales prospecting efforts.
With Leadsift, businesses get a list of valuable prospects, lead scores, and contextual data so they can prioritize and personalize their outreach campaigns.
This sales tool for prospecting is a platform that offers intent signal detection across multiple channels, including Ads, emails, and LinkedIn. Like other intent data sales tools, it also notifies when existing leads show intent and allows a one-click data update to CRM and other marketing tools.
LeadSift Overview
Pricing
Multiple packages, namely Account Intent, LeadSift, LeadSift 360, and Data Partners, available for custom quotes
Offers add-ons like additional streams, audience for ads, and direct dials
Demo available on request
Other Intent Data Prospecting Sales Tools
N.Rich
SalesIntel
DealSignal
Cold Calling – Best Sales Tools For Prospecting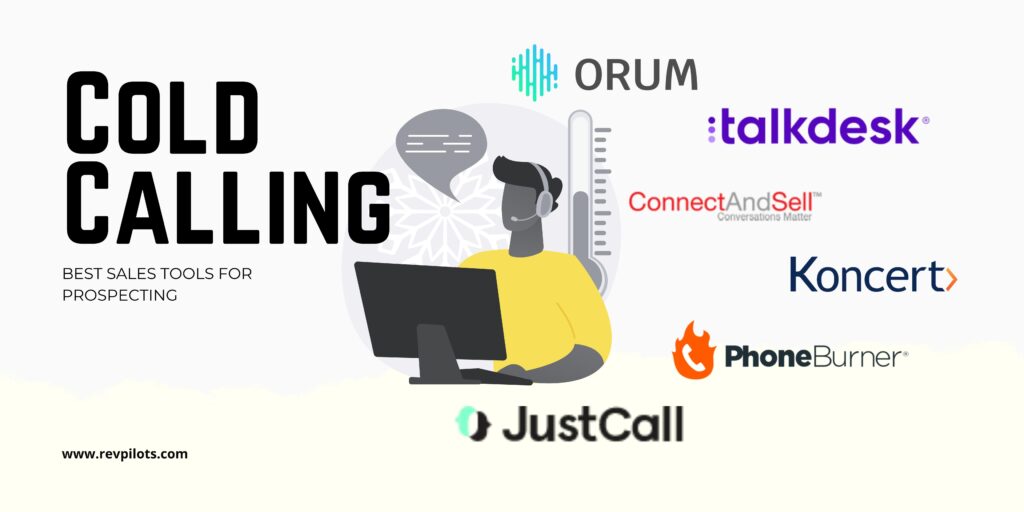 Cold calling is still an effective prospecting method. You build your cold call list and then hammer the dials. However, there are many cold calling sales tools for prospecting that help salespeople make more calls than would be possible if they manually dialed. Here are a few of the best sales tool for prospecting when it comes time to make cold calls.
Orum
Orum is software that allows automation of outbound calling. With its AI, it automatically removes any bad numbers from the list and completes call tasks assigned to it. For cold calling, Orum allows calling prospective clients alongside dealing with your other tasks, navigates through phone directories itself, completes cold calling tasks and updates your CRM with the up-to-date information.
Orum Overview
Pricing
Free trial provides upto 500 free calls before expiring
Pricing available on request
Connect and Sell
Connect and Sell is a tool for cold call prospecting that has been on the scene for awhile. It is said to increase the conversations landed around ten times per day, and they achieve this by having a team of agents who make dials. These agents will keep calling your business prospects till they pick up. And, as soon as they do, your business representative will be connected immediately to deal with the customer or prospect.
After instant responses, Connect and Sell also help you keep the leads through regular follow-ups and meetings. It also provides you with live coach calls along with detailed insights and a dashboard.
It has many features, such as Lead Injection, which calls new leads quickly after they are submitted, and it comes with a mobile app for IOS.
Connect and Sell Overview
Pricing
Free trial for getting started
Products include Lighting, OutboundonDemand and InstantResponse with custom Connect and Sell pricing
Demo available on request
Koncert
Koncert provides you with many different suites for sales dialers, each to match your required task. This includes AI Parallel dialer, AI Flow dialer, Agent Assisted dialer, and Workflow dialer. Koncert can automatically filter through busy and bad phone numbers as well as phone trees. It also allows you to dial ten lines simultaneously with its power dialer which makes it an effective sales tool for prospecting.
Koncert Overview
Pricing
Contact Koncert for a free trial and pricing.
Talkdesk
Talkdesk is a cloud-based call center. It offers many features to expand the client network of its clients through calling prospects. With its voice engagement feature, it allows a business to intelligently route calls to specific agents based on prospects' data, agent skills, and other aspects to maximize conversions. It also helps businesses improve their customer experience with features, such as speech analytics and call recording, so that their cold calling campaign can achieve the best results.
Talkdesk Overview
Pricing
CX Cloud Essentials at $75 per month
CX Cloud Elevate at $95 per month
CX Cloud Eliter at $125 per month
You can request a quote for your required features set or view TalkDesk pricing.
A demo is available on request
PhoneBurner
PhoneBurner is a dialer software that takes care of calls, contact management, and other related tasks. With PhoneBurner, you can step up your cold calling campaigns since it allows you to dial up to 80 contacts within one hour. It also provides call labeling that increases the chances of prospects picking up rather than neglecting it by taking it as spam. Users can call from local area codes and transfer calls to any number, while using any phone with PhoneBurner. It's another effective B2B sales tool for prospecting.
PhoneBurner Overview
Pricing:
Free trial available on request
Standard package with 30-day call recording storage at $124 per month
Professional package with 90-day call recording storage at $149 per month
Premium package with unlimited call recording storage at $166 per month
Justcall.io
JustCall.io is a cloud phone system and is available as a contact center software. It allows you to dial a local number in 70+ countries, which is highly beneficial for cold calling since new prospects are more likely to pick up from a local number. It also offers features like smart call routing and live call monitoring. It's one of the many sales prospecting tools for making dials.
Justcall.io Overview
Pricing
14-day free trial available.
Standard package for $24 per user.
Premium package for $48 per user.
Custom package available at request.
Demo version available at request.
View JustCall Pricing in more detail.
Other Cold Calling Sales Tools For Prospecting
myphoner
powerdialer.org
3CX Power Dialer
Callback Tracker
Sales Sling
ReadyMode
Hello Hunter
Spitfire Dialers
Frontspin
Monster Connect
Direct Mail Sales Tools For Prospecting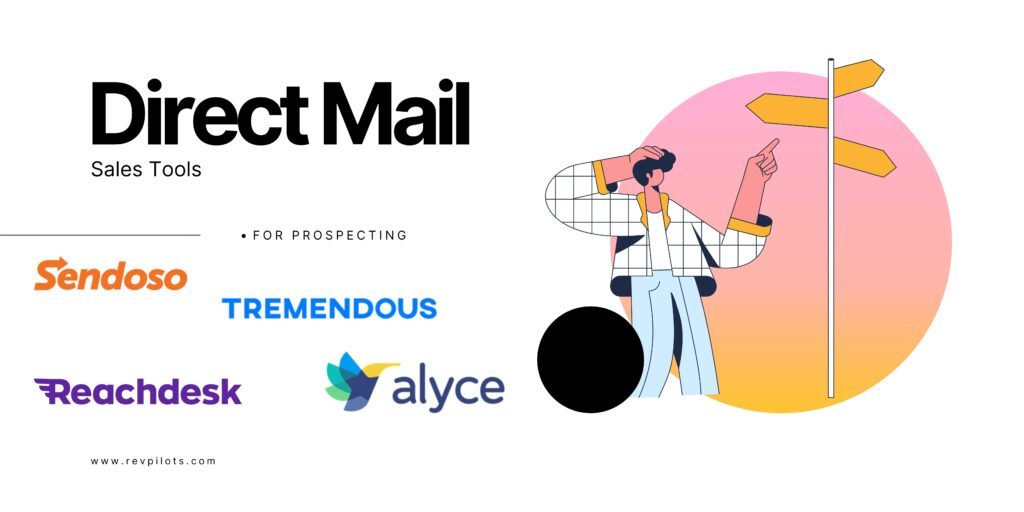 When it comes to cutting through all the noise, the sales tools for prospecting via email and cold calling may not get the job done. That's why it's important to consider a B2B sales tool for prospecting that allows your inside sales team to send gifts to prospects who may otherwise ignore your organization. Direct mail prospecting is better for companies who have larger deal sizes and know they can close business from cold outreach.
Sendoso
Sendoso is a sending platform designed to aid businesses in sending physical or digital gifts for their sales prospecting efforts. It allows you to send personalized gifts, and Sendoso has sent over 3 million of them. It is a popular sales tool in this category. You can even send handwritten notes or a repackaged gift from Amazon along with the note to your client to make a lasting impression.
Sendoso offers unique features like SSO, activity tracking, and engagement tracking to make your campaigns more successful.
Sendoso Overview
Pricing
Sendoso offers four packages: Essential, Plus, Pro, and Enterprise.
The Demo version is available on request.
Alyce
Alyce is a corporate gifting platform for your business's outbound B2B marketing. It allows you to send personalized gifts to your clients and prospects and has a marketplace where you can find 30,000 curated gift items. It also provides logistics and follow-up on your gift campaign so that you can modify your direct mail gift sending strategy if needed.
Alyce Overview
Pricing
Alyce offers the Essentials, Growth, and Pro programs. Pricing available on demand
A demo is available on demand.
Reachdesk
Reachdesk is a global corporate gifting platform to help businesses improve connections with customers, prospects, and employees. It's a B2B sales tool for prospecting that can help salespeople get the attention of busy prospect.
Reachdesk helps you to choose the best gifting strategy by providing insights that show what works best for your audience. You can choose triggers through the management system to send the gift at the right time to have a better impact.
Since it's global, businesses can send gifts anywhere in the world, and Reachdesk will also take care of the logistics.
The platform not only integrates gifting and direct mail into pre-existing workflows and sequences but also with users' CRM and marketing automation tools.
Direct mail and sending gifts are made less laborious by automating every step of the process inside a single portal. Through its multi-channel campaigns, users may also configure predetermined audiences and prompt email sends based on real-time data and functionality.
Additionally, it provides an extensive network of storage facilities where objects can be stored long-term or while they are in transit.
Reachdesk Overview
Pricing
Tremendous
Tremendous allows you to send out money, gift cards, and prepaid cards around the globe. With over 600+ global retailers, including Uber and Amazon, you can select any brand you want to send the gift card of. It's a more basic direct mail sales tool for prospecting.
Consumers can use the Tremendous' service to distribute gifts individually, in batches, or automatically by connecting with their API.
Pricing
Standard package with many free features, such as free set-up and onboarding.
Enterprise package allows you to customize the package based on your requirements.
Other Direct Mail Sales Prospecting Tools
Loop and Tie
Postal.io
Letter Friend
Best Sales Tools for Video Prospecting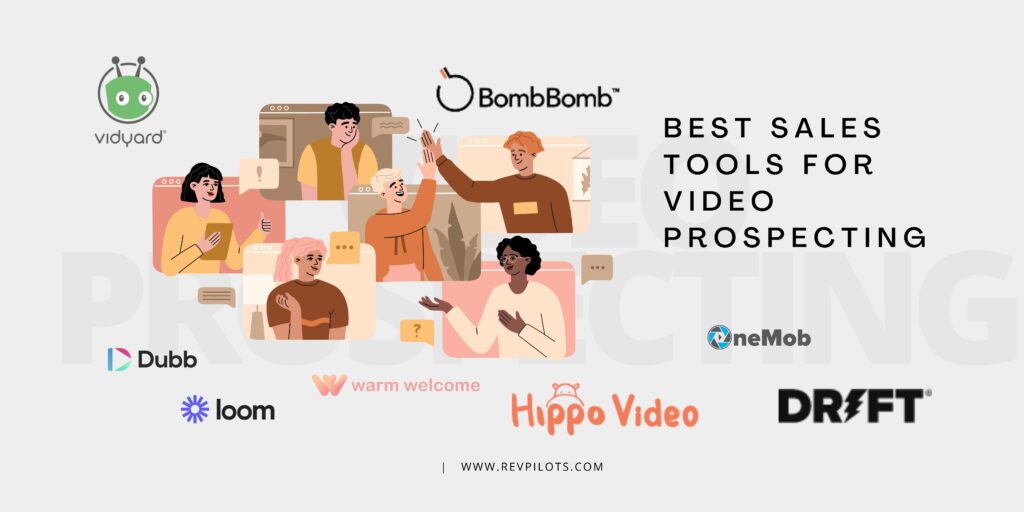 Like direct mail sales tools for prospecting, video sales prospecting tools, help to break the pattern of cold email and cold calls that prospects are used to. These tools can be seen as a more personal, humanized way of prospecting. Video takes a bit more effort than cold email and the body language and voice of a salesperson who sends it may communicate more in tone than just a text based email.
Vidyard
Vidyard is a sales prospecting tool that lets you use videos to make your message memorable. With Vidyard, businesses can record videos for free, send them as an email attachment, through LinkedIn or other platforms, and track when the prospects watch their videos.
Vidyard also provides templates and examples so you can create the most fitting video for your clients. Furthermore, it allows you to embed videos on blogs, websites, landing pages, and send stream-able add-free videos.
Vidyard Overview
Pricing
A four-tiered price structure for Vidyard includes:
Free option
Pro: $29 per month ($19 per month if paid annually); 14-day trial available
Business: Vidyard pricing.
Drift
Drift emphasizes meaningful conversations with videos so users can get their queries answered in the best way possible. With Drift Video, users can record the video from within the platform, copy the link to their emails or use it as a reply in the Drift Messaging app.
Drift also allows screen recording, face recording, or both simultaneously. Once the video is viewed, users get notified, allowing them to start a conversation instantly right from the video instead of waiting for a reply.
The platform also ensures video security by allowing only desired people to view the video. Drift as a B2B sales tool for prospecting can be an effective way to book more meetings.
Drift Overview
Pricing
Currently, Drift Video is 100% free and only requires an account sign-up to get started.
Drift pricing is notoriously hard to receive and will require a call
Hippo Video
Hippo Video is a full-fledged video interaction platform that provides unique customization tools to its users. It includes quality templates so businesses can keep their campaigns consistent, allow stitching of videos together with personalized intros and outros, and provides interactive features like forms, CTAs, and polls within the videos.
Companies can customize any video with the client name, case studies targeting the prospect, and other personalizing texts and links. It can be used not just as a sales tool for prospecting but for any other reason to communicate via video.
Hippo Video also provides detailed video analytics and reports to help users decide which part of their video strategy was most effective.
With this platform, companies can send videos directly from Gmail, Outlook, LinkedIn, and other platforms they are using to fill up their pipeline.
Hippo Video Overview
Pricing
It offers the following price tiers for their sales package:
Free Trial available
Starter: $19 monthly per user
Pro: $40 monthly per user
Growth: $65 monthly per user
Enterprise: $99 monthly per user
It offers discounts on quarterly and annual payments.
BombBomb
BombBomb is a video marketing platform that can be used as a sales prospecting tool. It uses videos to rehumanize messaging, assist sales professionals in converting leads and building credibility. BombBomb and Vidyard are popular B2B sales tools for video prospecting.
It helps to develop, send, and monitor video emails using a simple email editor. It provides users with data on who is receiving their emails, clicking their links, and viewing their videos.
BombBomb offers two types of video interaction through its platform: video messaging and video meetings. With video messaging, companies can record and send quick replies and personal greetings. On the other hand, putting a face to the meetings can help with higher sales and revenue.
Thanks to its compatibility with Outlook and the Gmail Chrome Extension, BombBomb can be used to create effective outreach efforts.
BombBomb Overview
Pricing
Essentials package: $39/month if paid annually, or $33 if paid every month.
Plus package: $69/month when paid monthly; $49/month when paid yearly.
Enterprise package is highly customizable and pricing is available on request. (Demo available for Enterprise package)
A 14-day Free Trial is available with a sign-up
Other Video Sales Tools For Prospecting
There are other sales tools for video prospecting, including many Loom alternatives.
Best Unique Email Sales Tools For Prospecting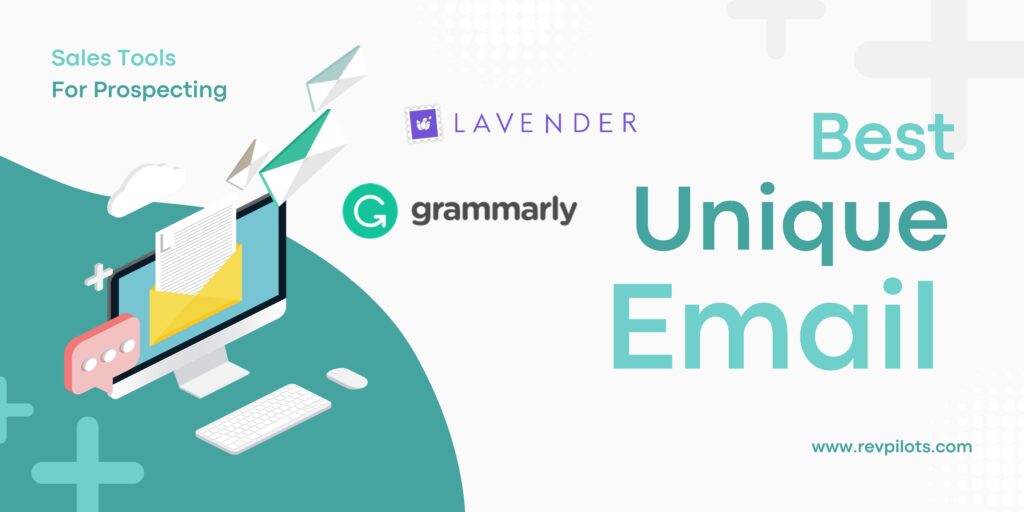 Email is the most popular prospecting channel for B2B sales teams for various reasons. It's affordable, you can track it, it's scalable, and it's easy to implement. However, when it comes to sending prospecting emails, no matter how many cold email tips you have, you're still facing an uphill battle given the onslaught of sales engagement platforms and B2B data providers there are who are saturating the market. That's why other email sales prospecting tools are worth considering to add to your sales tool arsenal.
Lavender
Lavender is an intelligent tool for writing persuasive emails that convert.
Businesses don't need to spend long hours researching their clients; Lavender AI provides all the data they require in the mailbox. In addition, Lavender goes through the emails and fixes the content that may hurt the company's chances of getting replies and follow-ups.
It also provides AI-generated intros and a dos and don'ts list to help you curate better-performing emails. And if you are having trouble formatting a winning email, Lavender can get you started! All you need to do is add a few bullet points, and Lavender will convert that into a full-fledged email.
This tool comes with a coaching dashboard that lets a company know how well they are doing, what is working for them and which strategies need to be halted. Lavender is not just a sales tool for prospecting, it can be used in all email communication.
Lavender Overview
Pricing
Three price tiers are available for lavender.
Free
Pro: $29 1 Users / Month
Team: $49 1 Users / Month
Free trial available with Pro and Team plans.
Grammarly
Grammarly is a writing assistant and not thought as a sales prospecting tool. This popular AI productivity management tool assists users in fixing grammatical errors in their written material and provides user-friendly suggestions to enhance their material's accuracy. Grammarly determines corrections and spelling errors in emails and increases their impact. Even though it's not explicitly a sales tool for prospecting, many salespeople should use it.
With Grammarly online, users can evaluate their writing tone and clearly predict how their readers will respond to the content.
It generates document-specific PDF reports that points to every error and weak point in the content along with providing a readability score.
Users may produce effective content with the assistance of the platform's writing recommendations. Personalized writing reports are also available to users, allowing them to monitor their progression.
Grammarly Overview
Pricing
Free version with limited abilities available
The two subscription types offered by Grammarly.
Monthly Subscription for an Individual: USD 30
For Teams:
3 to 9 members: $12.50 per month per member
10 to 49 members: $12.08 per month per member
50 to 149 members: $11.67 per month per person
Best Niche Sales Tools For Prospecting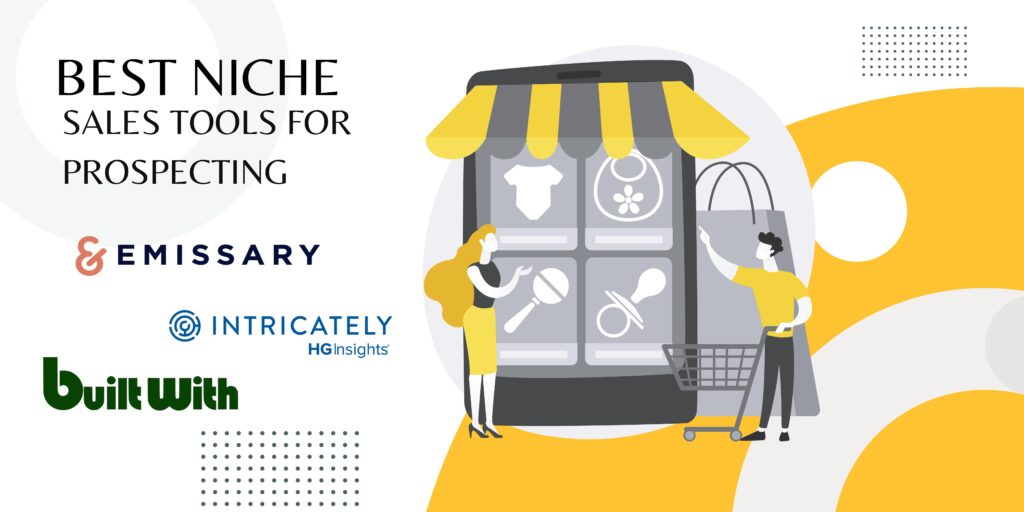 Some B2B sales tools for prospecting don't fit neatly into the other categories. Depending on who you sell to and your personal sales challenges, these tools may or may not help with your prospecting needs.
Emissary
Emissary provides insider knowledge about prospects so businesses can hyper-personalize their outreach. Like other sales tools for prospecting, Emissary highlights in-market prospects. However, it also goes one step ahead to provide detailed prospect information, for instance, their major concerns, their current interests, the kind of vendors they prefer, etc. This way, businesses can tailor their messages to their target's needs.
The Emissary Advisor can also help companies target prospects on a personal level by providing them information on the specific person they are in contact with.
This platform is a unique initiative as it uses human intelligence –matches users with former executives of the company they are approaching. These executives use insider knowledge to help companies navigate the complex buying process. Resultantly, Emissary is an excellent platform for niche sales prospecting.
Emissary Overview
Pricing
Pricing available on request.
Intricately
Intricately is a cloud-focused sales intelligence software. Its cloud consumer acceptance, consumption, and cost data enable top cloud sales, better management, and seamless operational processes and allow companies to build an impactful go-to-market strategy. It's a sales tool for prospecting for cold-focused sellers.
Cloud product uptake, usage, and consumption data from Intricately brings valuable information about the customer demand and purchasing intentions. Once this data is available, businesses can use the Smart List feature to create their prospect lists based on attributes like how much they use a product, their technological stack, and digital infrastructure.
Intricately brings actionable data about a company's footprint so you can target them successfully. It is well fit for businesses looking to sell cloud-based products.
Intricately Overview
Pricing
There are three tiers available.
Free
Pro: $99 per user/month
Enterprise: Custom pricing
BuiltWith
BuiltWith is a solution for lead generation, competitive research, business intelligence, and website profiling. It focuses on the technological niche and lets users know which technologies companies use. This is a sales tool for prospecting when you need technographic data.
Businesses can determine the increase in specific technologies, the companies using competitors' technologies, and each company's spending on their stack. Armed with this information, they can prospect more effectively because they're focused on the right types of companies.
BuiltWith also allows the creation of lists based on the technology the prospects are using, keywords present on their homepages, lists of online stores, and externally uploaded lists of existing prospects. It also provides weekly trends in internet usage and e-commerce sales worldwide
Pricing
Paid options from BuiltWith come with premium-only subscriptions. The pricing schemes are as follows:
Basic: $295.00 per month
Pro: $495 per month
Enterprise: $995 per month
Discounts on each plan for annual payments.
The Best Free Sales Tools For Prospecting
Intricately
Lavender
Grammarly
LinkedIn Sales Navigator
Clearbit
Lead feeder
Hippo Video
The Best Overall B2B Sales Prospecting Tools
The Best Sales Tools For Prospecting For Startups
Apollo
LinkedIn Sales Navigator
Uplead
Orum
LinkedIn Sales Navigator
The Best Sales Tools For Prospecting For Larger Sales Teams
ZoomInfo
Orum
Salesloft or Outreach
LinkedIn Sales Navigator
Conclusion
There are numerous sales tools available in the market for prospecting. As the B2B sales stats show, it's worth investing in a tool that help. When it comes to selecting a B2B sales tool for prospecting, you'll need to evaluate the software based on your needs, budget and how likely your team will use the product. Many tools are similar enough that going with the tool that integrates with your workflow, is more affordable, and has a quick implementation may be good buying criteria to follow. At the end of the day, the best sales tools for prospecting wont fix bad email copy or a poor cold call opener. Sales tools amplify behavior, good or bad, so keep that in mind when looking for the next piece of software to add to your sales team's tech stack.